xxxHOLiC Manga Chapter 168
SPOILER Summary/Synopsis: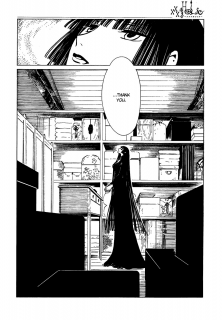 Yuuko-san continues her conversation, which we learn is with Maru and Moro, who desire to be with Watanuki. Because others have come to care for Watanuki, he now has his own wish to be here and not be just a copy of Syaoran (even if he doesn't have any memories of once being Syaoran). Maru and Moro promise Yuuko-san that they will protect the store for the sake of Watanuki, for which she thanks them.
Thoughts/Review:
I thought last chapter was kinda weird, but this one is too. So now we know that the spirits which have tormented Watanuki are due to his unconscious feelings of regret over the deaths of his parents (to protect him), who would be alive if it weren't for him. I can buy that, but what troubled me about this chapter is the revelation that the incident where Watanuki fell out the window at school and nearly died was self-induced by Watanuki trying to erase himself for Syaoran's sake (again, without knowing he's doing it). That immediately kills the whole story of Himawari-chan's terrible bad luck being the cause of several negative things including him falling out of the window.
Back when that chapter came out, it does look like a bit of a stretch for Watanuki to have gone through the window and out, but I figured that Himawari-chan's bad luck might be the cause, or it is just a case where CLAMP just didn't quite pull off the effect in the drawing. Based on the information from 168, Himawari-chan wrongly believes herself to be the cause of Watanuki's accident when in fact Watanuki subconsciously tries to off himself. Further, it would seem that Yuuko-san knew this all along, but what the hey — make Himawari-chan suffer.
At least we got to see whom Yuuko-san is communicating with. I'd forgotten all about Maru and Moro so nice to see they are still around, even if not physically present in the scene (and certainly, this is the most serious they've ever seemed, at least as I recall it).
I haven't read the next Tsubasa chapter to see how they are progressing the Watanuki-Syaoran story. After reading this chapter of xxxHOLiC, I can't say that I'm enthused about where things are going at this point.