Heh!heh!heh! OK, so FUNimation didn't actually license this title for me, but I have to say that the licensing of Slayers Revolution has me very excited to say the least and was on my short wish list along with Kannagi. Yeah, I know, FUNimation's license rescue of Slayers, Slayers Next, and Slayers Try left something to be desired after everyone got their hopes up. However, this time, FUNimation is getting to do everything from scratch, so I'm really hoping for some good things like proper name, place, and spell spelling as well as the untranslated use of "Mazoku." Maybe I'll get super lucky and score some additional information in the near future.
One item of interest is that while Enoki Films is listed as "Distributor" for Slayers, Slayers Next, and Slayers Try (something that also was there when Central Park Media had those licenses), this time, it looks as if FUNimation has it free and clear from Enoki Films.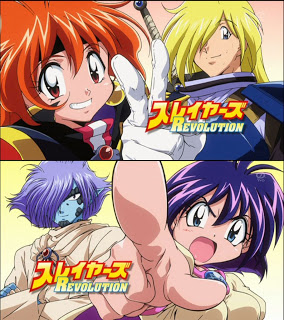 I've already watched Slayers Revolution and those wanting to see a review (which will have some spoilers in it) may do so here. FUNimation's official Slayers Revolution website can be located here (which is different from their regular Slayers page).
Originally posted at
astronerdboy.blogspot.com
. If you are now reading this on another blog, it has been scraped from
AstroNerdBoy's
blog. You are encouraged to shun this pirate blog and come by the real McCoy. ^_^