Sasami: Magical Girls Club 2 DVD Review
Sasami – Magical Girls Club 2

砂沙美☆魔法少女クラブ2
Sasami: Mahou Shoujo Club 2

Sasami Season 2
***SPOILERS***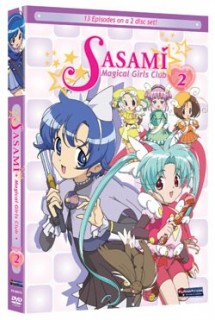 In Sasami, the goal was clearly to firmly establish the characters of the magic girl club (Sasami, Makoto, An-An, Misao, and Tsukasa) as well as set down a bit of the groundwork for a plot. In Sasami 2, plot takes over with most of the character stuff dedicated to Misao. How does it work? Pretty well.
Things pick up with the girls still training to be magic girls, even working on the poses seen in mahou shoujo anime titles or in sentai titles like Power Rangers. The story then follows the Chief Sorceress plan to bring over Sasami's group to the Magic World, Washu and Daimon's rescue of the girls, Itoki's attempt to take them back from Earth, the older magic girl group's (Shining Star) getting Misao to return with them, Sasami and the others coming to rescue Misao, the truth of the Witch Executives revealed, and then the Chief Sorceress's decision to fix earth and place it under witch control no matter what the cost.
Certain elements of the story were pretty predictable. Considering Misao's personality (introvert, not confident), it was pretty predictable that the Chief Sorceress would use Misao's desire to be someone in her plans and that eventually, Misao would have to be rehabilitated. However, the surprise for me came in some of the execution in making this come to pass. The writers know that this is an old, predictable story so they worked on making the when and where elements the mystery. As a viewer, I appreciated that because then I never knew exactly when Misao would go to the dark side, nor did I know how she would return to the light. Good stuff.
I think another thing that surprised me is how much of a focus Misao is for Sasami 2. An-an, Makoto, and Tsukasa are relegated to supporting character status for the most part as the writers follow Misao's struggles and then Sasami's own struggles with her feelings regarding what is happening to her friend as well as her romantic feelings for Ami-chan (Amitav). As such (and combined with the plot elements), Sasami 2 is a darker, angst-filled title with not too many laughs.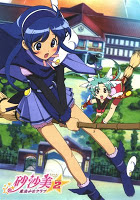 Still, I found Misao's struggle for acceptance and to be something more of an element that the audience can easily relate to. I could understand why she didn't want to leave the Magic World the first time. She had found an older-sister type mentor in Ayane (leader of the Shining Star group), she was having fun, and she felt special. I also understood how the darkness she felt at learning the truth of being used made her so powerful, but I also understood how she came around too. So while not a new story theme, I found it interesting nevertheless.
In one of the rare humor moments, I laughed out loud when Misao had reconciled with the group and insisted that they not be too friendly with Monta-kun, the boy she likes in school.
While there are no standout episodes, I do think that the general darker tone of this series makes it stand out a lot. The truth behind Ami-chan is pretty horrific when one thinks about what the witches did to him. Also, the truth of the Executives is something I can see being horrific to younger viewers, though as someone older, it is something I've seen before, specifically in an old episode of Doctor Who ("The Five Doctors").
The child seiyuu perform quite well again. Sasami's seiyuu even has to sing and does a good job of things. The animation of her and Ami-chan singing in one episode is bad because their mouth-movements don't match the music at all (both in the Japanese and English versions). I think that was the only awkward, bad moment of the anime.
Bottom line:Sasami 2 sacrifices the joy and wonder of the first series in favor of a darker tone with a plot tied in with character explorations of Misao and Sasami as they struggle with their feelings. So while I do like Sasami 2, I don't like it for the same reasons I liked Sasami (if that makes sense). Should there be another series (and I think there could be if the production team wanted), I'd watch it for sure.