Urusei Yatsura 92
うる星やつら episode 92 (TV anime)
SPOILER Summary/Synopsis:
Cherry works on a potion to rid the body of earthly desires. He makes it in the form of taiyaki and tries to pass it off to Sakura, who throws him out for even trying. Irritated, Cherry goes to find his next guinea pig and comes across the giant Kotatsu-neko. The giant cat is very suspicious of the taiyaki treat and Cherry is annoyed that the cat won't eat it. When Ataru comes up, Kotatsu-neko offers him half of the taiyaki and naturally Ataru accepts. Seeing Ataru's reaction to eating the pastry pleases Cherry until Ataru falls asleep. Figuring this to be a failure, Cherry leaves while Kotatsu-neko takes Ataru home.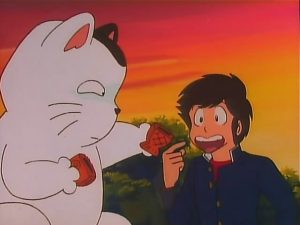 Ataru sleeps heavily even though his mother made sukiyaki. Ataru's desires and personality leave his body and form a new body which is both non-corporeal (he can move through walls) and corporeal (he can touch things). He can also fly. Figuring himself as being asleep, Ataru leaves his physical body and flies around the city for a while. Meanwhile in geosynchronous orbit, Lum is a bit down because she couldn't spend time with Ataru. Seeing him flying, she is delighted and joins him just in time to hear him plan for fun in his thoughts. So she electrocutes him until he disappears.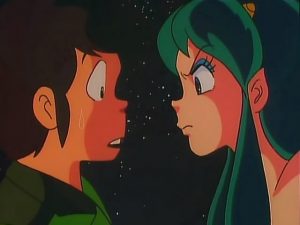 Ataru's first visit is to Sakura-sensei, who is undressing to take a bath. She senses him but fails to spot him. She starts to clean herself before entering the bath when she spots Ataru in the tub's water. Ataru is forced to flee and pays Shinobu a visit. After she says her prayers and goes to bed, Ataru slips inside, which freaks her out. She immediately attacks Ataru until he's able to use his non-corporeal form to slip away. He decides to return home to find Sakura-sensei, Cherry, Shinobu, Kotatsu-neko, and his parents around his physical body to exorcise the evil desires.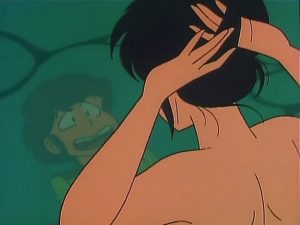 Returning back to the air, Lum catches him again. She's delighted that he's back and can fly. When he says he's no longer human, she's even happier. In the end, she decides to throw a party with all of her beautiful, flying friends. Because Ataru is now more like Lum, she's so happy she's willing to allow him to flirt at the party. Ataru eagerly agrees to this but when the guest show up, they are all non-humanoid aliens who want him. Ataru tries to get away and finds Lum. However, he's not happy so he attempts to return home, only to find the same group still there trying to get rid of his new form. He's expelled and bound by Sakura-sensei but the next day, a happy Lum is taking the bound Ataru to school, meaning you can't get rid of Ataru's desires so easily.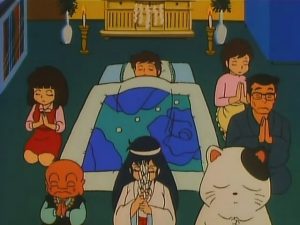 Thoughts/Review:
This episode was more of an excuse to showcase the lust-filled Ataru again while still having elements of how Ataru has grown (and to get some serious Sakura-sensei fanservice in). Still, Ataru was not the annoying so-and-so he was in those early episodes of the anime. Things proceeded in a pretty predictable way from Kotatsu-Neko giving Ataru the spiked food to Ataru's behavior to Lum's party having no humanoid friends at her party. Despite this, the episode was another "enjoy the ride" one.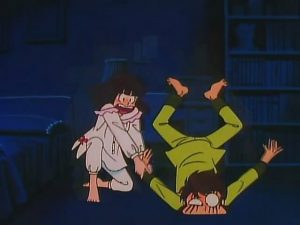 The last few episodes have been "enjoy the ride" episodes where they are filler with zero impact on any other episode. So far, I haven't minded but I can see getting weary of this format of storytelling.