Genshiken Official Book
Having loved the Genshiken manga a great deal, I was eager to get more Genshiken goodness and so when Del Rey announced they had licensed Genshiken Official Book, naturally I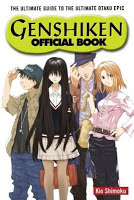 was pretty happy. Now that I have the book, how do I feel? Somewhat disappointed though there are some good things here.
The book is larger than regular manga books — 9 x 6.1 x 0.8 inches. That is not a problem for me because it gives plenty of room for art and text. I've seen other official books published at regular size and they can be a bit tougher to read.
The color foldout is nice. On one side, we have the image from earlier in the Genshiken manga with Saki (smoking) and Ohno. On the other side, there is a half-sized color image and four other color images, mostly of Ohno. Three of them I'd seen before. The image of Saki helping Ohno change into a cosplay costume while a non-thrilled Ogiue looks on is one I'd not seen. The half-sized image showing Ohno laying in a mess of otaku goods (most of them with Saki's or Madarame's likeness) was also new. So some nice art there.
Chapter 1 is called "Newbie Orientation" and pretends that the reader is interested in joining the Genshiken club. All of the text is illustrated with examples from the manga (as happens in all chapters).
Chapter 2 is an extensive character guide for the manga but contained no new information about any of the characters (at least, not that I noticed). Chapter 3 focuses on the relationships (whether love or not) between characters in the manga. Nothing new here. Chapter 4 is an otaku guide as if written by Madarame.
Chapter 5 shifts to the in-manga manga Kujibiki Unbalance. In addition to providing information, it also has a script for a supposed anime episode. I never really cared about the Kujibiki Unbalance stuff within Genshiken beyond a very passing interest. It was never enough to get me to read the pages dedicated to discussing this non-manga manga (game, or anime). Were it to have been a real manga published along with Genshiken by Shimoku-sensei, then that would have been cool. It wasn't, so I didn't care.
Chapter 6 starts with a dedication to the 1987 doujinshi that the Genshiken members found called Metaetame. So some parody stuff for 80's anime classics is discussed. However, the highlight of this chapter, and indeed the entire book, is the interview with AKAMATSU Ken-sensei, creator of titles such as A.I. Love You, Love Hina, and my favorite manga, Negima!. He talks about doujinshi and Comiket, which is parodied in Genshiken as ComiFest. The chapter ends with an otaku test.
Chapter 7 contains an unofficial side-story which didn't interest me. Chapter 8 looks at the otaku life in terms of where to go in Japan, types of things one can get depending on one's interests including doujinshi and hentai materials such as H-bishoujo games. Another unofficial story is published (in script forms) within this chapter. The script is in the center of each page and on top and bottom of the page are brief looks at bishoujo games and other otaku-related items.
Chapter 9 is another good one as Shimoku-sensei takes the character pages originally published in the manga and expands on them. So he provides some additional information, but he also "translates" the parody game/manga/anime title names back to their original form (ie: "Panther vs. Panther" is actually "Hunter x Hunter"). Unfortunately, while the explainations are numbered, there are no coresponding numbers attached to the original character page displayed. So that means figuring out what Shimoku-sensei is taking about rather than having it clearly shown.
Another problem I had with the book is that this is a book about and for otaku and fans of Genshiken. The adaptation waffles between using "fanzine" and "doujinshi," more often opting for the former because clearly, no one who's deep enough into anime, manga, or Genshiken to buy an official book like this (which is all about otaku) would know what the smeg "doujishi" is. Ditto for a term like "bishoujo." Just use the otaku terms because that's your audience. Use the translator notes section to explain things for the few that don't know.
So why was this disappointing? Well because most of the information contained herein I either already knew from reading the manga or just didn't care about. The interview with Akamatsu-sensei is great and I did like the final chapter's tiny expantions on the characters and revelations on the parody title names. Where I interested in bishoujo games, the information provided there would have been valuable. However, when weighed out, the amount of stuff I wasn't interested in outweighed the stuff I was interested in by a great amount. However, if you are a big fan of Genshiken as I am, you may want to buy this just to have it all. ^_^
Originally posted at
astronerdboy.blogspot.com
. If you are now reading this on another blog, it has been scraped from
AstroNerdBoy's
blog. You are encouraged to shun this pirate blog and come by the real McCoy. ^_^