クラナド アフターストーリー Episode 21
Clannad ~After Story~ Ep. 21
Clannad After Story 21
SPOILER Summary/Synopsis: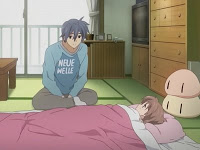 Ushio's illness is revealed to be the same as Nagisa's and after weeks of Ushio not getting well, Tomoya quits his job to care for her full time. Yoshino exchanges screw drivers with Tomoya as a promise for Tomoya to return when Ushio gets better. Ushio wants to go on a trip with her papa but since she's ill, Tomoya says he'll take her when she's better. One day, Akio takes Tomoya out to do some shopping and they stop outside the new hospital and talk of the city, its changes, and Tomoya's belief that the building of the hospital and the sacrifice of the field and trees are linked to Nagisa and Ushio's mysterious illness.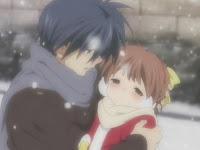 Ushio gets no better and around Christmas, she makes a request to her father to go on that trip, insisting it has to be now. Tomoya initially refuses, but something about her request changes his mind. Despite her weakness, Ushio insists on walking hand-in-hand with her father. As the snow starts to fall, she says she loves the snow and Tomoya agrees. However, Ushio soon can no longer walk and wonders if they are on the train yet. She also wonders if it is night since it is dark in her eyes. After proclaiming her love for her father and hearing his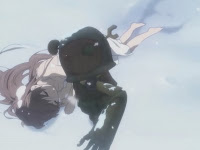 proclamation in return, Ushio dies. Tomoya replays in his mind the moment he met Nagisa and wonders if he should speak to her, leading to the tragedies he's experienced or leave her alone.
In the Illusion World, the snow is falling and Mystery Girl and Garbage Bot are walking hand-in-hand. Mystery Girl gets weaker and as the snow gets deeper, she falls more than once. As Garbage Bot wonders how much longer they have to travel, Mystery Girl falls once more and does not get back up.
Thoughts/Review: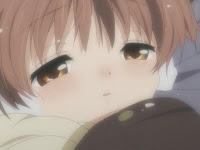 I wonder if some Japanese doctors actually make house calls or if that is just artistic license on the part of the writers. Just a side thought before I'd get to the heavier items.
Well, as expected, Ushio dies. Man, it was hard to watch, especially when Ushio insisted they had to go on the trip now. Somehow, Ushio knew she was going to die and she did shortly thereafter. At least Tomoya took her outside and started the journey to the train station. They may not have made it and Ushio's complete wish may not have been granted, but she got to spend her final moments with her father going on a trip. Even now, I tear up when I remember how she told her father she loved him and he said the same to her.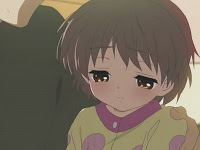 While tearful and sad, Ushio's death didn't hit me quite as hard as Nagisa's for some reason. I think with Nagisa, we'd seen her get ill and better many times over the course of both anime series and while I figured she'd die in childbirth, there was always a chance in my mind that she might make it. With Ushio, the moment she became ill last week combined with her strange trips to see that hospital, I knew she was dead and there was no chance of her making it through. I wasn't sure if she'd die this episode or next, but I just knew she was gone.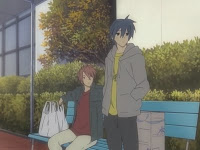 Still, what is the connection between Nagisa, Ushio, and that field that the hospital was built on? From Tomoya's perspective, I guess he feels the destruction of the field for a hospital cost him the lives of his wife and daughter. Akio-san I doesn't see it that way as far as I can tell. For him, change is a natural part of life, as is the death of loved ones. As they witnessed, the hospital provided a vital service, saving other people's loved ones. I hope the linkage is explained to include what compelled Ushio to visit the hospital grounds on her own.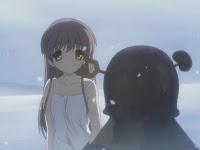 So now what? How do we bridge the gap to the Illusion World? Does that happen when Tomoya looking back at his passed and trying to make a change? That doesn't feel quite right somehow. It also doesn't explain how Tomoya seemingly saw the snowy landscape of the Illusion World briefly. I do look forward to some answers because somehow, I can't shake the notion that maybe the girl in the Illusion World is Ushio and Tomoya is somehow tied to Garbage Bot. There is now too much symbolism to be coincidence (plus, someone commented that my theory is correct so…)
Only three more episodes to wrap up all the loose threads.