Clannad After Story 23 — Extra
クラナド アフターストーリー Episode 23
Clannad ~After Story~ Ep. 23 Extra Episode
SPOILER Summary/Synopsis:
A year before Tomoya met Nagisa, Nagisa is a 3rd-year student and in a class where she doesn't know anyone. Thus her father tries to help her with tips on making friends. Meanwhile, Tomoya and Youhei are introduced to their new class rep Kyou, who is keen on making the two slouchers do something. Kyou finds that Tomoya looks pretty cool when she finds him sleeping on the school grounds one day but when Youhei finds her, he realizes what she's up to. This results in her punching him to erase the memory which results in Youhei coming up with a love letter prank on her.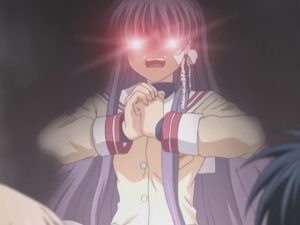 They have Kyou running all over school until she catches on and gives both Youhei and Tomoya a beating. Youhei then decides to take it out on the new 1st-year students by having a giant ball constructed so that when a student pulls it, a large wash pan drops onto the person as well as a banner written by Tomoya. The 1st-years are too smart for that, but Nagisa pulls the string, releasing the pan. She gets knocked out as a result, but makes a new friend in the process and keeps the banner, which says to overcome any obstacles.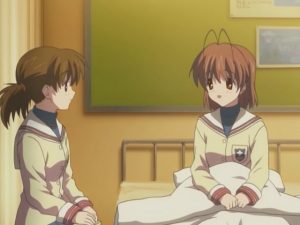 Thoughts/Review:
I knew this would likely be filler, but I hoped that maybe the writers would have a bit more information explaining Tomoya's trips back to the past. Sadly, that was not to be.
So, what is there? Well, I liked how Tomoya and Youhei were introduced to Kyou. I think it would have been neat if Ryou was shown having her attraction to Tomoya, but instead we are shown Kyou's initial attraction and how despite the annoyance Tomoya and Youhei have caused her, she still finds them interesting and fun.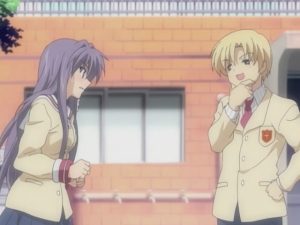 The Nagisa makes a friend story makes her "I can't make a friend" story when she repeated her 3rd year for the 3rd time kind of meaningless. After all, if this moment of her making a friend combined with how many friends she made during Clannad didn't teach her anything, then what's the bloody point? Oh well.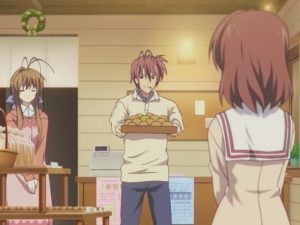 Score one for Youhei though. Man, I did laugh at his prank working so well on Kyou for a time.
While nice to see some of the characters again and have some smiles and laughs, in many ways, things just don't feel right to me watching this. Maybe it is because going back in time now to look at pointless events in the past before Nagisa and Tomoya met is not what I want to see. If we were going to have a filler, make it in the present with a big old reunion or something. Heck, have Kyou and Youhei get engaged somehow. Now that would have been fun. Alas, not to be.