Fruits Basket Manga Volume 22
–> Buy Fruits Basket Collector's Edition Vol. 11 from Amazon.com
Note: This contains volumes 21 and 22 of the original manga release.
SPOILER Summary/Synopsis: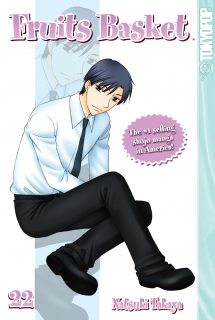 Kyo goes to see his father to try to put things right there. He then returns to the hospital to learn from Hana and Uo that Tohru misunderstood his words to her as saying, "get lost." As such, they aren't going to allow Kyo to see Tohru until she gets better since the mere mention of his name seems to upset her. Hana encourages Uo to see Kureno who's also at the hospital when they meet Akito. Hana figures out that Akito is a woman. Uo goes to see Kureno, who tells her that he has to disappear for Akito's sake. Uo says she'll follow him and she does when he finally leaves sometime in the future.
Kyo meets Akito who tells him to live his life as he wants. He visits his adopted father, the martial arts master Kazuma and discovers that Hana is also there.
Later at school, Hatori tells the others that Akito wants to meet with them all, including Kyo. In class, Kyo learns that Tohru is getting out of the hospital. Uo and Hana will allow him to take her home and even suggest a gift he could buy for her, teasing him all the while because Tohru thinks Kyo doesn't want to be with her. Outside the hospital, Uo and Hana wait for Tohru and Kyo comes up. When Tohru comes out, she sees Kyo and runs away. He gives chase and as Tohru runs, she thinks of how she doesn't want to be parted from Kyo and that she loves him. Kyo is having similar thoughts.
Kyo catches her and makes a lengthy apology, ending with his love confession. Tohru is happy with this and they kiss. Kyo wants to be held by Tohru even if it means turning into the cat. Tohru doesn't care about the curse because she loves Kyo. They embrace but nothing happens and off someplace else, Akito says goodbye, remembering the conversation she had recently had with Tohru in the hospital. Tohru and Kyo realize the curse is broken, so Kyo removes his beads. At that moment, Aya, Ritsu, and all the other Zodiac realize they've been freed from the curse, save for Yuki.
Yuki has arranged to meet Machi because he wants to be with her romantically. After she arrives, the curse begins to lift from him and the Rat has a conversation with Yuki. telling him the complete story of the Zodiac and how they became cursed. With the Rat's departure, the final Zodiac is free, so Yuki changes things a bit and embraces Machi. Machi asks for permission to address Yuki as "Yuki," and he gladly gives it.
Kyo and Tohru go to Kazuma's house to show him that Kyo is free from the curse as each of the Zodiac begin new lives free from the curse.
Thoughts/Review: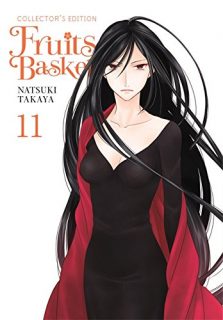 It is nice getting to see so many of the characters (even if only briefly) from the manga again in Fruits Basket Manga Volume 22. However, as I've said before, Takaya-sensei's current character designs make some of the characters hard to distinguish. In the early volumes, there was no trouble telling characters apart. They all had personality that came through the art. Now, the characters look generic — there's no personality that really comes through. Machi and Tohru often look identical. Kagura and Kimi often look identical. It is really a shame too because that was one of the nice touches about Takaya-sensei's style of drawing back then.
Regardless of these issues, I'm glad Uo and Hana had a much larger roll to play this volume. It felt right that Hana should figure out that Akito is a woman even if she attempts to appear as a man. I liked how they protected Tohru from the pain of seeing Kyo, yet when Tohru was ready to be released from the hospital, they were also ready to let her go by allowing Kyo to pursue her, even teasing him prior to the event. I like that Uo will be with the guy she likes (even if she doesn't know him very well). I laugh at the thought of Hana spending time with Kazuma. *lol*
Of course, there's a lot of sweetness in this volume from Kyo and Tohru confessing to each other, kissing, then embracing. Ditto for Yuki and Machi.
So all in all, an enjoyable read as things wind down to the final volume. It will be interesting to see how Takaya-sensei wraps things up.