Natsu no Arashi! – 01 ("School Rumble" This Ain't)
夏のあらし! Episode 01
(Summer Storm)
SPOILER Summary/Synopsis: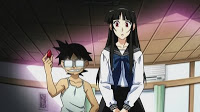 YASAKA Hajime lives in his grandfather's home with a girl named Arashi. Hajime is a genius and has created Ichigo Bakudan (Strawberry Bomb) for his independent school homework — a strawberry on the outside but filled with the peppers and wasabi on the inside. Arashi decides the name should be "Cutie Strawberry-chan" and that's what sticks. However, of the three Hajime created, only one remain. He soon discovers that his grandfather has taken a bite out of one, leaving only the second's were abouts unknown.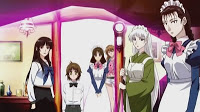 Hajime and Arashi head to the small restaurant where they work alongside Kaya (dressed in traditional Japanese clothing), Kanako (in a maid's uniform), Jun (in a waiter's uniform), and Yayaoi (also in a maid's uniform). The owner of the place is simply addressed as "Master."
When a muscle-bound guy who's only ordering water annoys Hajime, he wants to get even using a Cutie Strawberry-chan,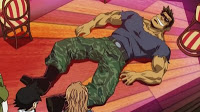 but he only has one. So he gets Arashi to take him back in time where she discovers that Hajime did make three of these deadly strawberries and so she takes one. The mystery of the missing 2nd strawberry is resolved. Upon returning to the present, Hajime fails to get the guy to eat a strawberry dish, but Master ends up using the killer strawberry in a fruit punch for the guy, which she made to get rid of old fruit. One sip and WHAM!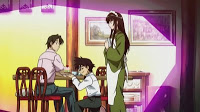 When a guy Arashi's age shows up (Yamashiro) with a book for Arashi, Hajime gets jealous and decides to take him out with his last Cutie Strawberry-chan. He had placed it on a Strawberry Shortcake individual dessert but discovers that of the two that were in the fridge, one of the desserts is gone. Learning that Kaya had taken one and not hearing anything had happened to her, Hajime presents the remaining dessert to the man. However, it is not the trapped dessert, meaning Kaya has the trapped one.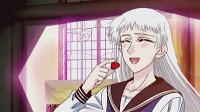 Hajime tries to ask Kaya about it, she freaks out over the idea of her dessert being taken. In the end, she too travels back in time, only with Jun, to uncover the mystery. Hajime has Arashi take him back as well for a series of close calls and mis-adventures where it turns out that Kaya did take the missing dessert, but ended up attempting to eat it in the trip back to the past and get a Cutie Strawberry-chan as a result.
Thoughts/Review: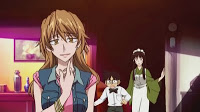 This is one strange anime and to be honest, I don't like the presentation. Much like in White Album's beginning, we are just thrown into a mix, introduced to a dizzying array of characters, and whipped along at breakneck speeds. A second viewing made much more sense, but I think that every stinking character was introduced here, which is a bit much. I know that Fullmetal Alchemist did something similar and maybe they got away with it with me because I was already familiar with the franchise. Regardless, I don't care much for these mass introductions and would prefer that things be done as they were in the manga (which I have not read).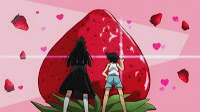 That aside, there is some funny stuff here starting with "Cutie Strawberry-chan." Now there is a minority of subtitle-watching anime fans who prefer that Japanese and English not be mixed and that honorifics be dropped. Yet here, we have the Japanese actually using English for the name of Hajime's deadly strawberries. I'm not sure how the name change from "Ichigo Bakudan" (Strawberry Bomb) to "Cutie Strawberry-chan" went over as a joke in Japan, but for me, I found it a hoot. There were other small laughs as well that were better served after I saw the episode a second time. I'll explain that in a bit.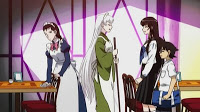 As I mentioned, I think every major character has been introduced in this first episode, but in a way that assumes the audience already knows everyone. There are all kinds of things that happen that just leaves one going, "What the…?!" For example, I couldn't understand why Arashi is wearing a school uniform to go to her job (with Hajime), only to change into a traditional outfit. So why are Arashi and Kaya wearing traditional Japanese tea house outfits when two other girls are wearing maid uniforms?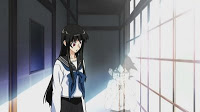 Then the anime throws another curve by suddenly having Arashi be some sort of time traveler in order to score one of the Cutie Strawberry-chan's from the past. Then later, Kaya is also revealed to be a time traveler and apparently to time travel, one must have a transformation sequence whereby you are back in your school uniform (for Kaya and Arashi at least). Though confusing, these elements added to some of the humor, especially when watched the second time.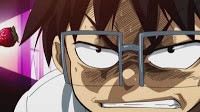 Also helpful comedy-wise the second time around was knowing the near misses of Arashi and Hajime as well as Kaya and Jun. I laughed at how the writers accounted for every scream, missing strawberry, missing dessert, etc. that we learned about before all the time traveling started, then we see the reason for all the missing items, screams, etc. were due to the time traveling. The circle is complete and thus becomes a win of sorts in the comedy aspects. Of course this is SHAFT, so I half-expect the comedy to be hit-or-miss.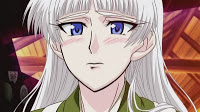 I've not read the manga and judging from the fandom response to the manga, not many people in the U.S. have. With the apparent success of School Rumble for Del Rey, one would think they'd be interested in licensing Natsu no Arashi even though it is not a Kodansha publication. Regardless, I am lead to believe that the events of this episode are from the manga, only they don't happen until chapter 18 (assuming what I was told is correct).
I'll give this series a try, even though it means not doing as much anime backlog. Hopefully, this will end up being a fun series.