フェイト/ステイナイト Ep 03
Fate/stay night episode 03
SPOILER Summary/Synopsis: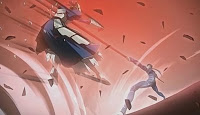 Having been summoned, Servant Saber pledges her loyalty to her new master, Shirou. She then goes to battle Lancer outside. He uses his Gae Bulga attack which is supposed to kill, but while it strikes Saber, it does not kill her. Saber recognizes the attack and that Lancer is originally from Ireland and known as the Hound of Culann. Lancer is not happy that his attack has been read and that his identity known.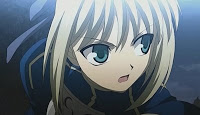 However, his master is recalling him so he is forced to retreat rather than duke it out with Saber. Saber senses Archer and Rin nearby and attacks. Rin sends Archer away but is unable to defend against Saber's attack. Before Saber can kill Rin, Shirou stops her, which puzzles her and somewhat bothers her. Rin and Shirou talk and Rin is amazed that someone with as little magical ability as Shirou was able to summon Saber.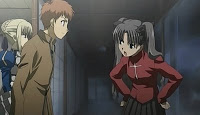 Rin talks of the Holy Grail War and the seven people selected to fight this war from time to time with their chosen Servants — warriors from the past chosen to fill a fighting role (Lancer, Archer, Saber, etc.). Because Shirou is unable to heal or even send Saber back, she's given a robe to cover her armor and Rin leads Shirou to the supervisor of the Holy Grail War — a priest of the Kotomine Church named KOTOMINE Kirei (Rin's legal guardian).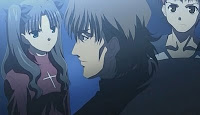 At the church, Shirou learns the rules of the war and while he does not want to fight, he soon realizes that he's going to have to, especially when he comes to understand that the incident that left him orphaned was part of the Holy Grail War.
After leaving the church, Rin says she's done her obligation but before they can go further, Saber shouts out a warning to Shirou. The young girl who'd warned Shirou earlier arrives with a giant warrior, greeting "oniichan."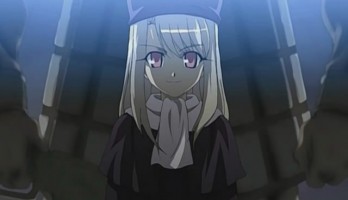 Thoughts/Review: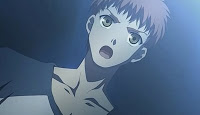 So, we had a lot of exposition in this episode in order to lay out what the Holy Grail War is, who fights it, what the prize is, and the rules along the way. The "reluctant hero" bit is not a new one when it comes to story telling. However, what I liked here is how the writers logically put aside Shirou's reasons to not fight and even to not kill. Of course that wasn't enough to convince him but the subtle way that he was reminded of the incident that left everyone dead but him worked for me. No telling him directly about this — let him come to it on his own and realize what's at stake here. I like this kind of approach to the reluctant hero bit so kudos to the writers for it.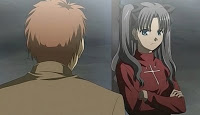 What I wonder is why didn't Shirou's adoptive father teach him more than just magic to strengthen or repair things. Clearly someone taught Rin to be a spellcaster of some sort (though her magic seems based on getting power from gems) in anticipation of the next round of the Holy Grail War. I'm betting that Shirou's adoptive father was part of that round 10 years earlier but even if not, for him to be a mage at all would seem to be that he'd want to impart more knowledge on Shirou. Then again, maybe his adoptive father hoped to give Shirou enough magical ability to have an advantage but not enough to be selected as a master. If that's the case, the man obviously failed.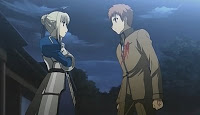 Still, how was Shirou able to summon Saber when he has no great magical ability while Rin, who's trained in magic, failed to summon Saber but instead scored Archer?
I didn't detect Rin giving anything away when Shirou saved her life. In effect, they are now even. Still, I wonder what Shirou is to Rin. If it is as a possible romantic interest, she's playing it cool for now.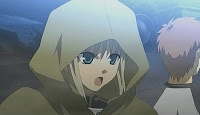 With the arrival of the little girl, it seems an obvious battle is going to happen. Though all contestants are supposed to duke it out for the Holy Grail, I can see how this might have Rin and Shirou form an alliance. Considering all the promo images showing Rin and Saber together, it would be strange to me if they weren't allies.
On a completely different note, I had to laugh when the anime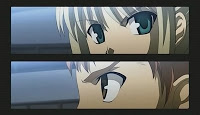 made use of split screen. Why? Well, in episode 3 of the new Fullmetal Alchemist series, I remarked that other than to show surprised reactions for multiple people, I didn't remember the Japanese using split screen for a scene, especially when one character is talking and we can also observe the reactions of the 2nd party. I said that it may have happened before but I just was unaware of it. Here, we have an episode using split screen (horizontally rather than vertically though) for just such a moment that I talked about. *lol* So the Japanese do use split screens in some series and clearly I was just unaware of how much.
So now the table is set with the exposition and now we move to the next battle. I look forward to seeing more as well as reading your comments. ^_^