魔法先生 ネギま!Volume 28 Chapter 250 (manga)
Mahou Sensei Negima! Manga Chapter 250
Negima! Manga Vol 28 Ch 250 Review
Summary/Synopsis: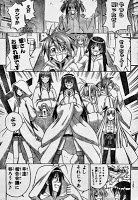 Negi and Kotaro return to their normal size and are greeted by Nodoka, Konoka, and Shiori-Asuna whereby Konoka gives some lovin' to Negi. Then Akira, Yuuna, Ako, and Makie arrive and after seeing how Ako and Negi act around each other, Makie suddenly realizes that the Nagi Ako was in love with is in fact Negi. Chisame reports that the scout team is back and sure enough, Setsuna, Sayo, Kaede, Paru, Ku Fei, Asakura, and Chachamaru have returned. Konoka gives some lovin' to Setsuna while the others have a meeting.
At the meeting, thanks to Asakura's artifact and Sayo's lack of a presence due to her being a ghost, a lot of information has been gathered including the location of the last gateport and two Ala Alba badges coming from what Sayo determined was Fate's hideout after she scouted it out and seeing his girls there. Everyone assumes that the badges must be coming from Yue and Anya and Negi wonders if they were caught earlier and their target is actually Asuna. Negi decides that the group will avoid battle and go for a secret rescue mission to save Yue and Anya, get to the desert gateport, and return to Earth.
Haru praises Negi for his fight, which she and the scout team watched on video. Kaede, Setsuna, and Chachamaru all praise Negi as well.
Yue and Emily are walking and talking with Emily all happy about "Nagi-sama." When Yue suggests that Nagi may have gotten married, Emily angrily rejects this. Yue agrees but thinks about how her Orbis Sensualium Pictus obtained information Megalosembria Secret Data Level and that revealed that Nagi did have a 10-year old son named Negi but no picture. The name on her artifact card says "Negi" and the most wanted has a "Negi" which could only mean one thing.
Negi, Shiori-Asuna, and Nodoka walk and talk about Anya and Yue when Nodoka sees Yue and Emily.
Back outside Paru's ship, Haru begins her pactio pitch to Yuuna, Ako, Akira, Makie, Ku Fei, Chachamaru, Sayo, and Natsumi. She tells them how it will help protect them but also tells them that they have to perform a "deep kiss." Paru and Chamo give Natsumi a pass on getting a pactio with Negi and laugh, leading Natsumi to ask what that's about.
Thoughts/Review:
It is a small thing, but when the scout team returned, why was Chachamaru the only one still small?
Next, I had to laugh at Paru's latest attempt to obtain more pactios. Chamo knows he scored big when Paru joined the battle harem. *lol* Question is, will they manage to pactio everyone to Negi? I note that Sayo and Chachamaru were in the meeting and despite what both said previously, I still think it is possible for them to form a pactio with Negi. The teasing of Natsumi aside, I think that she could score one as well. I'd bet on a sure-fire Ako and Makie pactio though. Why? Because Akamatsu-sensei LONG ago designed pactio cards for them and hasn't been able to create them in the story. He showed long ago that he imagined that Makie would be a member of Negi's battle harem (volume 3 I believe, but I'd have to go to my library and as I write this, I'm out of town) with a chapter-intro image showing Negi and his various weapons, including (non-detailed) pactio cards with names on them. It will be interesting to see if these pactiones happen sooner rather than later.
However, now I'd like to move right on down to what appears to be a rather nasty story problem. In chapter 229, Negi meets Yue and even lands on her broom, thus there is no way in the world that he should not know about Yue. Up until now, I attributed Negi's lack of going after Yue as two-fold. First, Yue is in a safe place among the knights and is in a position to help Negi if needed by coughing up information or by providing cover for Ala Alba. This leads to the second item, whereby Negi can now focus on training to beat Jack and free the slaves while the scout team look for Anya.
In chapter 236, the scout team are shown on their mission. So for the scout team to be looking for Yue and Anya, that means that Negi did not tell them about meeting Yue. At the time, I didn't think anything of this beyond Negi deciding to keep the information private to help protect Yue. Now I wonder.
So, what the smeg is going on? Why is Negi acting like the 2nd badge is surely from Yue and Anya when he KNOWS that Yue is not down there. Why isn't he questioning this in his mind — why two badges?
I would say that Negi is keeping things close to his vest so as not to alert Shiori-Asuna that he knows she's a fake. However, his thought bubbles suggest that he doesn't know. After all, if he already knew that Asuna had been replaced, he wouldn't think Asuna was a target. Likewise, if Negi thought Asuna was simply compromised somehow by Fate and not replaced, would he still be worried as much about her being a target?
Things don't add up for me and with Nodoka seeing Yue (while with Shiori-Asuna and Negi) and vice versa, I would surmise that we'll have some better understanding of what Akamatsu-sensei has in mind. I can't say that what is going on is a retcon yet because it may not be at all. However, if Yue doesn't recognize Negi and Negi doesn't remember meeting Yue, then I will be sorely disappointed in Akamatsu-sensei because then we will have a retcon for sure.