魔法先生ネギま!~もうひとつの世界~
Mahou Sensei Negima! ~Mou Hitotsu no Sekai~
Magical Teacher Negima! ~Another World~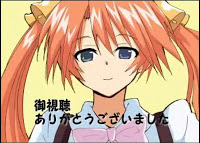 Who knows how long this will stay up, but this is the OP for the new OAD/OVA anime, Negima! Another World. Many of us have been wondering if indeed this new OVA would cover a lot of ground. Indeed it appears that though this new anime will cover through the end of the tournament with Jack and Negi and still only be four episodes in length. That means there will have to be vast amounts of materials dropped or these OAD's will have to be longer than 30-minutes.
Anyway, here is the link to the Japanese site hosting the video.
http://dic.nicovideo.jp/v/sm7419970
Very interesting but I am concerned about how much will be possibly cut. SHAFT is notorious for wanting to do their form of comedy and fanservice and so I'm not sure if they will focus on that or if they will cut all that in favor of the actual story.
Update: This video is a fan-made video, as those in the comment section have pointed out. This is an excellent fan-made video because the animation is fan-made too. Someone at SHAFT needs to hire this person ASAP!