TokyoPop: In the Manga Business or the Cost Cutting Business?
I'm very displeased with TokyoPop at the moment. With my recent purchases of Sgt. Frog volume 17, Gakuen Alice volume 7, and Phantom Dream volume 2 (review coming soon), I discovered that TokyoPop doesn't appear to be in the manga business any more but rather has gone into the cost cutting business and that's not a good sign.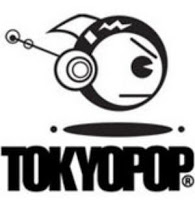 When TokyoPop emerged on the manga scene, the U.S. market was pretty limited. The idea of the day was that there would be NO way American audiences would accept "backwards" Japanese-styled published books, so time and money was spent to flip these manga to a traditional American book style. For a title like Oh My Goddess, which often includes English text, flipping the art would either mean more costly art rework or to simply unflip the panel in question so as to allow the English to appear correctly. Of course this resulting in things like characters having their hair parted on different sides of their head on a single page (as an example).
TokyoPop decided that they didn't want to get into this costly way of doing business (though I believe that they initially did do this). Instead, Stu Levy wisely decided that TokyoPop would buck conventional wisdom and publish manga in the tradition Japanese right-to-left format. Further, he would not spend money painstakingly removing Japanese sound effects from the manga pages, but would have those translated either near the original sound effect mark or as an extra at the end of the publication. Then, he allowed those translators and adapters to use Japanese honorifics and the like if they so chose. Finally, this was all marketed as "100% Authentic Manga" and brought into mainstream bookstores rather than be left in comic book shops.
It worked.
I'm sure that Dark Horse, Viz, and whomever else was publishing manga back then were amazed to see how TokyoPop shot to the top with their "backwards" published manga volumes because everyone just knew that outside of a few hardcore fans, no one would be interested in reading a book this way. Still, the numbers don't lie and TokyoPop made a killing by keeping their costs low while expanding their customer base. It was a cost cutting measure that turned into a brilliant marketing campaign and Stu is to be congratulated for this vision.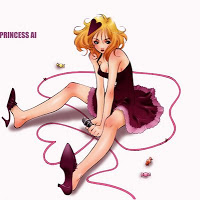 Unfortunately, I think success went to Stu's head because after a while, it seems that TokyoPop began to lose focus. Instead of "100% Authentic Manga" being the sole focus, TokyoPop briefly attempted licensing of anime. That failed but Stu decided that TokyoPop needed to be more hip and to get into the Original English Language "manga" (read: American comic with manga-influenced art and style). His pet project became Princess Ai, that hideous thing that is attached to Courtney Love. As I see it, Stu squandered a lot of TokyoPop's money trying to make Princess Ai something so hip and cool with himself worshiped as well as DJ Milky — the ultra-cool DJ with the dope tracks!
So where did that leave TokyoPop as a company? Sadly, Stu's obsession with Courtney Love caused everything else to suffer. While TokyoPop had no problems desperately attempting to create interest in Princess Ai crap, they had nothing left apparently to promote things like the Slayers light novels, or any of their other light novels for that matter. TokyoPop didn't appear to even have anything to really push new manga titles.
With the economic downturn, TokyoPop suddenly found itself on the short end of the stick despite their cash cow, Fruits Basket. Desperate times call for desperate measures and with a drop in funds combined with TP's waste on top of normal business expenses associated with licensing and distributing manga in the U.S., TokyoPop decided to drop several manga titles. I suppose they felt it was cheaper to just eat the licensing fees without adding the additional cost of translating and publishing those manga titles. However, TP's desperation to cut those costs irritated fans of those manga series, especially when some of those manga series were almost at completion.
Sadly, this apparently still didn't cut TokyoPop's losses enough, so TokyoPop raised prices on much of their manga library. OK, we fans understand that rising costs would cause our manga to go up. However, TokyoPop needed to also cut additional expenses and that meant shifting to low-grade paper for printing purposes. As such, fans are left with poor-quality books for a higher price. Does Stu really think that manga fans will go for this? There's a lot of negative buzz about this, not only on blogs but on forums.
Kyokun703 wrote to TokyoPop about this issue and received this response.
I understand your concern. Paper, printing, freight has increased in price over the past ten plus years we have been in business. One of our competitors announced last week that they are raising prices higher than we did. We felt in order to keep the price of our manga down, we would change paper and only incease [sic] the average price by only 1 dollar. The other paper we used has not only increased in the cost but is getting harder to get.
On Amazon.com, Associate Publisher Marco Pavia wrote this.
Thanks for the feedback – I wanted to address a few of the comments on this thread. The paper we had been using prior to the stock you're discussing was only available from one mill, and suffice it to say, this didn't offer us a lot of flexibility with negotiating scheduling, pricing, etc., so we've been exploring other options. The new paper is different, of course, as you noted – our current printer let us know that other graphic novel publishers are inquiring about and using this paper, too. Now we are in the process of gathering feedback from consumers and other partners, and I appreciate all the candid comments as we assess its future. (BTW, our cover stock has not changed – it's still 10pt C1S – but perhaps the different paper gives it that impression.) Apropos postponing series, like all publishers, we have adjusted the release frequency of some series as we continue to analyze sales numbers and, in the case of slower-selling titles, build demand. Many publishers – not just manga and graphic novel publishers – follow a similar strategy, as we all try to make sense of the current economic climate. Alas, the retail landscape around us keeps shifting and as a result, as a small independent publisher, we need to be as responsive to these new realities as we can in order to survive – and to thrive.

Again, I do appreciate the thoughtful comments, and I just want to let you know we're listening. I hope to have more news in the coming months. And I'll keep reading your comments, so please keep 'em coming.
I note with a laugh that Marco tries to say that other manga publishers are using the same paper. None of my new Viz or Del Rey manga titles are using that paper. In fact, the only company I see being reported as using this paper is CMX — a company I refuse to support from day 1 for a whole host of other reasons.
Still, Marco's presence on that discussion thread at Amazon shows that at least someone from TokyoPop is paying attention to the outcry. However, with TokyoPop's lifeline manga, Fruits Basket, coming to an end, I expect TokyoPop's foray into the business of cutting costs to continue except for Princess Ai, which I expect will continue to bleed TokyoPop for as long as Stu is at the helm. That's a shame too, seeing as how TokyoPop revolutionized the manga business and showed that American could accept both unflipped manga AND manga adaptations with a Japanese perspective. Let us hope that someone will right this ship before it is too late.