クラナド アフターストーリー もうひとつの世界 杏編
Clannad ~After Story~ "Episode 25" (OVA)
Clannad After Story – Another World: Kyou Chapter
SPOILER Summary/Synopsis: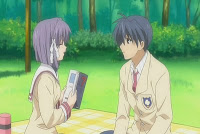 As a depressed Kyou sits alone in a classroom, Ryou makes a confession to Tomoya and he accepts. Thus, Ryou and Tomoya begin dating. One day, Tomoya sees Kyou in town looking depressed. She puts on a happy face and they sit on a park bench and talk. Upon learning that Tomoya and Ryou have never kissed, Kyou asks if Tomoya would like to practice on her since the experience should be the similar to kissing Ryou as they are twins. Tomoya goes in for the kiss but at the last second, Kyou backs down and leaves.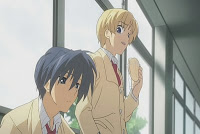 Rumors spring up at school about Kyou kissing Tomoya at the park and even Youhei knows about it. When Tomoya denies it and says he's dating Ryou, Youhei is surprised since the two don't match up well. Kyou drags Youhei off and when Ryou comes to talk to Tomoya, he makes an excuse and leaves. Tomoya discovers Kyou attempting to kiss Youhei outside and hides. Youhei stops Kyou because he realizes she's not serious and that she loves Tomoya. Tomoya emerges and Kyou is ashamed that he heard that. Kyou tries to play it off and Ryou senses the distance coming between herself and Tomoya.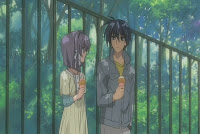 On a date, Ryou calls Tomoya "Tomoya-kun" instead of "Okazaki-kun" for the first time and asks that he call her "Ryou" instead of "Fujibayashi." He agrees but there is awkwardness between them that lasts until she eventually goes home. Tomoya is feeling down and walking home in the rain, he finds Botan out. He then discovers Kyou is there but she doesn't want him near, begging him to only think of Ryou. He doesn't stay away and she ends up telling the truth about her feelings and the mess of things she and Ryou are going through.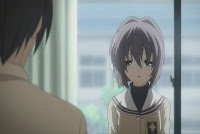 At school the next day, Tomoya and Youhei are on the roof talking when Youhei gives Tomoya a frank statement that no matter what Tomoya does, either Kyou or Ryou will be hurt. To do nothing will only make both of them hurt more. Tomoya meets with Ryou after school in the classroom and breaks it off with Ryou. She admits that she knew that Kyou liked Tomoya but she went for Tomoya just the same. She says she can become more like Kyou and begs him to give her a chance but he refuses as that's not what he wants. Ryou races forward, kisses Tomoya, then flees the classroom.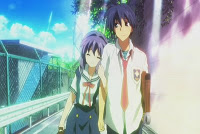 The next day, Ryou is absent and Tomoya is depressed. Youhei ends up leaving him after class when Tomoya begins speaking aloud and addresses what he thinks is Ryou. He tells her that he's been unkind to her in that he had been thinking of Kyou while dating her and that it is Kyou he loves. The girl races forward and Tomoya realizes this is Kyou, who's cut her hair like Ryou's. Ryou got angry with Kyou for not going for Tomoya and now it is Kyou's turn to confess. Thus Kyou and Tomoya become a couple and Ryou and Tomoya are friends. Kyou and Ryou have their sisterly bonds renewed and all is well.
Thoughts/Review: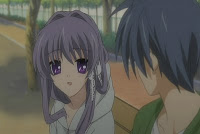 I knew this was going to be a tough one to watch from the moment Kyou looked depressed and Ryou was all happy that Tomoya started dating her. I can't imagine what twins who fall in love with the same guy might go through when one is chosen and the other is rejected. Of course, one would feel worse for Ryou considering she's the shy type and doesn't seem like she'd handle rejection that well. It was different in the main anime because Nagisa and Tomoya were so meant to be together, the others didn't really have a chance. That's why, as in the Tomoyo Route OVA, Nagisa is MIA. She has to be otherwise these other girls wouldn't work.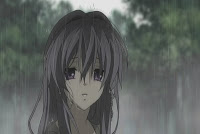 The bad thing is that the title of this OVA gives away the store by saying this is Kyou's chapter, so we know Ryou is getting screwed from the start. The anime writers make Ryou a bit tougher and accepting than one would expect though, but I suppose they had to in order to allow there to be a happy end of sorts. The only thing is, I never could stop feeling bad for Ryou no matter how much effort the production team attempted to put into her moving on with her life and restoring her relationship with Kyou.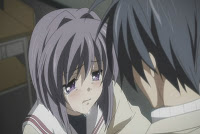 Anyway, it was not only strange to see Kyou with Ryou's hair style, but it was also strange seeing her so lovey-dovey with Tomoya after they became a couple. I can believe Kyou would be this way but considering how she was throughout both main anime series, it just seems odd.
Youhei, who's so often just the cannon fodder for jokes, comes off mature and sensible in this episode. Shocking, I know but first he doesn't take advantage of Kyou's attempts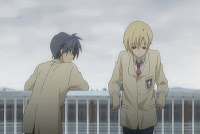 to replace Tomoya with Youhei. Next, he actually offers some sage advice to Tomoya in laying it out there that no matter what Tomoya does, either Ryou of Kyou will be hurt. I actually think that the Youhei stuff may have been the highlight of the episode.
I guess this now finally wraps of the Clannad franchise as I don't believe there are any more romantic routes for Tomoya to take and be exploited into a one-episode spinoff. Either way, this is not an episode that I could watch again simply because I hate that Ryou gets hurt.