As many of you know, I'm a big fan of the canon Tenchi Muyo! Ryo-ohki franchise. As such, I get lots of questions about things Tenchi to include asking about the possibility of FUNimation or other company bringing back the Geneon USA-licensed titles such as the canon Tenchi Muyo! Ryo-ohki OVA's (OVA 1, Night Before Carnival, OVA 2, which Pioneer/Geneon USA called "Tenchi Muyo!"), the Tenchi movies, Tenchi Universe, Pretty Sammy, etc. When FUNimation began to distribute titles for Geneon and even completely take over some of Geneon's titles, I had high hopes we'd see all the old Tenchi titles make a return to the U.S. Now, I'm not so hopeful.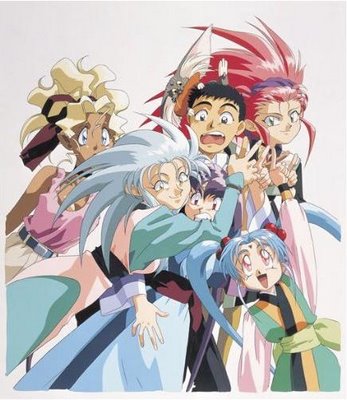 Since Japan and the U.S. are now in the same Blu-ray region code (we are still in different DVD region codes though), Geneon Japan appears to want to bypass a U.S. distributor completely. I say this because first Geneon Japan released the three Tenchi movies on Blu-ray and included on that release are the original English dubs and English subtitles. Now, they are releasing the first 13 canon OVA episodes on Blu-ray with the same deal — English dubs and English subs! There's a catch though — it will cost you ¥30,660 *(~$327 as of this writing) plus shipping which won't be cheap.
So, if they are going to release the BD version with the English dub and subtitles on their own, they aren't going to allow FUNimation or any other U.S. distributor to license the series or distribute it on Blu-ray since the U.S. companies would sell the same set for considerably less (I'd say well under $100). If Geneon Japan allowed this to happen, it would be cheaper for Japanese fans to simply reverse-import the U.S. Blu-ray's and come out ahead of the game. Instead, Geneon Japan feels that if you are a true Tenchi fan, you'll pay their outrageous prices and import the Blu-ray's for yourself. I guess I'm not a true Tenchi fan 'cause I'm not paying that ridiculous price for 13 anime episodes with subtitles desperately in need of a fresh translation.
That still leaves the DVD sets, right? Well, maybe but with Blu-ray being the growing market, companies like FUNimation are trying to obtain all of the distribution rights, to include DVD, Blu-ray, and various forms of digital distribution. Now that I own an HDTV and a Blu-ray player, I'd rather have a BD version since I already own a DVD version. Further, I have the feeling that Geneon Japan wouldn't mind trying to cut out the middle man for the DVD market and attempt to sell R1 DVD's themselves.
Still, if you'd like to pre-order (releases on September 26, 2009) the Blu-ray set from Japan, Amazon Japan has it on sale at the moment for ¥22,688 plus shipping. If anyone does get this, I'd love to hear from you on what all is on the BD set. ^_^