Ah! My Goddess Manga/Oh My Goddess! Manga
ああっ女神さまっVolume 39 Chapter 248
Ah! My Goddess Ch. 248 Manga Review
SPOILER Summary/Synopsis: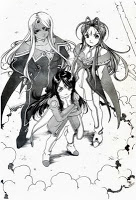 Keiichi is concerned about going through the gate, leading chibi-Hild to inform him and the others that the gate is opened for six hours and there's no guarantee it will reopen. She goes through the painful process of extracting a crystal from her body — 1/1000th of 1/1000th of her original body. With it, she makes a necklace and hands it to Keiichi to wear since she cannot enter the gate herself. This will be their trump card and chibi-Hild instructs Keiichi not to use it until he gets close to Hagall.
After Belldandy, Urd, and Skuld transform their clothing into their goddess uniforms, an irritated Peorth and Lind arrive. Lind immediately attacks chibi-Hild, who manages to stop Lind's poleaxe though is partially driven into the ground as a result. Chibi-Hild is irritated by Lind's attack as she wants her to listen first, but Lind is not interested in listening to the Daimakaicho's excuses.
Thoughts/Review:
The lost chapter.
Hmmm…in chapter 249, it seemed that a lot more stuff went on since the city was partially destroyed and there were all kinds of things happening, including an Asian dragon rampaging, all of which needed to be cleaned up. So I guess the implication is that while chibi-Hild worked with Keiichi and company, her former minions under Hagall's directive are wreaking havoc on Earth and that's what needs cleaning up.
The only thing chapter 248 did was establish Peorth and Lind's arrival; Belldandy's, Urd's, and Skuld's change of clothing; and the crystal sub-sub-form of Hild. So in the 15-pages of manga, not a whole lot happened.
I will say that I did enjoy Hild's teasing of Urd, both in Urd's concern over Hild's well being after the crystal extraction as well as in Urd not being able to subdivide herself as Hild can.
By my reckoning, chapter 251 is the next one I need to read, assuming I can score a copy.