うる星やつら episode 118 (TV anime)
Urusei Yatsura ep. 118
Urusei Yatsura – 118
SPOILER Summary/Synopsis: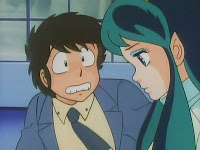 Ataru arrives at an airport and working his way through the crowd, he finds Lum who is dressed to take a flight and looks depressed. She refuses his pleas to return and when he won't take no for an answer, she stabs him and flees. The crowd is horrified but when the police arrive, Megane appears and shouts, "Cut!" Lum, Ataru, Megane, Perm, Chibi, Kakugari, and Shuutaro flee the airport with Lum helping Ataru and Shuutaro by flying them out. At their small delivery truck, they gather but when Shuutaro asks if Megane got his closeup, Megane and the others reveal that they ran out of film to complete the scene.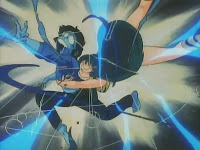 Going back in time, we are shown how Megane recruited various classmates to participate in his film, even though his story was clearly about Lum and Ataru with Lum getting tired of Ataru. As shooting progresses, Ataru finds his promised harem scene cut and he has to get it back in no matter what. When Shuutaro is brought in, the harem scene is again removed. Ataru even goes as far as attempting to get Lum to pose nude in the film in order to get the harem scene restored, but Lum electrocutes him for the suggestion.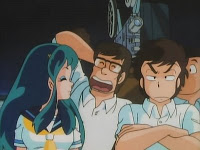 In the end, the film is finally made and the participants sit down to watch it. Everyone who had a part in the film is not happy to see that all of their stuff has either been removed or diminished. Ataru, who'd even filmed a dangerous scene involving live ammunition being fired at him and real explosions going off, is especially unhappy that this scene was removed. Instead, the film completely focuses on Lum, which pleases her. Megane attempts to justify his actions, but it isn't good enough as Shuutaro, Ataru, and Shinobu all attack Megane, who's desperate to save the film.
Thoughts/Review: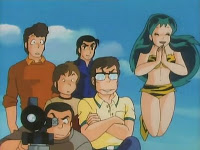 The moment I saw that this was a film being shot by Megane, I knew immediately what he was up to — film his own personal movie centered around Lum. What made things funny then was seeing how he conned the others into staring in his movie just so he'd have an excuse to film Lum. Technically speaking, it was Kakugari who filmed everything but clearly Megane put the final cut together to insure Lum was the entire film.
The other funny element was Ataru's constant fight to retain the harem scene, which Megane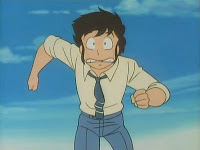 promised him in order to get Ataru in the film and thus Lum in the film.
One thing that made me smile with nostalgia was seeing Ataru dressed in a couple of different sock ties. Indeed, I saw Ataru at times and thought, "this is pretty much me at age 16, though my hair was parted in the middle." I had to wear a tie at my job and sock ties were great for that for a whole host of reasons. Man, we thought we were so cool in those ties. *lol* However, like most things, the sock tie faded into obscurity which brought an end to wearing blue jeans, a buttoned-down shirt, and a casual tie as a look.
In the end, the episode was fun though scrambled a bit in presentation.