Hagane no Renkinjutsushi – Fullmetal Alchemist Ep. 26
鋼の錬金術師 FULLMETAL ALCHEMIST Episode 26 review
Fullmetal Alchemist Brotherhood – 26
SPOILER Summary/Synopsis: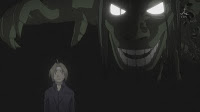 Ed and Ling take a beating from Envy but when Ed has a chance to strike, some of the humanoid forms making up Envy's body seem to have minds of their own, so he hesitates. Ling chastises him for this, but in the end, Envy defeats Ed and eats him. As Ed sees Envy's core, he remembers a symbol he saw within the Gluttony and remembers the incomplete transmutation circle in Xerxes. He then kicks one of Envy's teeth out and tells Envy that he may have found a way out of Gluttony.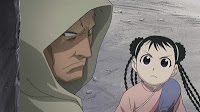 Mei and Scar track Xiao Mei and learn that he's with the "armor man." Mei sees Al and Gluttony in an ally with Xiao Mei on Al's shoulder. Scar stops her from running to them since he knows Gluttony is a homunculus. Mei is determined to follow them, so that's what they do. As Al and Gluttony make their way through untouched, Mei and Scar have to battle countless Chimera, created by Father as guardians. Mei speaks of this terrible feeling she has about something living beneath them but she's determined to carry through.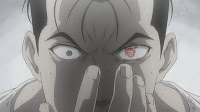 At the Central HQ, King Bradley tells Roy about the program that took infant boys and trained them to become the ruler of Amestris. Their training and education was under the oversight of a group of scientist and upon reaching adulthood, the candidates are brought in to be injected with a Philosopher's Stone. All of them died, not being able to handle the destruction and reconstruction of their bodies that the stone produces. Bradley was, and thus took Father's wrath to become both Wrath and King Bradley. Bradley doesn't know if his soul is his own or belonged to someone sacrificed to make the stone. Mustang makes an appeal to the human side of Bradley, but Bradley is proud to be homunculus now.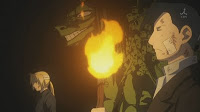 Back inside Gluttony, Envy has gathered all of the marked stone fragments from Xerxes, which Ed arranges. He draws a transmutation circle based on what he remembers from Xerxes, planing to transmute himself in order to open the Door of Truth and allow them to escape. Ed believes that the city of Xerxes was sacrificed to create a Philosopher's Stone, but he doesn't know why. Envy says that if they escape, he'll tell Ed, though Ed has rightly guessed that bodies making up Envy are what's left of the people of Xerxes. Envy tells him they are just there for energy and since a price will need to be paid, Envy offers that price from his Philosopher's Stone.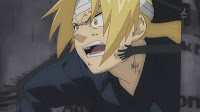 With an apology, Ed starts the transmutation process and causes the eye to appear. He has Ling go through, who is deconstructed. Envy is also deconstructed and then Ed. Ed finds himself facing the Truth, who's got both his arm and leg. Ed then finds himself between two Doors of Truth, with a naked, skinny, long-haired Al sitting in front of one. The other door opens and Ed is pulled inside, Al telling him that he can't go with Ed (implying he can only return with Al's soul). Ed it pulled in but manages to get the door open one last time to tell Al that he'll return for him someday.
Thoughts/Review: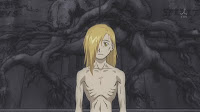 More amazing stuff.
I'm still not sure how opening a real door within the fake door that is Gluttony would allow Envy, Ling, and Ed to return to the real world, but so far it seems to be working. I'm guessing the reason that Ed saw two doors is that one is the real one and one is the fake one. Seeing that Al's body has grown but is emaciated seems to indicate that while Al is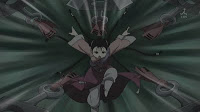 alive, there may be a clock ticking on that body.
As expected, Scar and Mei find Al and Gluttony. The timing seems to be such that once Mei and Scar slaughter all of the chimeras, they'll arrive in time to see not only Al, Xiao Mei, and Gluttony with Father, but Ed, Envy, and Ling arrive as well. That should prove interesting since Mei and Ling are foes looking for the same thing — immortality.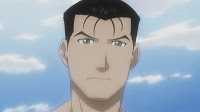 Bradley sure was talky. Don't get me wrong, I loved learning that he was once a human. No wonder he ages then. This Father character certainly is a busy man what with creating an entire country just for the apparent purpose of slaughtering them all Xerxes style.
Anyway, I'm just a bit surprised that Bradley tells so much. He may not consider Mustang a threat any longer and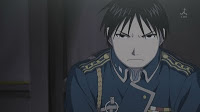 maybe letting Roy know the truth is a way for Bradley to amuse himself. However, I don't expect Mustang to go down easy, which is why I think Bradley is making a mistake.
Why does Father look like Hohenheim? Are they the same person? My gut says no because recently we were shown Hohenheim no where around Central. Then again, Hohenheim warned Pinako about a coming danger,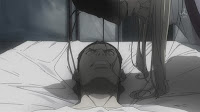 suggesting he knows something or is part of something sinister. However, Father doesn't seem like the type to care to warn someone about danger so I still think they are separate people.
So, another good episode in a really good series. I'm just sorry to hear about everything that's being cut from the manga though.