魔法先生 ネギま!Volume 29 Chapter 266 (manga)
Mahou Sensei Negima! Manga Chapter 266
Negima! Manga Vol 29 Ch 266 Review
SPOILER Summary/Synopsis: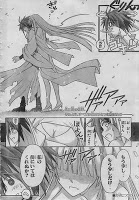 Having failed to get Negi to completely lose it with Magia Erebea, Gödel changes tactics and decides to tell the group through more conventional means, aided by his illusion projector. Gödel states that his enemies are the Megalomesembria Council, pure-blooded mages, the military, the Mage of the Beginning, Fate and his group, and even the Empire of Demihumans — Hellas. Via the Diarium Ejus, Nodoka confirms what Gödel is saying, including that he played no personal role in the destruction of Negi's village.
Gödel replays the fight between Nagi and the Mage of the Beginning where even in defeat, the Mage promises that humanity will known the curtain of despair and that Nagi will learn of the eternity the Mage speaks of.
After apparently killing the Mage, Nagi briefly thinks of oshishou (master) when Arika approaches. She doesn't look very happy but when Nagi asks for his staff and equipment back to be released from her service, she asks if he will stick around for a while as she embraces him from behind.
Thoughts/Review: I wonder how the Council is getting such detailed records of events.
Gödel comes off as a racial purist from this chapter. I thought about the subplot in the Harry Potter series of novels where there are pure blood mages who are not keen on "mud bloods" learning magic. Here, it seems different in that Gödel and a group of humans are opposed to pure-blood mages, non-human humanoids, and any other power that would block their path. So, Gödel seems to want the world reshaped in his image and Fate wants the world destroyed (and remade). That would leave Negi and company to fight everyone from the middle.
Still, even with Nodoka's artifact, I still take lots of what Gödel says with a grain of salt.
The fight between Nagi and the Mage of the Beginning didn't reveal what happened to Filius Zect, though Nagi's expression would seem to indicate that Zect possibly sacrificed his life.
Next episode, it looks like we'll have details held by the government showing the further relationship of Nagi and Arika. I am interested in seeing more about this and hopefully we'll learn more.
I realize I haven't much to say this chapter, but that's because despite everything said, there's not a great deal to remark on without further data.
Here's hoping we get spoilers this Saturday. ^_~