Negima! 268 SPOILER Images
魔法先生 ネギま!Chapter 268 (Images)
Here's what I know many of you have been waiting for — the original-sized, sneak-peek images for Mahou Sensei Negima! Chapter 268 SPOILER Images as brought to you buy anonymous Japanese fans (click pic to make bigger, y'all).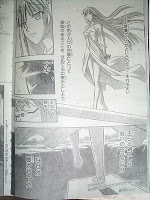 If what I see is to be believed, it seems that shortly after the fall of Ostia, Arika was arrested and officially executed about two years later. It seems that Nagi did what he could to help the people of Ostia. I'm guessing this is when Asuna joined with Ala Rubra.