魔法先生 ネギま!Volume 30 Chapter 268 (manga)
Mahou Sensei Negima! Manga Chapter 268
Negima! Manga Vol 30 Ch 268 Review
SPOILER Summary/Synopsis: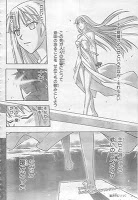 With the imminent collapse of the floating islands of Ostia, the Megalomesembrian assists in the evacuation of Ostia as magic does not work. Upon hearing that the slums of Ostia are slow to be evacuated, Arika decides to head there herself to assist since her magical abilities are not negated by the nullification going on all around them. Before she can leave, Nagi contacts her and though she has little time for him, she does agree to have him help with the evacuation before she orders him to get as far away from Ostia as possible. Young Kurt asks for Al and tells him that should they be caught, they would likely be arrested. Al promises to get Nagi away and Nagi is frustrated with Arika's stubbornness.
Ostia saw a 3% death rate as a result of the magical nullification that brought the islands to the ground. Despite the fact that she had saved so many people, many refused to believe that someone of her rank would go out of their way to save the less fortunate.
Two months later while making a case for her people to the Senate, she is arrested for the death of her father and her suspected ties with Cosmo Entelecheia as well as for the incident that caused the fall of Ostia. Because of the refugee problem, slavery is legalized to appease those taking in the refugees. Two years later, she is scheduled to be executed as the Megalomesembrian government succeeded in getting most of the population to blame Arika for the problems. Ten days later, she is visited by a senator who demands to know a way to reach the graveyard where apparently Princess Asuna is sealed away. Arika won't speak and the senator decides that her death will be enough.
Meanwhile, Nagi and Ala Rubra have been going around helping people in conflict areas and saving lives. Kurt Gödel contacts them in the middle of an operation to save people with the news of Arika's impending death. He is frustrated with Nagi, who has great power and reputation, for not doing something for Arika and for following her advice to save others. Kurt rejects this notion because he feels Nagi's love for Arika should rule, but Nagi points out that even now, he saved a life.
Ten days later, Arika is taken to Cerberus Canyon, which is filled with various monsters and no magic can be performed there. It has long been a point of execution and Arika is made to walk the plank. Arika hopes her death will help the people and her only regret is not getting to see Nagi's face once more.
Thoughts/Review:
It is interesting how the Megalomesembrian government used the crisis in Ostia to control that land AND basically make a new slave class. This notion is not uncommon and has happened throughout history. Heck, Rahm Emanuel said in late 2008, "You never want a serious crisis to go to waste. And what I mean by that is an opportunity to do things you think you could not do before." Clearly, the Megalomesembrian government had their eye on Ostia for a long time from how I read the chapter but the crisis caused by the fall of Ostia allowed them to pretend to help people while in fact becoming overlords of sorts.
I understand Gödel's disillusionment with Ala Rubra and Nagi. We'll see how the story progresses, but if Arika turns out to be truly dead, then that would certainly explain Gödel's anger and desire to destroy the world since he seemed very devoted to Arika (I dare say he loved her). IF Arika is still alive somehow, then his anger at the world is harder to understand for me.
Well, we'll see if Nagi saves her or not. The way things are set up now, Nagi making some sort of flashy rescue of Arika seems impossible since such an event would be harder to cover up by the government (too many people to witness it). If Nagi did that, it seems that Ala Rubra would be implicated by association but we know that Takahata often travels to the Magic World and does the work that Ala Rubra did when he was a youth. Eishun is allowed to live on Earth rather than being taken in for execution. Jack was basically underground and Al was literally hidden underground, Nagi "died," Gatou did die and somehow Asuna is whisked away by Takahata to Japan.
Asuna. Now, this is interesting. Asuna's memory-dream indicated a fight of some sort and it seems highly likely that Ala Rubra rescued her then. There are some bits that don't quite make sense to me such as what happened with Asuna after they rescued her, if indeed this is during the war. Also, how was she used to cause the fall of Ostia? I may need to try to reread everything and figure that out.
This chapter seems to indicate that Asuna was sealed in the fallen ruins of Ostia (possibly where Asuna is currently held captive). So, it seems that Ala Rubra would have to rescue her yet again in order for her to travel with them. If Arika dies, I can see Nagi doing this to honor Arika since Asuna seemed important to Arika.
Of course, we still have the Eva problem. I'd love for Akamatsu-sensei to clarify this more as to when Eva was with Ala Rubra. For her to not recognize Asuna strongly suggests she was never around Asuna when Asuna was with Ala Rubra (the eyes alone would give Asuna away). So Eva could have spent some time with Ala Rubra after the war (indeed, Nagi may have taken her for a refugee child initially). Maybe I'll hash this out more in a separate article.
Well, another exposition chapter that still needs at least one more chapter to wrap it up. Gödel's talk has raised more questions than it has answered. *lol*