Tsubasa: Those With Wings Manga Volume 2 (Volumes 3 & 4 originally)
翼を持つ者
–> Not available for purchase from RAKUTEN.COM (formerly BUY.COM)
–> PURCHASE FROM BARNES & NOBLE
–> PURCHASE FROM RIGHTSTUF!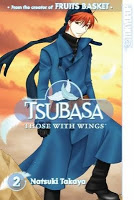 It is strange to see the very different approaches in storytelling that Takaya-sensei has between Tsubasa and Phantom Dream, which were partially done at the same time (March 1994 to August 1997 for Phantom Dream and October 1995 to May 1998 for Tsubasa). I have struggled with Phantom Dream quite a lot but with Tsubasa, I find that things are much better over all in terms of story.
With this compilation of the original 3rd and 4th volume of the manga, Takaya-sensei brings back all the central support characters introduced in the previous stories and then seemingly forgotten once their stories were over. First back is Yan (who's character design was recycled to become Haru in Fruits Basket), who feels an obligation to help out Kotobuki. Once the orphanage story is over, he and his group are again left behind, but I get the feeling he'll be back.
Next returning is the fun character Shouka and her two assistants. When she left the manga early in the series, she took a certain level of fun with her but her return brings back that level of fun, especially since she has such a strong dislike for Raimon. Thankfully, Shouka is with Raimon and Kotobuki for most of this volume, including the end which means she'll be there next volume for sure.
Also returning toward the end of the volume is the rich girl Adelaide, who encounters Kotobuki's group while on some official business but ends up helping Kotobuki and Shouka to find the mysterious land known as Japan.
Takaya-sensei has the story flow fairly well in this series. She took her time with the initial episodic story arcs but took the time to establish characters and some ideas when she now runs with in this volume. We learn more about Raimon's past and how that past plays in the current story, especially regarding his former military status. We also learn more about the world that the characters live in (a plus) and that includes Tsubasa, though that is still a lot of a mystery. Regardless, everything plays out well with stories and characters and I didn't feel I needed to reread passages to see if what I read is what I read. Also, there were no weird plot twists to deal with, which is nice.
Another nice element is the progress between Raimon and Kotobuki on the romantic front. Takaya-sensei always took this slow and had them progress in a way that worked considering the type of manga this is and the the type of character Kotobuki is. Takaya-sensei is tactful in how she handles the couple advancing to that final level, enough so that Kotobuki being underaged likely won't cause a problem for most readers.
Sorely missed in this release are Takaya-sensei comments, which are not included. I'm guessing that this is because they were excised from the bunkobon volume in Japan and thus are missing from TokyoPop's release.
Excised from the manga again are all Japanese honorifics. Well, that's not entirely true. Somehow, adapter Soo-Kyung Kim let a "chan" honorific through. I say that it was let through because were Soo-Kyung down for honorifics, they would have all come through. As you guys know, I prefer honorifics be left in because I want the Japanese perspective, even on a non-Japanese story. However, I won't complain much but if honorifics are important to you, now you know they aren't there.
TokyoPop's cheap printing continues, which is to be expected. It sucks to have such substandard printing but I don't see any immediate sign of TokyoPop changing their policy.
In the end, Takaya-sensei proves she can tell a good tell that is fun, interesting, and with a bit of shoujo romance to boot. I look forward to seeing how everything wraps up.