ホワイトアルバム Episode 15
White Album Ep. 15 review
SPOILER Summary/Synopsis: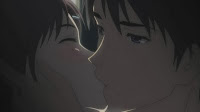 Yuki and Touya spend some time on the roof of the hospital where Touya comforts Yuki, who's feeling depressed. Touya and his father have a talk about life, memories, and living alone. Touya arranges for his father to come home over the New Year's holiday where he's cared for by Misaki and Akira. Mana and Haruka's friendship grows as they spend New Year's Eve together in a cabin. Rina spends New Year's doing the TV circuit. Yuki spends part of New Year's Eve with Touya where he kisses her. However the following day, Yayoi (Shinozuka) has Touya meet her at Echos where they are seen driving off by Ogata-san.
Thoughts/Review: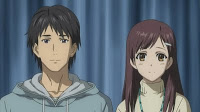 So, Yuki and Touya spend some time together, yet while Yuki is enjoying kissing Touya, he's simply going through the motions. Well, I guess a guilty conscious might do that to a person. After all, he'd banged her manager Yayoi not to much earlier and then arranged to meet Yayoi the following morning. Touya is one sick so-and-so. Other than sexual release, what is he getting from Yayoi anyway? She certainly is no friend to him and not that Ogata has seen them drive off, things can only get worse.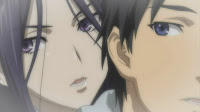 As I said last episode, I think Yayoi is using Touya as a means of escape because she's clearly depressed about things in this episode. However, I wonder if their excursion is actually a way for Touya and Yuki to get together again. We'll see.
Hana and Haruka's strange friendship continues. Hana is such a lonely girl that she's willing to go through bike training in order to hang with Haruka. However, Haruka is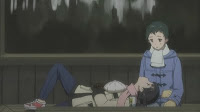 also a lonely girl, which is something I think Hana finally realized after the sun arose on New Year's Day.
I wasn't surprised to learn that Akira and Misaki haven't consummated their relationship yet. Despite her annoyances with Touya, I think she's still in love with him. In my mind, that's why she was willing to take care of Touya's father for him and that's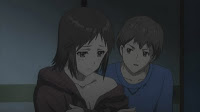 why she won't let Akira have sex with her. Akira only wants to make her happy, which is why he's along to help her care for Touya's father. However, if this continues, I expect a fight soon.
We didn't get to see much Rina this episode beyond seeing that she spent New Year's alone. I think she was the only character to come out of this episode mostly unscathed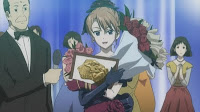 since she worked then slept.
As to her brother, we learned a bit more about the painting that makes him cry and his considering it like his mother. At least Yuki was able to get things right with Ogata regarding why her singing lessons were canceled for the rest of the year. That event as well as spending time with Touya (along with a kiss) seemed to do Yuki some wonders,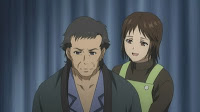 though if she ever finds out about Touya banging Yayoi…ugh.
So, kind of a strange, downer episode but I'm still curious to see where things go and hope for a bit more Rina next time. ^_^