Yotsuba&! Manga Volume 3 Review
–> PURCHASE FROM RAKUTEN.COM (formerly BUY.COM)
–> PURCHASE FROM BARNES & NOBLE
–> PURCHASE FROM RIGHTSTUF!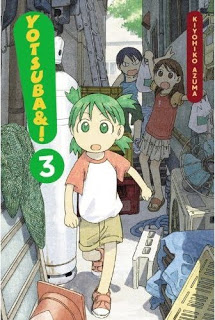 The Yotsuba&! goodness continues in volume three of the manga as Azuma-sensei continues to bring us the wonders of childhood.
Right off the bat, Azuma-sensei establishes continuity by having the first image of the volume actually be a moment that takes place between the end of volume 2 (chapter 14) and the first chapter of volume 3 (chapter 15). I laughed when Yotsuba's father found the desert souvenir from Asagi in Yotsuba's pants. While we in the U.S. don't have this whole "buy gifts for your coworkers, friends, and family when you return from vacation," I did appreciate how Yotsuba expected another gift once Asagi got back with her (strange) friend.
The continuity continued into chapter 16 with Yotsuba anxiously awaiting on Asagi to return so she could get a present. Man, Azuma-sensei manages to capture the highs of eagerly anticipating an event (getting another present from Asagi) to the lows of realizing that all that expectation is coming to naught. Man, I felt for Yotsuba for sure there but since this is a fun manga, Azuma-sensei has Japanese fireworks to make things OK again.
Yotsuba and Fuuka's trip to a floral shop had me chuckling both when Yotsuba decided to take a free bus ride and leave Fuuka and then when Yotsuba decided to get into the flower cooler to check it out. *lol* Again, both of these moments are things that a child would do as part of the adventure that life is at a young age.
Azuma-sensei picks up Jumbo's interest with Asagi by trying to get Fuuka to give Asagi some roses after giving Yotsuba all of the expiring flowers. The continuity then continues with Yotsuba's father sending her to give away some of the flowers by dressing her up like the little match girl and calling her the Flower Cupid. Cute and fun stuff as Yotsuba gives away flowers.
Two of the best laughs come in chapter 19 where Yotsuba's father takes Yotsuba to the local zoo. Yotsuba punching a goat that was taking food she was trying to feed to the baby goat made me laugh out loud. Then eating lunch near the elephant's pen made me laugh when Yotsuba observed the elephant taking a large dump. It reminded me of the last time I went to the zoo when a little boy noticed a hippo taking a crap in the pool it rested in. We ALL knew all about it as this excited boy told his parents. *lol*
The final two chapters regarding the fireworks show were good too. We meet Ena, Fuuka, and Asagi's father for the first time. We also see Jumbo's attempt to get Yotsuba ask Asagi to come to the fireworks show with the expected results. I loved how Miura manipulated Jumbo once she understood that Jumbo liked Asagi.
Yotsuba going off on her own at the festival even after her dad said not to made me smile because it reminded me of my brother, who often did the same thing at Yotsuba's age. My parents did to my brother what Y0tsuba's father did to her — leave her but be nearby hidden so that the lesson is taught about sticking close to your parents. Ah, memories.
The fireworks part includes a 2-page color spread to have the fireworks in color, which is a very nice touch on the part of Yen Press. I don't know if that was in the ADV version or not.
So we have another great volume of manga where I was often taken back on a trip to memory lane as a recalled similar incidents in my own childhood that Yotsuba went through. That is the amazing part of Azuma-sensei's work in that he manages to so wonderfully capture those moments. The manga is such a delight to read, I could read it again right now. In fact, I just did. ^_^
Originally posted at
astronerdboy.blogspot.com
. If you are now reading this on another blog, it has been scraped from
AstroNerdBoy's
blog. You are encouraged to shun this pirate blog and come by the real McCoy. ^_^