Isekai no Seikishi Monogatari OVA Ep. 06 Review
異世界の聖機師物語 OAV Episode 06 (Blu-ray/DVD version)
Tenchi Muyo! War on Geminar
SPOILER Summary/Synopsis: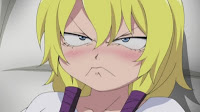 Dagmyer discovers he can no longer work a Seikijin and is frustrated by this. Meanwhile, Kenshi learns that Ceres is going on summer vacation while Lashara informs Chiaia that she has no intentions of going anywhere for summer vacation. However, when Flora contacts Lashara, she threatens to expose an embarrassing photo of Lashara, forcing Lashara to attend. Further, Flora wants to meet Kenshi no matter what and has invited Lithia, Aura, Wahanly, and Dagmyer.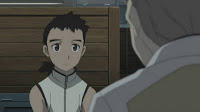 On the flying yacht heading to the resort, Kenshi is all excited by Lashara is rather annoyed by everything. Their ship docks with a string of similar specially designed yachts and Kenshi sees Ceres on one of the ships. So, he decides to pay him a visit and finds him in a storeroom along with a girl. He and the girl talk with another girl named Cordine, who's made arrangements to get Ceres's girl, Hazuki, past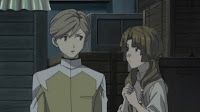 the gate. Kenshi has to hide when Cordine passes by but is revealed to Ceres and Hazuki by the large number of koro that flock to him. Ceres explains that his being a Seikishi and not of the nobility is rare, but it means his relationship with Hazuki is forbidden. Thus, Kenshi promises not to reveal his secret.
Maria and Lashara are in for a shock when they approach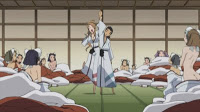 the point where they are to pick up Flora and see that Maria's mother has tons of giant banners of her in a sexy costume as well as numerous balloons with her face on them to hold up the banners. Flora shows them to where they will stay and Kenshi rightly guesses that the welcoming ceremony will be a pillow fight with a competition to pull the sash from another person's robe. The winner will get to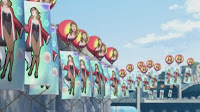 marry the one they want as well as score a cash prize. Kenshi wants the money to attempt to get back to his home on Earth. In the end, it comes down to him and Flora, so Flora gives Kenshi the win to Maria and Lashara's annoyance.
As a group of bandits plan their move to obtain Ceres and Dagmyer, Maria and Lashara plan revenge on Flora by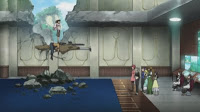 using Kenshi in massage mode, but that backfires on them leaving them exhausted the following morning. Kenshi is out and about and encounters Hazuki being chased by some bandits. He takes them out and races back to his lodgings at the resort. However, the bandits are led by a former Seikishi, who has stolen a Sekijin and the resorts automatic defenses are soon breached. The girls find themselves captured by a bandit on a hover bike until Kenshi crashes in and takes the bandit out.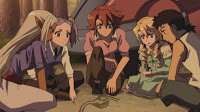 Upon learning what the bandits are up to, Chiaia and Yukine are dispatched to save Dagmyer, not knowing that he is bargaining with the bandits. Indeed, Dagmyer sleeps with the female leader of the bandits for the purposes of helping her produce a Seikishi child. Kenshi rescues Flora, who's enjoying it way too much. He then figures out where the hostages are taken before helping rescue Ceres and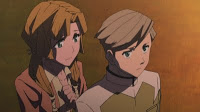 Dagmyer. Kenshi also proves that Wahanly's mecha can take on a Seikijin and win. Arrangements are made so that Hazuki and Ceres can be "forgotten" and thus spend time together when that normally would not be allowed. However, unbeknownst to the rescuers, they've also taken in some bandits who were hidden in the containers that held the hostages.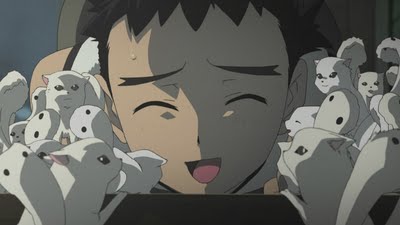 Thoughts/Review: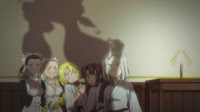 So, we get WAY too much ecchi content for my tastes (because Kajishima-sensei loves his ecchi) but we also get some interesting plot stuff. I won't spend much time on the ecchi stuff, but I will say that this OVA series with its 45-minute episodes and 13-episodes to play with give Kajishima-sensei the sandbox with which he can have his juvenile sexual/ecchi content and still have room to have some actual story elements.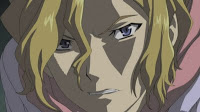 So, Dagmyer can no longer pilot a Seikijin, eh? Now, he is growing his little army by picking up some mercenaries. Not only that, but he gets to have sex too in order that this bandit group's leader might have a child who can become a Seikishi to pilot a Seikijin. Now, he wants to smuggle some bandits into the campus (or so I'd guess). I do wonder why no one noticed them though.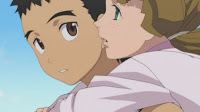 While everyone fawns over Kenshi, I am glad to see that there are girls not fawning over him. Hazuki was clearly understandable in this regard and her romance with Ceres is rather sweet. I wonder if she'll show up down the road.
While Dagmyer may be scum, I do like that Chiaia carries a torch for him, mainly because she's not fawning over Kenshi. While it may be amusing to have so many girls wanting Kenshi, it becomes a bit much at times, especially this episode and Maria's mother Flora.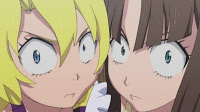 Speaking of Maria and her mother, I rather enjoyed how Lashara and Maria put aside their rivalry to oppose Flora, especially since Flora is not acting as the queen of her country nor as a mother but rather as a horny woman with a fetish for young boys. *_* OK, it was funny how one of Maria and Lashara's plans backfired. Maria and Lashara working together reminded me somewhat of Ryoko and Aeka working together for a common goal. I suspect that before all is said and done, Maria and Lashara will be close allies.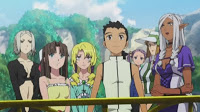 Kenshi's abilities as a fighter were quite impressive. I do believe that he has been enhanced somehow, possibly from a Royal tree (like Funaho-ki). However, if it wasn't clear before, it is really clear how well he's been trained. Well, if he spent any time at Tenchi's place, I expect he would be, not only by Katsuhito, but Tenchi and the girls as well. Considering that stories often have the hero beaten down and having to overcome that, I wonder how powerful an opponent would have to be to take Kenshi down.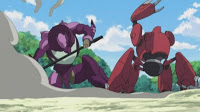 Speaking of "clear," it seems pretty obvious that Wahanly's mecha will play some role by the end of the series since Kenshi was able to use it to temporarily cripple a Seikijin.
So in the end, there was WAY too much ecchi fanservice in this episode, but there was some nice comedy and some good action as well.