Tsubasa: RESERVoir CHRoNiCLE Manga — Final Thoughts
NOTE: This review goes to the end of the Tsubasa: RESERVoir CHRoNiCLE manga, so if you are only reading the Del Rey releases, there are spoilers here!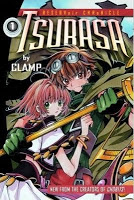 I first heard the announcement on some anime board of some kind or other that CLAMP were doing a new manga and that said manga would feature a teenaged Sakura and Syaoran from Cardcaptor Sakura. I had not read the Cardcaptor Sakura manga at that point, but I had seen the anime and loved it. So the idea of a sequel featuring the two as teens appealed to me. Then came word that it REALLY wasn't the same Sakura and Syaoran, but rather alternate universe versions of them and that Sakura spent most of her time in the manga asleep. I was a little disappointed but when Del Rey licensed the manga, I decided to buy it just the same. Talk about a roller coaster and not all good.
CLAMP starts things off with Syaoran and Sakura who live in what is known as Clow Country and who have known each other since childhood. One day, Sakura is drawn to some nearby ruins and sprouts wings who's feathers molt and disappear, leaving Sakura unconscious. After the series villain Fei Wong Reed sends an attack on Clow Country, the mage-priest of the land sends Sakura and Syaoran to the dimension where the so called Time-Space Witch, Yuuko-san, resides where she will give them help.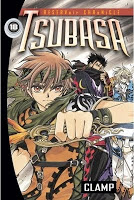 Elsewhere, the mage Fay seals his king and leaves to have his wish to travel granted by Yuuko-san. In Nihon Country, the ninja-samurai Kurogane is seen to be too bloodthirsty and so his master, the powerful miko-princess Tomoyo, sends him to Yuuko-san's place after placing a curse on him to teach him to not be so bloodthirsty. As a result, all four travelers arrive at roughly the same time. For Sakura and Syaoran, the goal is to travel to other worlds and gather Sakura's lost feathers which contain her memories. For Fay, the goal is to stay on the run since his king will eventually break free. For Kurogane, his goal is to eventually return to Nihon and to Princess Tomoyo's side.
The first nine and a half volumes are dedicated to these light adventure tales with a bit of mystery, romance, and comedy on the side. Each world they visit ends up with Sakura obtaining a new feather and more of her memories. They aren't a bad read, but it isn't anything too special either. For CLAMP fans, the biggest fun from this part of the manga comes from seeing various characters from other CLAMP titles show up in different worlds. These characters aren't identical to the originals, just as Syaoran and Sakura are not the same Sakura and Syaoran from Cardcaptor Sakura. So it is fun seeing old characters in new roles.
Basically, the manga at this point is enjoyable for what it is — light adventure tales with a side of comedy.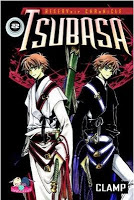 In volume 10, CLAMP starts the Piffle World arc and things slow down tremendously. Two and a half volumes are dedicated to Sakura winning a flying vehicle race and it gets rather tedious. If I remember correctly, one of the members of CLAMP had suffered an injury which is why the manga drug out here. Regardless, the pacing of the Piffle World arc is so slow so that by the time volume 12 is over, I was ready to drop the manga completely. After all, if the rest of the manga was going to be this uninteresting, then there would be no point in continuing.
While reading the linked manga, xxxHOLiC, it was revealed that interesting things were happening again in Tsubasa, so I started reading Tsubasa again. Sure enough, volume 13 has the manga turn dark, violent, and bloody but also very interesting as CLAMP explores Kurogane's past. Also, CLAMP ramps up the mystery behind the two Syaoran's which comes to a head in volume 16, where CLAMP pulls a big plot twist. It is here that CLAMP changes Sakura's personality from bright and cheerful to dark but determined. CLAMP continues to keep things dark and heavy as they eventually explore Fay's tragic past.
By the time CLAMP gets the group back to Nihon Country in volume 22, they go for a second major plot twist. From here to the end of the manga series (volume 28), CLAMP takes the audience on a roller coaster ride that becomes more and more of a confusing jumbled mess. One gets the feeling that CLAMP simply grew tired of Tsubasa and decided to just wrap things up and in doing so, caused all this mass confusion.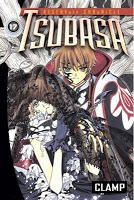 That's where the manga ultimately fails for me. Even as CLAMP attempts to provide answers to Watanuki's (xxxHOLiC) connection with Syaoran and Sakura as well as Yuuko-san's and Fei Wong Reed's connections with everything, they end up muddying the waters so badly that it is frustrating. Folks should not have to reread things just to try to get a handle on what all is happening and still not be satisfied by what you are reading. I don't like reading a manga who's ending leaves me unsatisfied.
Speaking of unsatisfied, the character of Xing Huo, the female at Fei Wong Reed's side during the first half of the manga, turns out to be a complete waste of space beyond freeing a Syaoran. I wanted to know more about her but instead, CLAMP kills her off. I guess they didn't know what to do with her other than the one thing she did at the end of her time in the manga. Well, CLAMP did use her as a sounding board early on, but that role was taken over by others.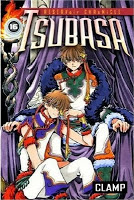 The epilogue in volume 28 has a Syaoran, Kurogane, Fei, and White Mokona continuing their travels with the implication that they'll now return often to Clow Country (and Sakura) as well as Yuuko-san's shop, now run by Watanuki. I rather doubt that CLAMP attempts to do more stories because there would only be a "been there, done that" aspect, but considering that CLAMP did not end xxxHOLiC, who knows what will happen.
Speaking of xxxHOLiC, the crossover aspects of the two manga titles is kept to a minimum. As such, for most of the Tsubasa manga, one does not need to have read xxxHOLiC. However, as the series nears its end, it gets harder and harder to not follow both titles as there are details in xxxHOLiC that may make things a bit less confusing for the reader.
In the end, Tsubasa: RESERVoir CHRoNiCLE is an example of how CLAMP can and do go all over the place when it comes to their manga. They start as a standard shounen comedy-adventure series, then turn dark and violent enough to just about qualify Tsubasa as a seinen title before throwing in plot twists and enough confusion in attempting to resolve plot threads that frankly left me getting ready to sell off my entire Tsubasa manga collection.