xxxHOLiC Manga Chapter 190
SPOILER Summary/Synopsis:
Watanuki enters the dream world and sees a woman in a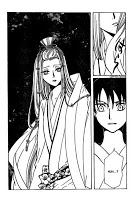 kimono. When the woman's hood falls off, he sees that it is his customer, only she has cat eyes and is crying. The cat-woman has one word for Watanuki — strike.
In the morning, Watanuki and Doumeki discuss this and figure out that to strike a shamisen, one needs a bachi (plectrum). Watanuki remembers one being in the treasure storeroom and so a search begins with Watanuki ultimately kicking Monoka out for being in the way. Doumeki finds the bachi, which has a butterfly emblem on it. Watanuki doesn't know the history of the bachi, only that it has been there since before he took over the store. However, as with everything, there are no coincidences, only hitsuzen.
Thoughts/Review:
We got to see a bit of the old Watanuki when he got a little annoyed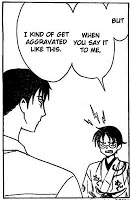 speaking with Doumeki about what the cat told him in the dream. *lol* He's still matured in that he didn't go flying off the handle like he used to, but the fact that Doumeki can still irritate Watanuki is a plus because it feels real.
It is interesting that the cat in the dream took the form of the blind woman, only with cat eyes. It is also interesting that the bachi that was found in the treasure room contained the symbol of the butterfly — Yuuko-san's symbol. Well, I don't want to get the cart ahead of the horses, but could that mean that my wish for the cat's person it wants most to meet is Yuuko-san? That may be true but it still doesn't bring her back now does it?
As I mentioned last time, I am glad that Watanuki has at least some measure of control over his dreaming wherein he can communicate with the shamisen. Should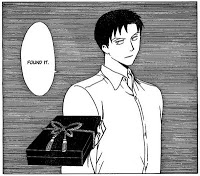 this manga continue for a while (and I sorta hope it does), I hope we see more of this.
I get the feeling based on Watanuki's reasons for not knowing the history of the bachi that he is still taking items as payments for granting wishes and storing them in the treasure room. I wasn't sure if Watanuki was paying the price personally for helping others (the aforementioned being hurt physically and mentally) or not. Maybe it is a bit of both.
So, now we have a livingshamisenand abachito play it with. I wonder what will happen next.