Hagane no Renkinjutsushi – Fullmetal Alchemist Ep. 37
鋼の錬金術師 FULLMETAL ALCHEMIST Episode 37 review
Fullmetal Alchemist Brotherhood – 37
SPOILER Summary/Synopsis: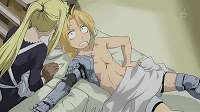 Winry upgrades Ed's automail as Ed tries to warn her about Kimblee without giving himself away to the nearby Kimblee. However, he remembers Riza's words to him about being in love with Winry and he has great trouble concentrating, leading Winry to wonder why she fell in love with Ed. After Winry is shown some of the automail at Briggs, Kimblee has a job for Ed — find Scar, find Dr. Marcoh, then set up Briggs to be the next point of conflict. Upon completion of his task, Ed will be given a Philosopher's Stone. Ed says he has to consult with Winry and Al first, which Kimblee agrees to providing he is there to observe and make sure Ed doesn't say too much.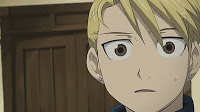 Meanwhile, Buccaneer leads troops down into the tunnel to look for survivors. They find the shredded remains of horses and men but do find two survivors whom are afraid of the light as the shadows will attack. Indeed, Pride is about to attack when he suddenly retreats and allows Buccaneer and his men to leave untouched. At the same time in Central, Riza presents papers to Bradley's wife for delivery when Selim suddenly shows up after his adoptive mother reveals Selim is from Bradley's family. Riza knows the truth and as she leaves, Selim reveals himself to be Pride to Riza but does not kill Bradley's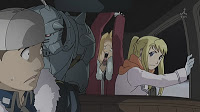 hostage.
Back in Briggs, Ed tells what he can to Al and Winry and agrees to do the job for Kimblee. Al quietly tells Winry more of what Ed could not say and that Ed is likely using this as a means to find Mei Chan and learn Alkahestry. Winry decides she can no longer just be an observer so when Ed and Al head out with Kimblee's troops to find Scar, she joins them and Kimblee reluctantly allows it.
Thoughts/Review: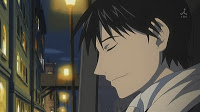 I was amused at how General Armstrong's message to Roy made it clear that they weren't partners but in her opinion, her armies and those of the East would work well together. Naturally if push comes to shove, she will help Roy but her message shows her independence as well as her own ideas on possibly running the joint.
Was the florist just someone who'd worked for the Armstrong family or an actual family member? That I'm not sure about.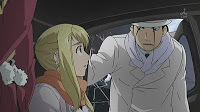 So, just what is Winry planning to do by joining Ed and Al as they look for Scar? It is amazing that Kimblee would allow Ed to consult with Al and Winry at all regarding taking the job. It is even more amazing that he'd allow Winry to go on the trip. Where's the advantage for Kimblee? As crafty as the writing has made him, I wouldn't think he'd be stupid enough to not suspect Ed and Al might be up to something to say nothing of Winry. Granted Ed and Winry's argument in the car may have tipped the balance in their favor but still, it doesn't seem a smart move on Kimblee's part.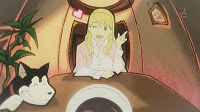 On the lighthearted front, I laughed when Ed remembered Riza's conversation to him being in love with Winry-chan. *lol* Black Hayate reminded me a bit of Muttley from the old Hanna–Barbera cartoon. So nice to see that bit of humor.
On the serious front, there's the discovery Riza made — Selim is Pride!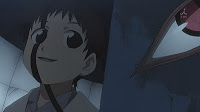 WHOA!
That was completely unexpected. For Pride to be up in Briggs, why would I think that Pride is actually Selim? I wouldn't and didn't. Still, for Pride to be able to cover such ground in so rapid a time is very impressive. He must use shadows somehow to instantaneously move from place to place. Either that or he is spread quite far.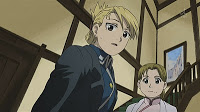 Regardless, his adoptive mother's words were heard by Pride which is why he left and allowed Buccaneer and his men to live. For Pride to be in multiple places at once give a real terrifying dimension to the character and makes him the ultimate spy, even better than Envy.
Since Pride's shadow hands are like the mini hands from the Truth Gate, is there a connection there (as there was between Gluttony and the Truth Gate)?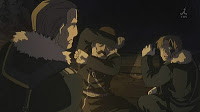 I did note that Pride left two of the original troops sent to investigate the tunnel alive. At first, I thought he did that as bait but that didn't quite jive. Then I remembered what one of the survivors said and I guess that where there is no shadow, there can be no Pride (or rather, he is powerless to do anything). One would think that in total darkness, Pride would be king but it is just the opposite apparently.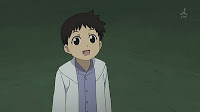 Still, for Pride and Wrath to carry on this masquerade like they do is really something amazing. The entire act they put on for "Mrs. Bradley" and the staff has to be a strain, one would think. After all, the homunculi aren't that keen on humanity and to pretend to be one like that (and father and son to boot even though Pride claims to be the first one made) can't be easy. I remarked on how creepy everything seemed in their family life and this adds another dimension to that creepiness.
So, another good episode. I am curious if the anime is still speeding along or if it has slowed down somewhat when compared to the manga.