Hagane no Renkinjutsushi – Fullmetal Alchemist Ep. 38
鋼の錬金術師 FULLMETAL ALCHEMIST Episode 38 review
Fullmetal Alchemist Brotherhood – 38
SPOILER Summary/Synopsis: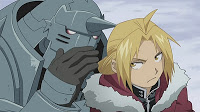 Riza deals with the knowledge that Pride is Selim and that the homunculus promised to watch her from her shadow. Mustang contacts her by phone but her short answers let him know something is wrong. Up north, the search for Scar happens in the abandoned city of Baschool. Ed and Al find Mei Chan and Dr. Marcoh before Al lets Winry out of his armor to Mei's dismay. Yoki arrives and is stunned to see Ed and Al, who were instrumental in his downfall from the military.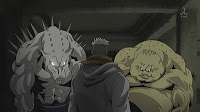 As that group discuss Scar's brother's research, Kimblee soldiers Zampano and Jerso find Scar and reveal they are in fact chimera. Ed and Al join the fray and figuring out the truth, pretend not to recognize the two solders in their chimera form. Zampano and Jerso are defeated as Miles arrives with troops to make an arrest. Winry confronts Scar again and a battle ensues in which Scar has apparently captured Winry, which is witnessed by Kimblee.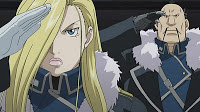 In Briggs, Buccaneer and his men arrive at the hatch and expect it to be sealed as it has been longer than a day. However, General Armstrong had given a broken watch to the soldier responsible for sealing the tunnel. Buccaneer gives his subtle thanks to Armstrong as a convoy from Central arrives and a military leader has some questions for the leader of Briggs.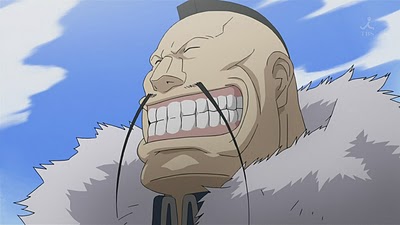 Thoughts/Review: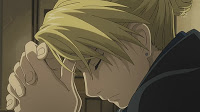 I can understand Riza's fear concerning Pride-Selim. After all, his shadow ability means that he can get anywhere there's a shadow, right? At least, that's the implication and reason enough for Riza to fear. Still, if Pride can watch from the shadows, shouldn't he be able to watch everyone? He's shown that he can be at Briggs and at Central at the same time so that would seem to indicate that he could be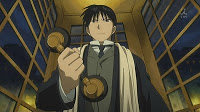 everywhere. Despite this, there's no evidence that Pride has been much of anywhere to unmask any conspiracies or the like against Father's plan. That suggests that his abilities are limited and that he may be bluffing. Then again, he may have cut Riza on purpose in order to give himself the ability to watch her, though how that would work, I don't know. It will be interesting to see as will Roy's eventual involvement ('cause you know he's going to get involved somehow).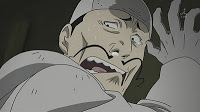 This episode proved why skipping Yoki's story was a mistake in my opinion. Had that been shown properly, having the silent movie flashback sequence would have been funny to me considering Yoki's take on how things happened vs. reality. The writers tried to compensate with that strange, rich family Yoki tried to rob from. (Was this the Armstrong family?) Still, at least the production team decided to explain why Yoki ended up with Scar and his connection to Ed and Al.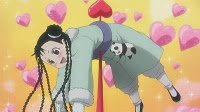 Speaking of funny, I was amused by Mei Chan's "love-love" moment complete with Xiao Mei's imitation. Her jealousy over Winry didn't make me laugh, but it was predictable. Still, one suspects that since Ed and Winry have feelings for each other and would pair up when the series is over, having Mei and Al pair up after he recovers his body would be a nice touch.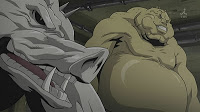 The chimera were an interesting twist. Looks like the military were further along on chimera research than first thought if they have chimera who can shape shift.
I loved the moment between Buccaneer and Olivier Armstrong. Actually, I loved how her soft side came through by giving the soldiers tasked with sealing the tunnel a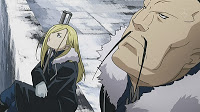 broken pocket watch. Then the scene where Buccaneer expresses his gratitude without overtly doing that was a nice touch. It allows General Armstrong to keep her tough reputation while showing that she does care for her men deeply. No wonder they all seem fiercely loyal to her and why Central would have to neutralize her, which is what I suspect this visit at the end of the episode is about.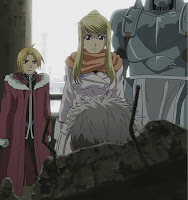 Finally, there's the battle with Scar. After taking a day to consider it in the back of my mind, I decided that I'm not buying the final scene with Scar holding the apparent unconscious Winry. Though Ed and Al do consider Scar an enemy, Kimblee has to be an even worse enemy. As the saying goes, the enemy of my enemy is my friend. Further, Ed and Al need access to Scar's brother's research on alkahestry, Mei Chan, and Dr. Marcoh. Since Scar is an honorable man in his own way (the incident with Winry's parents aside), I figure Ed and Al must have struck a deal with Scar and gotten Miles to go along with it. That way, the others get away, Scar reveals he has Winry and escapes, thus Ed and Al have a millstone removed from their neck so that they can get to the alkahestry research.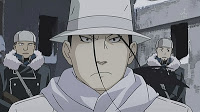 I could be wrong, of course, but I keep thinking of how Ed chastised Kimblee for not keeping better tabs on Winry. Clearly, Kimblee had no idea that Winry had slipped into Al's armor body so Ed's words seem to be designed to get Kimblee to believe that Scar had kicked their tails and had Winry as a hostage. We'll see how it goes though.
So as usual, another good episode.