Hagane no Renkinjutsushi – Fullmetal Alchemist Ep. 49
鋼の錬金術師 FULLMETAL ALCHEMIST Episode 49 review
SPOILER Summary/Synopsis: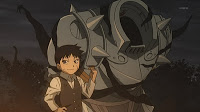 Ed and Greed engage Pride-Gluttony in combat while the others retreat. Hohenheim manages to bring Al back to consciousness and Al comes up with a plan to deal with Pride as he's become too powerful to handle and indeed, Pride has notions of consuming Greed. Hohenheim arrives at the scene of the battle and Al attempts to attack Pride, only to be stopped. Pride is glad to have Al as his prisoner again but is unsure as to what Hohenheim has planned. Before Pride can react, Hohenheim uses alchemy to begin to enclose the homunculus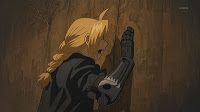 and Al in a dome made of Earth. Pride gets a bit of his shadow self out before being enclosed whereupon his shadow parts die.
Ed is frustrated that Al is trapped but Hohenheim assures him that this was all Al's plan. Meanwhile inside the dome, Al is happy about the success of the plan. He tells Pride that he finds their plan weak since it depends on the "sacrifices" staying in the country for the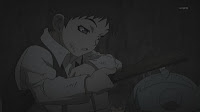 Promised Day. Pride concedes that not all humans are scum, citing his own foster mother and her treatment of him. Thus, the same nobility trait is found in the "sacrifices," thus making Father's plan a good one since the "sacrifices" would not flee the country. As Pride talks with Al, he loudly taps on Al's head, which is on the ground.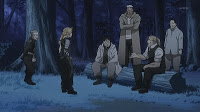 Scar's group arrive in Central and learn that Mei Chan has returned to the city rather than leave for Xing. Scar's group takes off for Kanama (Canama) where they encounter Ed's group, sans Greed, who's taken off for Central by himself. The four chimera who'd worked for Kimblee are also reunited and initially do not trust each other. However, they come to terms as Ed, Dr. Marcoh, Scar, Hohenheim, and the others discuss strategy. Fu takes off for Central to gather some intel.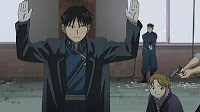 In Central, Roy visits Hughes' grave, then takes off with Riza. Soldiers are hunting them but because they have Bradley's wife as a hostage, the soldiers have been at a disadvantage. One of the generals orders that everyone in Roy's team should be killed, save for Roy and that this order covers Bradley's wife. The troops soon locate Roy's party and have them trapped in a room. Bradley's wife is dismayed when she hears that she's to be killed along with everyone else except Roy.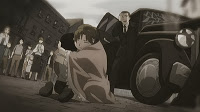 As I thought, the only way to stop Pride would be to enclose him and that's exactly what Hohenheim did. I didn't expect Al to be trapped with Pride though. Still, the conversation had between Pride and Al revealed to me that Pride does at least respect his "mother" as a decent human being. As such, I understand how he's able to be "Selim" and pretend to be what he's not.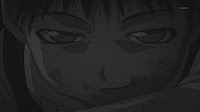 I did notice that the episode emphasized Pride whacking Al's helmet. It is so deliberate that I can't help but think that he's actually doing something. I didn't detect a pattern to the hard tapping, but that might be too obvious. So, in my mind, Pride has to have some ace up his sleeve and whacking Al's helmet is key to getting that ace.
Then again, maybe Pride isn't thinking. After all, if he has Gluttony's powers (he has the sense of smell now), he should be able to just "eat" his way out of the trap.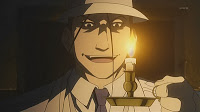 One thing about this anime (and I suppose the manga as well, though I've not read that) is that during the course of telling the story, characters are "forgotten." Such is the case with Mei Chan, who's carrying Envy into the heart of Central. Clearly, this would seem to be a huge mistake 'cause I can see Envy escaping and returning to normal, assuming Pride doesn't eat him first. *lol*
The other forgotten character was Kimblee. His showing up and murdering people from Ishval in the city was a splash in the face to be sure.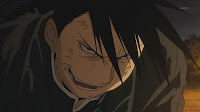 Greed's return to Central makes sense to me since he does want to rule everything. Of course with Envy back in town, if Envy escapes as I figure he will, then Greed's plans aren't going to go down so easily. Plus, I figure Wrath-Bradley will show up here real soon as well since I don't believe he died in the bombing.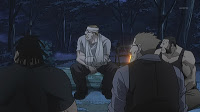 I liked the reunion of the four chimera. It played off very believable. I laughed because I remember not trusting their defections initially and the two with Ed didn't trust the two with Scar and vice versa. *lol*
I suppose Bradley's wife could be killed but somehow I don't see that happening. Assuming all the shooting isn't a red herring (Mustang has other people who shoot those who are going to shoot his people), then it would seem that Roy's plans for revolution are at an end. Still, one would think he had to account for this, which is why I tend to think that the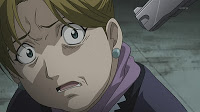 shots we heard are in fact from other supporters of his. We'll see though. Either way, hearing that she's expendable might make her accept the truth of the situation (her son and husband being homunculi), though it will still be a heavy burden for her.
So, another in a string of very good episodes. The "Promised Day" approaches.