The Shock! Dirty Pair (TV) Got Licensed!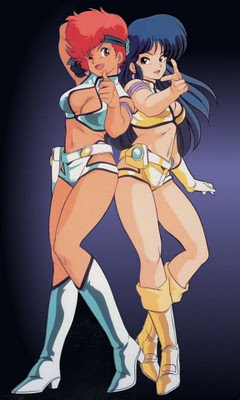 So, I'm just getting myself together and planning to watch a few Dirty Pair TV episodes for blogging purposes when I notice that O-chan has dropped a comment telling me that Dirty Pair has been licensed. Since O-chan is a classic anime fan like myself, I knew the news was true but I still had to read it for myself. *lol*
Ah, Dirty Pair.
Back in 1989, I was a young man stationed at Yokota AB. Since my best friend Robert Rainey was big into anime (and would always tell me that by 1999, anime would be huge in the U.S., something I didn't believe at the time), I often went with him on excursions throughout the Tokyo metroplex to towns one might never have heard of (and some you might have) to pick up anime related items.
I recall that on one such trip, we entered a store where there was a life-sized cardboard cutout of Kei and Yuri in their traditional silver and yellow outfits respectively. I'd always quiz Robert on his anime knowledge and so I asked about those two since they were quite prominently displayed in the store and the release of one of the OVA's on VHS was being touted.
"Dirty Pair," he replied.
"Dirty Pair?" I asked incredulously. I was already versed on the Japanese use of strange English titles (Bubblegum Crisis for starters) but this didn't seem so strange. After all, a couple of adult teen girls scantily dressed as part of some "cartoon" named "Dirty Pair" suggested only one thing to me.
"So, is this some kind of Japanese cartoon porn?" Even though I'd already been educated on the difference between "anime" and a "cartoon," I still liked to tease Robert about it.
He laughed and explained a little about the TV series and the OVA's (OAV's as we called them back then) that were currently being sold. He bought one of the VHS's from what I remember (hard to remember over all these years what he bought or just rented) and promised to play it when we got home.
As it turned out, it was the first episode of was was known as Dirty Pair OVA 1 (the first two episodes of what ADV released as Dirty Pair OVA). As I watched this thing without knowing what was being said (no subs or dubs remember), I'm laughing at the ridiculous notion that Kei and Yuri are wearing their skimpy (and for the OVA series, silver only) costumes while the male soldiers were in mecha battle armor to enter the combat zone. Robert's explanation that the girls were really wearing transparent armor had to be the weakest excuse I'd ever heard, so much so that I thought he was just making up an excuse to justify the girl's clothing choices (I later learned in the the first Dirty Pair novel that he wasn't spinning a yarn).
Over time, I watched more with him, including some of the TV series and some of the other solo Dirty Pair titles that came out. Watching anime with Robert is what led me to where I am today.
Regardless, after seeing ADV license every Dirty Pair title (including the three awful Dirty Pair Flash OVA series) except the original TV series, I figured that with each passing year, the chances of a license were non-existent. After all, how big would the market be for a niche, 1987 anime series that only had 24 of its 26 episodes released on TV during its first run?
So, I tip my hat to Right Stuf/Nozomi for proving me wrong here. I look forward to making my first purchase in some years of a Right Stuf-licensed anime.