エンジェルビーツ Episode 07
Angel Beats! – 07
SPOILER Summary/Synopsis: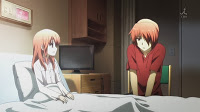 Naoi joins the SSS and Yuri decides to use his hypnotic ability to allow Otonashi to recover his memories. Though somewhat reluctant to do so, Otonashi agrees. There, he recalls having a younger sister who'd been in the hospital for two years. Otonashi had dropped out of school and worked part time jobs so that he could buy her things like various manga during his frequent visits. With Christmas approaching,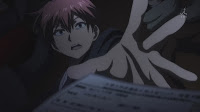 he decides to work more to buy his sister Hatsune something nice as well as sneak her out of the hospital so she can enjoy the Christmas lights. He does this and she is grateful but dies sometime later. Otonashi gets his act together and studies hard, but just as he's about to start the next phase of his life, he dies in a train accident.
After Otonashi gets over the ordeal of recalling his life, Yuri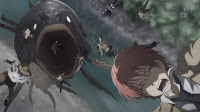 announces they are going to take care of their food problems by Operation Monster Stream. This involves fishing in a nearby river. On the way there, Otonashi sees Tenshi tending a garden and gets her to come with them. The SSS members are stunned by this and more so when Yuri agrees to it. Arriving at the river, Saitou has the fishing gear waiting for them and Otonashi teaches Tenshi how to fish. She soon lands the monster of t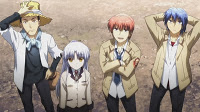 he river, causing the SSS members, save for Yuri, to form a chain to brace her. Using her passive, supernatural "Overdrive" ability, Tenshi yanks the monster fish out of the water, but the members of SSS are now airborne and falling to its open mouth. Tenshi appears to activate her Harmonics ability in addition to Hand Sonic, where she makes minced meat out of the fish to save SSS.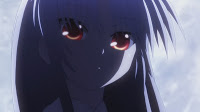 SSS decide to serve the monster fish to the students at school, which amused Otonashi since it is something he'd never imagine SSS doing before. Tenshi helps and Otonashi tells Tenshi his given name is Yuzuru. He gets permission to address her by her first name, Kanade. As they clean up that evening, SSS ponders where Yuri has gone when the beaten and dirtied Yuri shows up, accusing Tenshi of attacking her. Since Tenshi has been with them, that seems impossible until a second Tenshi with red eyes is seen on a nearby roof.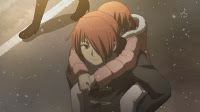 Well, lots of stuff happened here from the melodramatic, to the comedic, to the sweet, to the surprising twist at the end of the episode.
First, Otonashi's back story. While the story about his sister is sad, it felt like a standard Key plot element where one character is sickly or knows someone sickly. However, because there was no setup, there's really no emotional payoff either when Hatsune dies. Of course Maeda-sensei may not be going for much emotional impact, but just wants to show the sad tale of Otonashi's sister.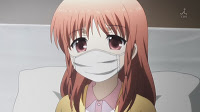 Interestingly enough, I think the revelation that Otonashi died in a train accident pretty much removes the suicide theories that still abounded. When I read that Hinata died in a traffic accident (revealed in the novel), I figured that this meant that Yuri spoke the truth when she said there were no people who committed suicide in this world. However, one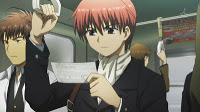 could say that Hinata committed suicide by stepping in front of a vehicle. With Otonashi, we saw that he'd taken the "lemons" of his sister's illness and death and turned it into lemonade by become an outstanding student to study medicine. So he was not suicidal in addition to not being able to control the fact that the train he was on had an accident that killed him.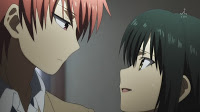 While I'm thinking about it, why is Naoi in the group? Seriously, after what he did to SSS, his actions are much more vicious than anything Tenshi did. Yet despite that, Naoi is in the group. I guess that Maeda-sensei needed Otonashi to remember his life and so Naoi became the convenient tool for that.
On the comedy side, there's the fishing trip. Tenshi's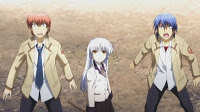 learning to fish caused her to snare Hinata in the mouth and then later send Takeyama flying, both of which were funny moments. However, it was Yui seeing an opportunity to gain revenge on Hinata for picking on her that made me laugh out loud. They really are like brother and sister. *lol* It makes me wonder more about Yui's termination.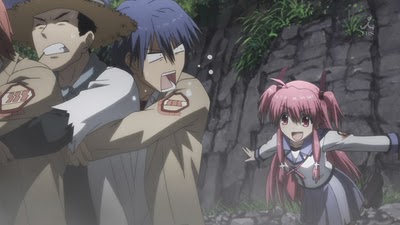 Tenshi's decision to help out SSS by dispatching the monster fish was a cool. However, a clue gets dropped here which I believe explains the second Tenshi at the end of the episode. Watch this animated sequence (courtesy of an anonymous Japanese fan).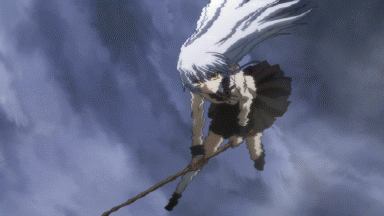 Here's the still shot of what I believe is Tenshi subconsciously using her Harmonics ability.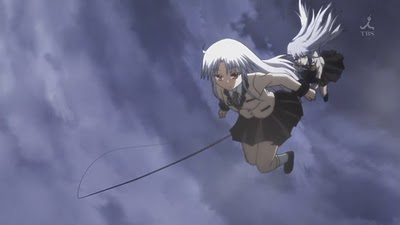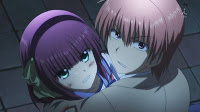 If that's the case and this is just an ability of Tenshi's to clone herself, whey didn't the clone fall to Earth as well? For that matter, why perform Harmonics at all when the situation did not require it? Why does the clone have the same red eyes that Naoi has when he uses his abilities? Why did she then attack Yuri, or did she attack Yuri? After all, Yuri has held a long-time grudge against Tenshi and despite agreeing to have Tenshi on the fishing trip, she may have been plotting more revenge against her rival. Yuri knows about Tenshi's Harmonic ability and may be trying to place Tenshi back into a bad light.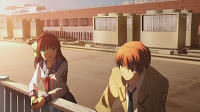 There are a lot of unanswered questions there.
Still, this was an enjoyable episode to be sure. There was melodrama and angst without going too overboard. There were some nice humor moments as well as some sweet moments between Tenshi and Otonashi. And there was that twist at the end.