エンジェルビーツ Episode 08 review
Angel Beats! – 08

SPOILER Summary/Synopsis: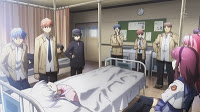 Tenshi-2 drops from the roof and Yuri engages her in combat. Her skills are superior so Tenshi battles Tenshi-2, getting injured in the process. Taking Tenshi to the infirmary, Yuri decides she needs time to investigate how to undo Tenshi's Harmonics ability and remove the clone, which is not restrained like Tenshi was. As such, the SSS members attend class and pretend to be good students to keep Tenshi from going on the hunt. Yuri enters Tenshi's room and discovers the clone has added more skills like Howling. Yuri makes a modification to the Harmonics program so that after ten seconds, the clone automatically returns to her (Absorb).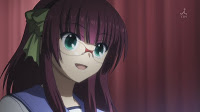 Yuri figures that the clone has hidden the real Tenshi in the Guild that they destroyed and so it is decided to go down and rescue her with no diversions. They soon encounter Tenshi-2 but she proves far superior to Tenshi in that she already has her skills active. Further, Tenshi-2 has activated her own clone and SSS is forced to retreat down a side tunnel. Naoi scoffs at the groups stupidity, stating that Tenshi-2 likely had prepared for this and made multiple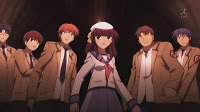 clones of herself in preparation, thus there could be numerous clones waiting for them. Sure enough, another Tenshi is waiting at one of the door's, so Matsushita sacrifices himself to trap this Tenshi beneath his body. All of the other members of SSS end up doing the same until it is only Yui, Yuri, and Otonashi.
Heading down to the pit ruins of the Guild, Yui is taken out by a plank on the way down. Yuri has Otonashi go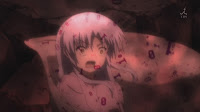 find the real Tenshi while she battles the Tenshi clone. The Tenshi clone activates the Howling ability but Yuri was prepared with ear plugs and gets in a blow on her foe. Otonashi finds the real Tenshi and she agrees to activate Harmonics to create another clone. This clone realizes that the program has been changed and tells Otonashi that when all the clones are reabsorbed into Tenshi, they will incorporate their own wills with hers. The ten-second timer is up and all the clones return to Tenshi, causing her great pain as Otonashi embraces her.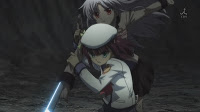 So, I was right about this being Tenshi's use of Harmonics, but I still wonder why she didn't make the clone return to her in the first place. The way Harmonics has been created, it is almost as if this is a last resort weapon since the clones obtain their own personalities. I tend to suspect that the clone personality is the original "core program," if you will. We still know so little about Tenshi and yet she seemed to be both "human" and special. The human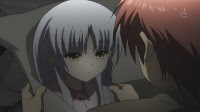 stuff we've seen in that she had to create her Guard Skill abilities as well as the fishing trip. The special stuff comes from her apparent role as enforcer of the rules to ensure folks pass on. As such, the clones have that and are determined to implement the rules no matter what.
What I don't understand is why the clones decided to hide Tenshi in the former Guild site which SSS destroyed.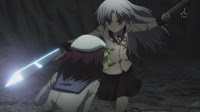 Regardless, the clones showed just how restrained Tenshi had always been with SSS. Now that she's absorbed all of the clones back into herself, how will she react?
I still say that there's more to Yuri than meets the eye. Look at how quickly she made programs for Tenshi despite the manual being in English. As the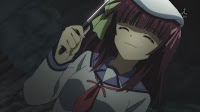 founding member of SSS, I figure she had to be the one to teach them weapon making skills, 'cause how many Japanese students even own a gun much less know how to build one, even with magic dirt?
As before, the trip down to the subterranean areas proved to be an excuse for dark humor (and maybe that's why the trip was written). Everyone falling on the sword was funnier to me than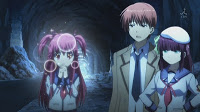 some of the earlier black humor, mainly due to it being not very gory. Naoi's disdain for everyone except Otonashi made me chuckle. The bickering between Yui and Hinata is always good for a smile at the minimum, especially their final fight and aftermath. They really are like siblings in that they enjoy picking on each other. Yui's demise was predictable to me, but still funny, in part thanks to the traditional "bonk" sound effect when she smacked that plank.
So an interesting episode that manages to include a bit of fun but didn't really move the story forward (at least, not that much).