Mahou Sensei Negima! ~Mou Hitotsu no Sekai~ OAD – 03
Negima! ~Another World~ OAD/OVA Ep. 03 Review
魔法先生ネギ ま!~もうひとつの世界~ Episode 03
SPOILER Summary/Synopsis: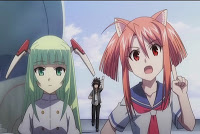 Negi, as Nagi, sends a message on TV for Makie and Yuuna to meet him in Ostia in a month. He challenges fighters to come on and one day, a shadow user named Kagetarou challenges "Nagi." The two battle and Negi loses his arm until Jack Rakan, a former member of Ala Rubra, interferes and brings the fight to a stop. Negi is healed but Chisame and Chachamaru are not happy with what Negi did. Negi apologizes when Kotaro comes up with a message from Setsuna and Asuna stating they are OK.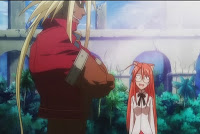 Setsuna and Asuna bathe and talk as Asakura shows off her new pactio artifact from Negi. She and Chachamaru are off to try to find the others while Negi and Chisame go to meet Jack Rakan and train. They find Jack working on new techniques, which are quite impressive. When asked, Negi mentions fighting Fate. Jack remembers the name and decides to lay out where Negi stands on a strength chart. This shows Negi that he has a long way to go. Since Eva was Nagi's master on Earth, Jack decides to train Negi on something to give him an advantage — Eva's Magia Erebea technique.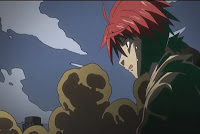 Meh! SHAFT, which up until had been pretty good about holding their water, just couldn't do it this time. Oh no. After all, it can't be a SHAFT anime unless we put our pointless, stylized animation style into a series. And where do they choose to put this? In the battle between Negi (as Nagi) and Kagetarou of course. The result of this? Totally ruined the fight for me.
Seriously, why did you have to do this, SHAFT? You live up to your name by giving us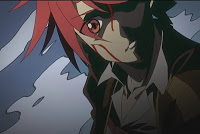 the shaft this time (pardon the expression). *_* I think back to the battle in episode 1 when Fate takes out Ala Alba. That fight was well done. However, because of the stylized approach, the fight between Negi and Kagetarou, which should have been pretty awesome, is instead reduced to a parody of itself, and an annoying, eye-rolling one at that. Thus, SHAFT proves that while they can control themselves for a while, in the end, they are going to do whatever they feel like because they are SHAFT and they have a style which MUST come out or else.
Gah!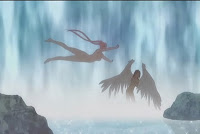 I had wondered how far SHAFT would go on the bathing scene between Asuna and Setsuna. Naturally, SHAFT would have loved to have gone full-bore hentai on this. After all, there probably isn't a lot of hot, teen, yuri action where one of the girls has wings. *_* In order that SHAFT can spend more time on the fap material, they completely cut out the most important part of the scene from the manga — Asuna's growing strength. SHAFT also found time to extend the boob jokes about Makie and Yuuna from the beginning of the episode. Can't cut out the boob stuff, can we?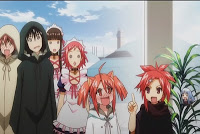 Speaking of cuts, we knew that there would be a TON cut in order to squeeze the Magic World arc into four episodes. Well, that's a fail as we all knew it would be and even adding a special OAD (or OVA, not sure which) to cover Yue's adventures, still too much is cut to make this OAD even worth it IMO. If you haven't read the manga, forget it. You are going to be confused because so much is skipped between episode 2 and 3. SHAFT does some covering by extending the meeting scene between Kotaro, Negi, Sayo, Chisame, and Asakura, but I don't think that will be enough. Most of the gaps will be filled with the audio dramas, which don't do us any good. However, some gaps will just be left blank.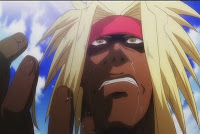 So I'm thinking, "Why the heck didn't Kodansha just do a proper OVA series if they didn't want to do a TV series?" At least that way the whole arc could have been done properly. Then again, why'd Kodansha choose SHAFT in the first place? *_*
Basically, I find myself highly annoyed after this episode and mostly from that stylized crap early on. I knew the cuts to the story would harm this OAD series and they have to some extent. That will increase with the final episode going into the theatrical movie. It really is a shame too since to date, the OADs' for Negima! had been acceptable despite things that had to be cut. SHAFT made sure that would not remain true.