魔法先生 ネギま!Volume 32 Chapter 289 (manga)
Mahou Sensei Negima! Manga Chapter 289
Negima! Manga Vol 32 Ch 289 Review
SPOILER Summary/Synopsis: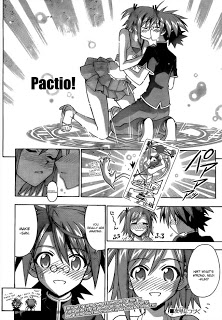 Ako has a romantic dream about her beloved "Nagi-san" and wakes up still seated at Negi's bedside. She sees Nagi who wants a pactio with her. Chamo gives her the final push and as Chisame, Yuuna, Makie, and Akira observe from a window, Ako pops the age-changing pill into "Nagi's" mouth, turning him into Negi. She chastises him for doing this, causing Yuuna to be confused and Akira to figure she was right. Their commotion lets Ako know she's being watched. Taking everything into consideration, Ako decides to form a pactio with Negi, not "Nagi."
Faux-Eva's training continues and next up on the pactio wheel is Yuuna, having beaten Makie at "Rock-Paper-Scissors." Yuuna sees that Negi's training isn't going well and decides to figuratively pass on what she has to him before kissing him. When her card appears, she's very excited by it.
Makie is next after another day of training with faux-Eva. While she may not understand girl's nor guy's feelings, she decides Negi should just strive to be an amazing guy like his father was and that she likes Negi just as he is. With that she kisses him, making Chamo extra happy and Negi grateful for her words.
Thoughts/Review: I love how Akira is still getting so much time of late. That'll end soon enough, but she's always been the quiet one and over the last two chapters, she's been a virtual chatter box. *lol*
Three pactiones this times. Makie's pactio has been "in the cards" (pardon the pun) since volume 3 when Akamatsu-sensei first drew nondescript pactio cards with Makie's name on one of them. He card appears pretty much as the original design that came out years ago but it will be interesting to see what her artifact can and can't do. Still, I can't help but smile as Makie finally got to kiss "Negi-kun" after liking him for so long. The look on her face afterward…*lol*
Ako's pactio is another one long in the works. I'd seen speculation that Akamatsu-sensei would have to change her card but I had a feeling he'd keep it as is and just work in that giant needle into the story somehow. I am interested in seeing exactly what that artifact can do. *lol*
Yuuna's pactio made me laugh since she's long wanted to be in on the action, even though she didn't really know what that action was. She has guns for her pactio card so we'll see how she's different from Mana artifact-wise (though technically, Mana no longer has an artifact, but I'm hoping that she decides to go for one to get an artifact again, even though she's good enough without one).
So, will Akira get her pactio? I sure hope so.
I like how this volume is a breath-catcher that allows for some lighthearted stuff such as these pactiones, but it also helps set up future chapters. On top of having more members of the battle harem, Negi is working on overcoming Magia Erebea. Akamatsu-sensei isn't wasting a lot of time on that aspect but giving us just enough to see that (1) Negi is training with scroll-Eva and (2) it isn't going well. I don't think it is a stretch to say that Negi masters the darkness of Magia Erebea.
So, a fun chapter to get us through what I expect to be a mostly lighthearted volume before the rescue of Anya and Asuna begin in volume 33 (or tail end of 32).
Now, onto the next chapter. I'm so far behind. ^_^;