パラダイス レジデンス Chapter 05
Paradise Residence Manga Chapter 05
SPOILER Summary/Synopsis: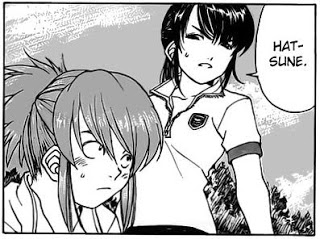 It is time for P.E. class and Hatsune is having fun on the track using the starter's gun. Suzuka has to put an end to Hatsune's fun since it is her time to run and her competition is "Pudding," the girl Hatsune considers a rival and the one who insulted her and Suzuka's dorm. The girl protests that her name is Nyutabaru. Suzuka tells Hatsune that she better not lose the race since the one she's racing against has put down their dorm. Hatsune assures Suzuka that this won't happen since she has plenty of practice running to school.
Nyutabaru feels she'll win but decides that she needs some insurance and thus tosses out what appears to be a pudding coupon when the starter's gun sounds. It is another fake coupon, advertising a club instead. Hatsune is angry with herself for falling for this trick and races to catch up. To Nyutabaru's surprise, Hatsune catches up to her, causing Nyutabaru to flee for her life from a crazed Hatsune. Suzuka wearily states that Hatsune is disqualified if she runs in the same lane as her opponent, but even as they cross the finish line, Hatsune does not give up the chase.
Thoughts/Review: This is rather a cute manga and it is a shame that we don't get more of it. I guess four short chapters a year is all that Fujishima-sensei can afford to do with his continued work on Ah! My Goddess as well as other projects he's involved in.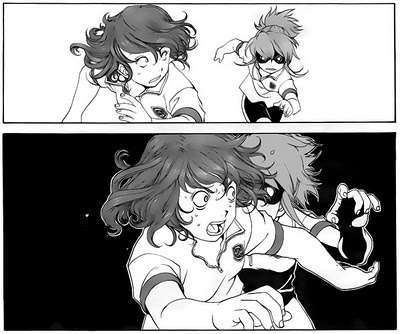 The rivalry between Hatsune and Nyutabaru is pretty standard fare for a manga title of this sort. That said, I can't help but like it. Hatsune is pretty out there when it comes to things, but don't fool her twice, don't get in the way of her and a pudding, and when it comes to running, she can run. *lol*
I like Suzuka as a character. She's the traditional, levelheaded but long suffering friend for Hatsune. As we saw last chapter, when it comes to Nyutabaru, she's down for Hatsune trashing the person that spoke down about their dorm, but only to a point. *lol*
With only five chapters, it is impossible to know if Fujishima-sensei has any greater plans for this manga. It may be that the four chapters a year we get simply are little fluff tales filled with a bit of humor and Fujishima-sensei's traditional excellent art. Still, I'd like to see a bit more of this manga. If Fujishima-sensei ends Ah! My Goddess in the next couple of years, we might see Paradise Residence upgraded to a monthly publication.