魔法先生 ネギま!Volume 33 Chapter 297 (manga)
Mahou Sensei Negima! Manga Chapter 297
Negima! Manga Vol 33 Ch 297 Review

SPOILER Summary/Synopsis: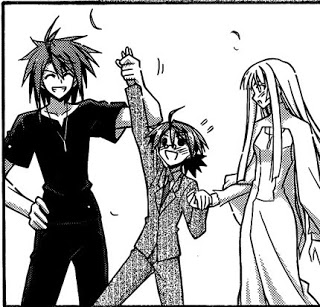 Nagi and Arika stop by the dorm room that Negi shares with Asuna and Konoka, who busily prepare snacks and beverages. Arika continues to act shy around Negi which sends Nagi off, leading Asuna and Konoka to remark on how strange Negi's family is and how much Arika doesn't act like a mother. Several of the other girls from the class arrive with Ayaka bowing to Arika and having provided lodging for Nagi and Arika.
After the party, Asuna and Konoka clean up and send Negi off to spend more time with Nagi and Arika. They make their way to the World Plaza where Nagi mentions Stan wanting to see Negi, leading Negi to remember the truth that Stan has been turned to stone. After spending one last moment with Arika and Nagi as his parents, Negi stops and addresses Zazie, who's behind them. Negi asks if this is Cosmo Entelecheia. Zazie says it is an illusion created by "her" but close enough to be considered Cosmo Entelecheia.
Zazie explains that it isn't just a dreamworld, but a reality that might have been. In Negi's world, Ala Rubra defeated Fate and company completely 20-years before. Thus, Nagi never went missing, the attack on Negi's village never happened, Eva never attacked Negi, Graf Herrman never attacked, and Chao's work during the Mahora Festival would have been delayed. Zazie shows Negi some of the happy worlds some of his companions are in, but Negi says that none of this is real.
With that, Zazie tells Negi that the phrase to escape this world is "Audacia Paula," which means "a little bit of courage." She asks Negi if he is sure he wants to leave since he will never be able to achieve the results of this dream world. She even offers him an opportunity to stay with his parents for a night, but Negi refuses, citing his belief that if he stayed, he'd never leave. Determined to leave and meet with Fate, Zazie warns him about her powerful older sister. Zazie promises to be waiting for him with the others on Earth at Mahora. The conversation over, Negi utters "Audacia Paula."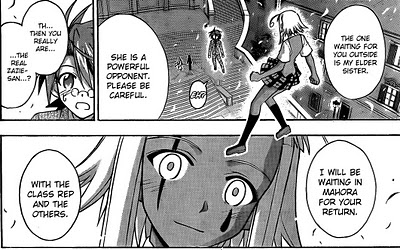 Thoughts/Review:
I liked the one final bit of fun with the standard actions of all these girls coming by Asuna's, Konoka's, and Negi's room for a party. Even Ayaka's actions of bowing to Arika were just like her, as was her formal manner of speaking.
Still, if this is a world that might have been, there's a flaw in the program — Arika. Before the Magic World arc, there was no mention of Negi's mother. The closest we got was a casual reference by the other girls early on when they learned Negi is an orphan. I have always thought it odd that Negi never once mentioned his mother, only his father. Until we learned about Arika, one could have just blown it off as her being just some ordinary woman who captured Nagi's heart but was overshadowed by Nagi's fame. However, Arika was never overshadowed by Nagi. Indeed, she was a leader in the fight against CE in addition to being a princess of Ostia. She was hugely famous and while she's officially dead, the powers in charge at the Magic World knew she wasn't dead. So it just seems odd that Negi would never talk about his powerful mother in addition to wanting to follow the father he never knew who happened to "die" as Negi was born.
That plays over into this chapter and indeed the previous chapter. Arika, as noted heavily in the chapter, is not acting like a real mother. So, if this is the ideal world, why would Arika act like some shy stranger, which is totally out of character for her? I know that some of you did a bit of speculating in the 296 review, and I agree that while the world Zazie's sister created is based on a world where Ala Rubra wiped out CE, Negi added some of his own perceptions into the mix.
The other element at play here is Zazie's remarks about this illusionary world. As already stated, it is based on the complete win 20-years ago. What is NOT mentioned is Arika. It is "Nagi is around and thus X, Y, and Z never happen." What about Arika?
We know that after the war, Arika was put on trial and supposedly executed. Even with a total victory, it would appear to me that Arika likely had to go through the same trial and execution for Nagi to save her from. Akamatsu-sensei has been very cagey at not letting us know what happened to Arika afterward, but one suspects that she's either dead or that she's in hiding. Since Zazie mentioned that Chao's antics were merely delayed in Negi's CE world, this isn't a perfect world. And while Negi never had a desire for a mother before he saw Jack's movie featuring Arika, he has that desire now and thus I think that while the others were created and behaved as they would have normally behaved, Arika behaved only as Negi had seen her act (to some degree) when alone with Nagi.
Interesting that the mention of Stan was enough to alert Negi to reality. No doubt Negi would want him to be alive, but the horror of seeing Stan turned to stone before his very eyes and the guild Negi feels about it were too much. I can't help if Zazie helped with that name drop.
Speaking of Zazie, how'd she get into her sister's illusion? Are Zazie and her sister twins or is Zazie's sister using a disguise? Does Zazie have a pactio of her own and if so, then by whom?
I did enjoy getting the glimpse into the perfect worlds of some of the others. Leaving Akamatsu-sensei's naked apron fantasy aside, I smiled at how so many of the girls had Negi in their fantasies (and I didn't know Akira loved cats so much). I know some have attempted to speculate on the male in Sayo's fantasy where she presumably is alive again. The figure is not clear enough to say, "this is so-and-so in the past," but I found it interesting that Negi wasn't with her when it was Negi that helped give her courage and end up being a member of Ala Alba.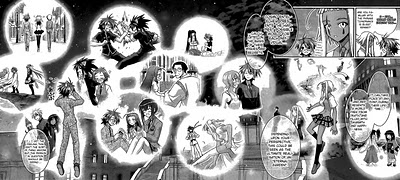 It is also interesting to see that in addition to Sayo not having Negi in her fantasy (as far as we know), Yue's fantasy was to be younger and to talk with her philosopher grandfather. It made sense that Natsumi would dream of being with Kotaro in his older form, but it was a laugh that Kotaro still just wants to fight Negi. *lol*
Mana intrigued me the most. She's tough as nails, as we've seen repeatedly starting from the Kyoto arc. Yet in her fantasy, she's young and appears to possibly the same age she was when her former partner was alive. Indeed, one could speculate that the guy with her is her ex-partner. I found that rather touching as if true, it would show how deeply she loved her partner.
Finally, there are NO spoiler images for chapter 299 coming out this weekend. We'll see if they come out early next week or not. Akamatsu-sensei isn't on a break, but the magazine Negima! is published in is.
So a fun chapter with some interesting information and interesting possibilities.