魔法先生 ネギま!Volume 33 Chapter 299 (manga)
Mahou Sensei Negima! Manga Chapter 299
Negima! Manga Vol 33 Ch 299 Review

SPOILER Summary/Synopsis: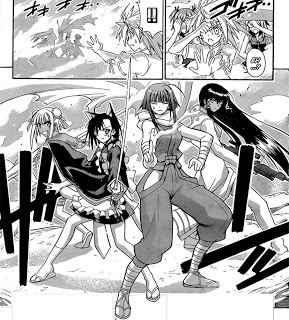 Fate is angry at Negi's words on having a plan to save the magic world. It is something he has studied between training sessions and this plan is something that Ayaka could help with. Zazie-poyo is not impressed and transforms into her mazoku form to launch an attack at Negi. About that time, Setsuna, Ku Fei, Mana, and Kaede appear, deflecting the attack. Zazie-poyo is surprised at their waking up but links it to Negi's extraction and decides to send them packing permanently. Negi tells the others he'll take care of Zazie-poyo but Mana requests that job, telling Negi his power is best conserved for the moment. Negi protests but Mana shows her point by setting off gravity mines that she'd somehow managed to plant without anyone noticing.
As Zazie-poyo drops into the deep pit created by the gravity mines, Mana reminds him of his duties to the others and leaps into the pit. Kaede and Setsuna assure Negi that Mana can handle the situation and hearing Mana's request for him to trust her, Negi announces that they will move forward.
Zazie-poyo praises "Miko Sniper" Mana as they both fall, but Zazie-poyo points out that Mana had signed on with Chao to stop Negi during the Mahora Festival and now is fighting that very cause. Mana concedes this point but says that she's willing to bet on Negi. With the heavy magic concentration, Mana is able to use her time-displacement bullets which surprises Zazie-poyo. Mana announces that she has one more thing up her sleeve and with that, her eye and hair glow. Zazie-poyo sees this and Mana confirms the other's belief — Mana is half-mazoku.
Thoughts/Review: Heh!heh!heh! So, Mana is half-mazoku. There has been some concern voiced by some fans over this revelation but frankly, I love it. Why? Well, ever since Mana revealed she had a special eye when Sayo was first introduced, I figured she was something more than human. Further, there had been some speculation within the manga that Mana wasn't just a normal miko and might be older than she seemed. My own thoughts had been that Mana might come from the Magic World.
Until now, I'm not sure that "mazoku" were introduced as a species in Negima! They do show up in a number of other titles though. For example, in Ah! My Goddess, Urd is half-mazoku as her mother Hild is full mazoku. Mara is also mazoku. In the Slayers franchise, mazoku are the most powerful of the "evil races," with demons, and regular monsters down the ladder. Xellos is a mazoku.
I'm pretty sure that youkai have been mentioned (though I'd need to do a page by page check to verify) as Tsukuyomi summoned some during the Mahora Festival to go up against Ayaka and other civilians. The creatures that were summoned by Chigusa are referred to as "oni." Graf Herrman appears to fall into the akuma category (howbeit a high-level one). As such, the way I understand it, there are different "demonic races" within the world of Negima!, which is not surprising. I should ask the Twins how they might treat the use of the word "mazoku." They don't read ahead as we do but they do get the volumes to be translated well before they are scheduled to be released in the U.S.
Anyway, I rather enjoy the idea of multiple "dark races" (for lack of a better term). It does make me wonder if Kagetaro or even Takane might be tied in with the mazoku.
I did laugh at Mana having somehow planted those gravity mines without anyone knowing. Then again, anyone who can pull weapons and ammo from her cleavage could extract mines from some location and plant it.
I'm rather looking forward to the next chapter for it being a mile marker as well as getting us a step closer to rescuing Asuna and Anya.