キッチンのお姫さま/Kitchen no Ohimesama 09
Kitchen Princess Volume 09 Manga Review
Kitchen Princess Volume 9 is now included in Kitchen Princess Omnibus Volume 4. It is out of print as an individual volume.
–> Purchase Kitchen Princess Omnibus Vol. 4 from RAKUTEN.COM (formerly BUY.COM)
–> Purchase Kitchen Princess Omnibus Vol. 4 from BARNES & NOBLE
–> Purchase Kitchen Princess Omnibus Vol. 4 from RIGHTSTUF!
SPOILER Summary/Synopsis: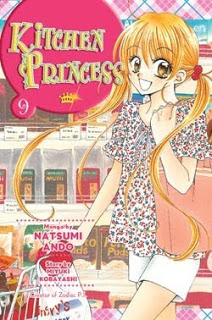 Seiya confesses his love for Najika while Daichi sets up a date of sorts to have dinner with Najika. Daichi is unable to make his meeting with Najika, so Seiya stops by instead. Seiya has made flan and his words combined with the taste of the dessert make Najika feel certain that Seiya must be her Flan Prince. This makes her cry as Fujita arrives to see this. Najika wonders why she is no longer happy to find her Flan Prince. Seiya continues to aggressively pursue Najika and Akane gets involved to help protect Najika. Akane reveals that Daichi turned her down and then reveals the truth behind Daichi's recent changes — it is all to keep Najika in school. This information opens Najika's eyes.
Seiya comes to the diner with a dessert for Najika but encounters Akane instead, who informs him that Daichi and Najika have gone to do something important. Elsewhere, Najika and Daichi take a trip to Sora's grave, complete with food offering. Daichi leaves to allow Najika to have some time with her deceased boyfriend. At the grave, Najika tells Sora that she now likes Najika and she "hears" Sora tell her that it is OK. Armed with courage, Najika sees Seiya when she gets back and turns him down, saying that she likes someone else even if Seiya is her Flan Prince. Seiya has no idea what Najika is talking about.
Meanwhile, Daichi finds a family album showing himself and Sora as kids in Hokkaido. His father finds him looking at the album and Daichi demands answers since he doesn't remember living there combined with the fact that the year they were there is the year Daichi's mom died. He demands answers but the Director refuses to answer, citing a promise with Sora. Daichi begins to have flashbacks to that time and remembers his mother died saving him before passing out.
Elsewhere, Najika and Akane talk about Najika's Flan Prince and Akane tells Najika about how Daichi's and Sora's mom committed suicide, which is the story the family has told. Najika hears about Daichi and goes to see him as Daichi begins blaming himself for his mother's death. As such, Daichi withdraws and is absent from school, refusing to see his father. Najika tries to come over with food but the staff politely turn her away. Meanwhile, the Director comes by Fujita Diner and discovers what Najika has been up to. When Najika returns, the Director tells Najika the whole story and why they decided to keep the truth from Daichi.
After hearing the story, Najika makes soup for Daichi and returns to his home, climbing a tree to reach his window. He opens up and while she stays in the tree, he eats her soup, after which she confesses her feelings to him.
In the omake story, more of Fujita's past is revealed.
Thoughts/Review: Oh man, I am about shoujo'd out. *lol* Sheeze. It is really getting thick as the manga series comes to an end.
So, after what now seems like a pointless roller coaster, Daichi is going to end up being the Flan Prince since Seiya is apparently denying all knowledge of it. I suppose that going this long way around allows Kobayashi-sensei to prove that Najika's feelings for Daichi are real and not just based on this dream of her Flan Prince. I guess I had an inkling that things might fall Daichi's way after volume 3, but that faded when Sora was supposedly the Flan Prince. When Sora died and revealed he was not Najika's Flan Prince, then anything Seiya did or said that might make him look like the Flan Prince was rejected by me.
That probably is a weakness of this manga — story layout. All manga series are published in magazines in Japan. Some are weekly, some are monthly, and some fall outside of those parameters. For the most part, I never notice any flow problems in manga when I read it in book form. However, as I've thought about the Kitchen Princess series, I realize that many things were done for the benefit of the chapter readers of the manga (those who read the chapters as they are published in Japan) at the expense of the volume readers of the manga (those who read the manga for the first time in book form).
Some authors, like Akamatsu-sensei, tend to arrange their stories so that manga volumes might end in such a way as to cause people to eagerly look forward to the next volume of the manga. So, while they do write things to be exciting and page-turning for the chapter readers, it is never done at the expense of the volume readers.
Here, Kobayashi-sensei has dramatic elements that sometimes make chapters seem just a bit disjointed to me. It isn't terribly bad, but I do notice it, likely more so than the shoujo crowd would.
Anyway, the angst stuff is getting heavy and thick so as things go into volume 10, I'm hoping for a lighter outcome. Thankfully, the omake story was more lighthearted with Fujita and the gay French chef he knew.
The Del Rey side of things is the standard stuff — honorific usage, translator notes, recipes, and a Japanese preview of the next volume. Fortunately, there don't appear to be any major spoilers.
Just one more volume and all's done. ^_^