機動戦士ガンダム /Kido Senshi Gundam episode 02
Mobile Suit Gundam – 02

SPOILER Summary/Synopsis: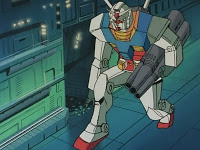 As the Zeon ship launches a missile attack at Side 7, the captain of White Base is injured and many people are killed. The ship stops its attacks and the pilot of the Gundam is ordered to load Gundam equipment onto the ship even though no one knows who's piloting it. Frau Bow and a blond lady named Sayla rescue some children before a girl named Mirai gets Frau to help in the infirmary. There, she helps treat the wounded captain, who wants to get the White Base out of Side 7 quickly, but they don't have a pilot. Mirai volunteers since she has some piloting experience and her family name, Yashima, gives her credibility with the captain.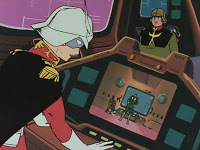 Meanwhile, Zeon captain Char reports current events to his superior, Admiral Dozle. The admiral is shocked to hear of the loss of two Zaku mobile suits and that the Federation has a powerful mobile suit of its own which is capable of easily defeating Zaku units. He agrees to send a supply ship to Char with additional mobile suits and missiles. Char decides to go on the offensive and not wait for resupply and goes with a new three-man infiltration team, which includes the lone survivor of the previous expedition (Slender), to Side 7. His ship opens fire as a diversion while the team makes their way into the base.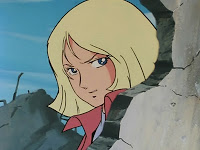 While this is going on, it is discovered that the pilot of the Gundam is actual a genius boy named Amuro. With the Zeon ship attacking and having little other choice, the captain orders Amuro to destroy the remaining Gundam parts to keep them from Zeon hands. Inside Side 7, Frau and Sayla are out looking for survivors to get people evacuated to White Base. Sayla encounters something suspicious and grabbing a hand gun, goes to investigate. She finds the blond-headed Char but he gets the drop on her after he removes his helmet. However, he seems to wonder if this girl is "Artesia" though he finds her too strong. He flees when Amuro shows up in the Gundam and Sayla refers to Char as "niisan," an indication that this is her older brother.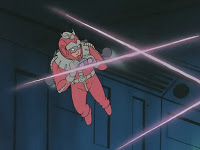 Amuro gets Sayla to get into the Gundam's palm for protection as he destroys the remaining Gundam parts. Returning by lift to a hatch to leave Side 7, Char uses his jet suit to get in, causing White Base to go on alert and anyone with a gun is ordered to shoot the Zeon. Lots of folks with guns show up and begin firing away as a smiling Char is not hit and takes photos/scans of White Base. When an actual soldier shows up, Char takes it seriously but not before his camera/scanner is destroyed. He flees along with his three companions as Amuro follows in the Gundam. Amuro fires but the targets are too small to get a lock. Char orders his ship, the Musai, to ready his and Slender's Zaku and remote launch them.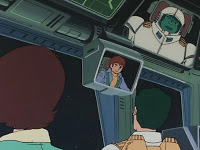 Musai fires two more large missiles at White Base, which is departing from Side 7. Amuro destroys both missiles but the two Zaku units are approaching. Learning that one is the Red Comet, piloted by Char, the captain becomes very concerned since Char was able to single-handedly take out five Federation warships. Despite being told otherwise, Amuro decides to fight the red Zaku unit as civilians, coached by injured military people, pilot White Base away. Char has the superior skills and easily gets the best of Amuro, but the Gundam's superior armor saves him. Char is shocked by this as a lone, new Core Fighter launches to help Amuro.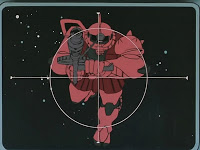 Char gets Slender to help him deal with the Gundam but they can't take it down despite Amuro's inexperience. He's stunned when a single shot from the Gundam's beam rifle destroys Slender's Zaku, revealing that this Gundam has the firepower of a battleship's weapon. Char is angry but also concerned and wisely retreats. The Gundam is retrieved by White Base and Amuro reports to the bridge, where he's officially made pilot and thus responsible for that Gundam unit. Amuro is tersely told by Bright, the now second in command, that he's going to have to grow up and learn as his use of the beam weapon was wasteful (only one successful shot). Amuro is not happy, but agrees to this as White Base heads to the Luna II asteroid military base.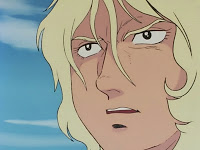 I think I missed this when I watched episode 1 but it seems that one of the Earth colonies (Side 3) rebelled and joined with the Zeon people. So the Zeons we've seen to date would appear to be humans, just not associated with Earth. I'm not 100% clear on that though.
As to the episode, again, security is lax for Side 7. One would think that after such a brazen attack by Zeon's within the colony space station combined with the missile attack from Musai (clearly not going for a kill), there would be an expectation of possibly more infiltrations now that the Zeon's know about Gundam and White Base. However, they get in the second time just as easily.
Also laughable is that Amuro, who's only a civilian, isn't even challenged to reveal his identity after the Zeon infiltration attack but is simply ordered to load parts onto White Base. So when the injured captain inquires about who's piloting the Gundam, he's met with, "I don't know." So much for military discipline and following of procedure.
More eye-rolling than that was Char's almost leisurely flight to capture data about White Base while there is all kinds of fire coming at him from all sides. I suppose because the people firing at him were civilians, they weren't supposed to be able to hit the broad side of a barn but when Bright shows up, suddenly Char decides playtime is over and of course Bright can shoot and thus the camera-scanner is destroyed.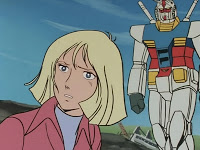 Yeah, it is still rather unbelievable that Amuro could become proficient to use a Gundam in what I guess is no more than an hour or so tops. However, Amuro giving the Gundam technology the credit helps there as does Char's arrival. Char's Zaku unit does the impossible (a mobile suit doing ninja shundo "instant move"?), but at least it gave the experience difference to show how Amuro was basically lucky and as he said, reliant on the Gundam technology. So because of that, it becomes more palatable and I can better suspend my disbelief. *lol*
Since most of the experienced crew of White Base were killed in the attacks, I wouldn't mind the show focusing on civilians being thrust into jobs they've not been trained for. I'm guessing we'll see some of this but considering the nature of the series, I'm guessing action will trump everything.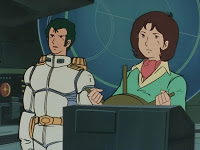 I was surprised that Japanese name Mirai Yashima was given in western style. I think that might be a first for any anime or manga I've read to have the Japanese name done this way.
Speaking of Japanese, the show has had very few traditional honorifics used. Amuro has addressed Bright as "Bright-san" and a few people have been addressed with the "kun" honorific to indicate subordinate status of the person being addressed.
Still, all things considered, I like what I've seen so far despite some eye-rolling stuff. I'm looking forward to seeing where things go and if Sayla and Char end up being related or if that's a giant red herring.