魔法先生 ネギま!Volume 33 Chapter 302 (manga)
Mahou Sensei Negima! Manga Chapter 302
Negima! Manga Vol 33 Ch 302 Review

SPOILER Summary/Synopsis: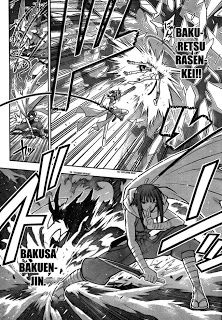 Negi launches an attack at Dynamis and encounters a similar, multi-layered mandala barrier that Fate used. However, Negi shatters the barrier with the help of Magia Erebea. Dynamis is impressed as he uses the Code of the Lifemaker and a shadow-spear attack to send Negi back across the wide, open spaced room. Negi's lightning form saves him but Dynamis decides to use the Code of the Lifemaker to expel Chisame, Konoka, Shiori-Asuna, Konoka, Ako, Yuuna, Makie, and Akira from Kaede's cloak. Before they can get back into the cloak, Tsukuyomi, Homura, and Tamaki are there making threats.
Negi prevents both Homura from attacking as Setsuna stops Tsukuyomi from killing Konoka. Setsuna tells Tsukuyomi that she won't allow the other to touch Konoka, something Tsukuyomi finds a bit amusing since apparently, Konoka could be brought back to life if Setsuna wins. Therefore, Setsuna should allow her to kill Konoka a little, something that sets Setsuna off.
Meanwhile, Negi realizes how dangerous Homura is with her fire ability when Tamaki uses her giant tail to stop Negi. Negi recognizes that she is Ryūzoku — a member of the Dragon Clan (People). Koyomi actives her Horaria Vortix artifact to stop time around Negi, allowing Homura to go into full furnace mode to attack Negi. However, a brave Nodoka remembers Craig's words to her about how even strong people have weak points and as such, Nodoka knocks Homura aside, burning herself in the process. Yuuna brings out her artifact gun and shoots Homura with a Spirit Transformation Canceling Bullet. Makie uses her ribbon artifact to snag Koyomi's artifact, giving Ku Fei an opening to use her artifact to strike Koyomi from a great distance.
As Ku Fei closes the distance and battles Koyomi, Kaede uses her chain, filled with ofuda tags, to bind Tamaki and launch a powerful attack. Ku Fei also lands a powerful blow on Koyomi. Konoka comes over to heal Nodoka while Yuuna tells Negi that they can do this fight together as a group, which Negi agrees to.
Back at the ships, Takane states that they have thirty minutes to complete the repairs. Since they don't know when an attack might come, she advises them all to wear the shadow armor she's wearing as it helps defend the person wearing it by three if they put it over their regular clothing and by seven if they wear it against bare skin. Misora and Paru pass on this offer and Mei is not enthused about wearing the armor because if Takane is taken out, the armor disappears, which has happened more than once. Takane will not hear Mei's objection and gets Mei, Chachamaru, and Collet (and Johnny?) stripped and into her shadow armor, which she has fashioned after Goth Lolita clothing. Mei weeps at this while Chachamaru and Collet like their new clothing.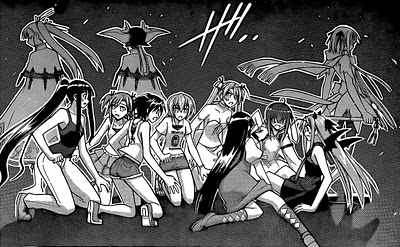 Thoughts/Review:
This is an enjoyable chapter though there's not a ton of stuff here. Nevertheless, there are some things to discuss.
For starters, what the heck is Tsukuyomi talking about when she says that Setsuna could bring Konoka back to life if Tsukuyomi kills Konoka but is then defeated by Setsuna?
I rather doubt that Setsuna has any kind of resurrection ability and even Konoka's artifact can't do that. With that in mind, I recall the first target in the manga — Konoka. Then I remember how Asuna is referred to as the princess of the old world (Earth) and Konoka as the princess of the new world (Magic World). So, I can't help but wonder if there is another element to Konoka that we haven't been made privy to. We know she's incredibly powerful and used to unseal and control Ryoumen Sukuna no Kami. But is there something more we haven't learned about her? Or maybe the Code of the Lifemaker would play a role in bringing her back. It will be interesting to see where it goes.
Speaking of the Code of the Lifemaker, it doesn't surprise me that it would have an impact on pactio artifacts. After all, it has the ability to "Rewrite" things of the Magic World. Kaede's pactio was made on the Magic World, though I suspect that the CotL wouldn't be able to remove artifacts but simply disrupt them or even nullify their abilities as Asuna could do.
Nice to see Kaede using her binding chains again. I believe the last time she used them was when she battled a full sized dragon. So, against someone of the Dragon Clan that at least has partial dragon mode or abilities, using the same chains seems a smart course of action. I just love how Akamatsu-sensei remembers these little things from ages ago and brings them back to the forefront. ^_^
As to the other girls, well we got a chance to see Nodoka be brave again (Yay!), Yuuna use her gun, Makie use her ribbon, and basically show that the final victory will be a team effort. ^_^
As to Takane and the almost too obvious "girls about to get stripped" element in the final page of the chapter, had Johnny not been equipped with Takane's shadow armor, I would have said that the potential stripping is a red herring. With him in the mix, I can see a replay of the Jack ecchi fanservice from way back when Chisame was bathing and came across Jack doing the same. ^_^;
I will say that at least Akamatsu-sensei has provided us with a logical reason for Takane's girls (specifically Mei) to wear the shadow armor and have nothing else underneath. ^_~
So a fun chapter even if there wasn't a ton to discuss. Next chapter will be somewhat different, eh? ^_~