カードキャプターさくら
Cardcaptor Sakura Omnibus 01 Manga Review
–> PURCHASE FROM RAKUTEN.COM (formerly BUY.COM)
–> PURCHASE FROM BARNES & NOBLE
–> PURCHASE FROM RIGHTSTUF!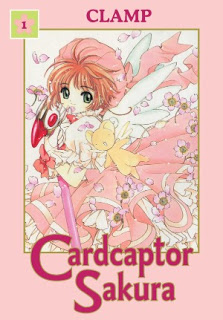 Although I had already read the Cardcaptor Sakura manga series a few years ago, I wanted to buy this now that Dark Horse has the series and they've been doing a pretty good job on CLAMP titles thus far.
*SPOILERS!*
A fourth grade girl named Sakura is tasked with going around and capturing magical cards, which have activated themselves and in their activated form, have a physical shape of some kind.  With Sakura is her best friend Tomoyo, who is rich and has a crush on Sakura, thus she has to record every moment of Sakura in action and makes sure that Sakura has a new outfit for whenever she has to capture a card.  Sakura lives with her widowed father and her older brother Touya, who's in high school.  Sakura crushes on Touya's best friend Yukito and so makes sure that every morning, she leaves with her brother to go to school so that she can go to school with Yukito after they pick him up at his house.
This first omnibus volume covers the first three volumes of the Cardcaptor Sakura manga. Volume one contains the introductions to Sakura's daily life including her secret life as a Cardcaptor.  After an introduction to Sakura's other friends, a good portion of this volume is dedicated to what Sakura believes to be the ghost of her mother.
Volume two continues more of the same and introduces us to Tomoyo's mother, who resents Sakura's father for marrying Sakura's mother (Nadeshiko) at 16.  This volume introduces us to Syaoran, who's the same age as Sakura and is a descendant of Clow Reed, the creator of the magic cards.  He holds Sakura in disdain for not having collected all the cards but then becomes her rival for the affections of Yukito.  One of the biggest surprises is that Sakura's homeroom teacher Terada-sensei becomes engaged to Rika-chan, Sakura's classmate and friend.
Volume three carries on with Sakura's card capturing. Sakura's classmates Chiharu and Yamazaki become more prominent, especially since Yamazaki is such a kidder by weaving tall tales that often fool his friends but Chiharu is the one element that keeps him in check.  Mizuki-sensei is also introduced in this volume, someone whom Syaoran does not trust as he senses something different about her.
For those who've already watched the anime but who've never read the manga, there will be some surprises, such as the fact that the manga story already has Sakura having captured a couple of cards and working on the third when the story starts.  Rika-chan's and Terada-sensei's romance is hinted at in the anime but the manga makes it clear that this adult, 20-something year old teacher is dating a 4th grade girl.  *_*
If you don't mind the fact that CLAMP has decided that any "love" relationship is cool no matter what, these first three volumes of manga are a fun, light read much like the anime.  The artwork from CLAMP is more simplistic here than in some of their other titles.  As such, background imagery is kept to a minimum as most of the art is on the characters. Even then, the art seems to be done as simply as possibly without making it ugly.
Speaking of art, Dark Horse continues its winning ways by including a decent amount of color art.  Some color pages are used to break apart the original volumes and the remaining color art brings up the rear of the manga.  CLAMP knows how to do color art pretty well and Cardcaptor Sakura is no exception.
As is usual for Dark Horse, no translator notes exist and that's unfortunate.  I'm a big proponent of translator notes and think all manga titles should have them.  Dark Horse's adaptation does include all the core Japanese honorifics.  Sakura is shown properly addressing Touya as "oniichan."  Further, Dark Horse has everyone addressing Yukito properly.  My memory of the TokyoPop release has everyone addressing Yukito as "Yuki," which is the way Touya addresses Yukito. Dark Horse also retains the scattered sidebar character profiles from the original release, which is cool.  I have seen omnibus editions of manga from other companies have all the sidebar stuff removed.
If only Dark Horse would do translator notes, this would be an excellent release.  That aside, this first volume of the omnibus edition of Cardcaptor Sakura is very, very good in how it is treated otherwise.  I can't wait to add the next volume to my collection. We'll see if Dark Horse delays the currently scheduled June 1, 2011 release date as they've already done.