機動戦士ガンダム /Kido Senshi Gundam episode 29
Mobile Suit Gundam – 29

SPOILER Summary/Synopsis: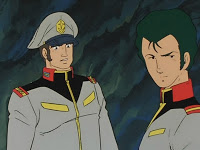 White Base makes it safely to the Federation base at Jaburo, hidden beneath the rainforest. However, they've been quietly tracked by Zeon forces led by Char, who sends out a recon team of two Gogg mobile suits and the new Zock mobile suit, who soon discover the largest entrance to the base.  Meanwhile, the crew of White Base are given physicals and given some down time as Lt. Woody heads the repair team assigned to White Base. Amuro and Woody talk where Amuro learns that Woody and Matilda had been engaged and were planning to have the White Base crew attend the wedding. Bright and Mirai receive word that White Base is being assigned to the Tianem Fleet when sensors detect the Zeons snooping around. When it is clear they are massing for an attack, the base goes on high alert and the crew of White Base returns to the ship.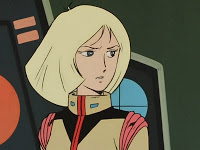 White Base is still out of commission, but the mobile suits are working. As such, Sayla and Amuro launch G-Bull to guard the base entrance along with Kai and Hayato in Guncannon and Guntank. The Federation activates their defenses, including fighters and GM mobile suits as the Zeons drop Zaku, Gouf, and Dom units. Char leads a Z'gok team into combat but his support suits are destroyed leaving him alone to hook up with the Zock-led team. With a smaller, secondary entrance found, Char has both entrances attacked. G-Bull is ordered to convert to Gundam as Char makes his way in and destroys Federation tanks and a GM unit. Amuro knows it is Char and Char is happy to see Gundam as the units class. Woody uses a hovercraft to attack Char and is destroyed by Char as the Zock attacks Gundam to allow Char to escape but is destroyed by Amuro. The Zeon attack is repulsed but when Amuro reports on the return of Char, Sayla is greatly affected.
Thoughts/Review: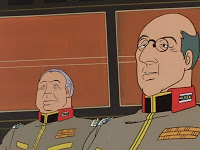 It may not have been on the scale of Operation Odessa, but the Zeons certainly did launch a pretty impressive attack on Jaburo.  I guess it was a way for the production team to showcase all of the Zeon mobile suits seen to date while at the same time, show us the weaker GM Federation mobile suit.  Anyway, the Federation commanders made it seem like the base would be lost with their almost dismissive attitude on the Zeon attack.  Instead, the commanders seemed more annoyed that White Base was such a strong focus for the Zeons that they'd make a limited attack just to get at the ship.  As such, I get the impression that these leaders would throw the ship and crew of White Base under the bus just to not have a headache to deal with.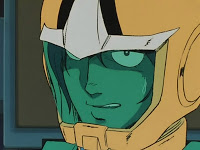 I liked seeing Kai's determination when the fighting started because of Miharu's death. I actually expected him to act rashly but he kept it together and did the needful.  I'm hoping this continues and that Kai becomes a more professional soldier and less the "who cares" type that he has been.
I'm not thrilled with how Woody's character was done.  I appreciate that the writers wanted us to see that he loved Matilda by loving what she loved right down to sacrificing his life but did he actually accomplish anything by throwing his life away?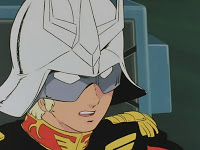 Now that Char and Amuro have clashed again, I guess we'll be back to the conflicts between them that always end in stalemate, or rather end without either mobile suit being destroyed and Char retreating for the most part. *_*  If so, that will get old rather quickly.  Then again, with Sayla knowing that Char is back, she'll probably try to contact him.  If so, how does that impact Char's fighting?  What would the Federation do if they catch her, assuming she tries to contact him at all?
So, an entertaining episode to be had here.  Hopefully, I'll be able to blog this series a bit more regularly than before. ^_^;