Wolverine – 11
SPOILER Summary/Synopsis: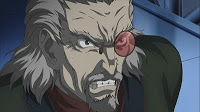 Despite the death of Min and many of his followers, Koh's only concern is taking care of Hideki and he hobbles up the steps to do so.  Logan, Yukio, and Kikyo race up the long flight of steps so that Logan can retrieve Mariko. Hideki reports the arrival of Koh to Shigen and then races to tell Mariko that despite Logan's arrival, she'll still be his bride. A pitched battle erupts outside Dragon Palace with Koh's men providing him cover to get in.  Koh makes his way up and encounters Shigen on one of the elevated, covered walkways. Koh quickly discovers he's no match for Shigen after his multiple kunai attack fails. Yukio joins him but her chakram attacks are easily thwarted, leaving Shigen to mock them and pronounce their deaths.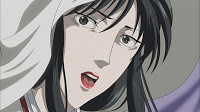 Hideki gets the Shinto wedding going and Logan attempts to make it there in time. Meanwhile, Shigen has Koh and Yukio on the run and takes out Koh, who'd protected Yukio in the process. Logan confronts Shigen and is joined by Kikyo. Shigen voids his contract with Kikyo as a rocket takes out a section of the elevated hallway, making a gulf between Logan and Shigen.  As such, Logan leaves and heads to where the wedding ceremony is being held.  Hideki is annoyed that Mariko won't drink the sake as part of the ceremony as Logan shows up just outside the interior temple at an upper level. Logan pounds on the glass and Mariko is finally able to see him.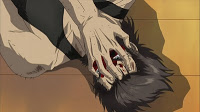 Koh dies in Yukio's arms, pleased that he was able to protect her.  Meanwhile, Logan clears out the wedding hall as Hideki uses Mariko as a shield and hostage to keep Logan at bay.  Mariko tells Logan that it is enough that he came for her but Logan tells her that he's going all the way.  Logan makes a quick move and easily disarms Hideki. Before he can do more, Shigen arrives and uses his ranged wind attack from his sword which catches Logan full in the face and blasts him away.  Shigen orders Hideki to take Mariko away, which he does. The bloodied Logan then rises to face Shigen.
Thoughts/Review: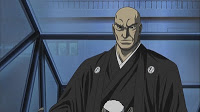 I haven't mentioned this before, but as someone who rather enjoyed the Fullmetal Alchemist: Brotherhood series, it is rather fun to hear the voice of Führer King Bradley/Wrath (Hidekatsu Shibata) play Shigen in Wolverine and go up against the voice of Father (Iemasa Kayumi), who plays Koh in Wolverine.  I swear, I could close my eyes and see Father and Wrath engaged in combat instead of Shigen and Koh. I kept waiting for talk of "the promised day," alchemy, homunculus, and more. *lol*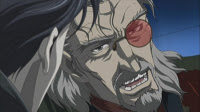 I guess I was wrong about Koh surviving. Now that I think about it, it makes sense that he would die.  Plus, after lots of harping on how Koh was solely focused on taking down Hideki, to the point of not even mourning Min's death, the writers then turn around and have him sacrifice himself to save Yukio.  Now Yukio gets a new motivation to take down Shigen since Shigen is responsible for the deaths of her parents and grandfather.  However, I rather doubt that she will be the one to kill Shigen.  I'd guess that Logan will do that.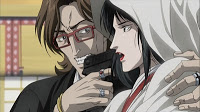 Speaking of which, I had predicted that Logan would kill Hideki first and then Shigen.  I guess that's going to be wrong since Logan and Shigen are now facing each other in battle.  The writers could have Kikyo interfere though since Shigen has dismissed him and that would allow Logan to go after Hideki again.  I'm not sure if that will happen or not but there are three fighters in place against Shigen and Hideki.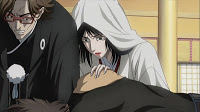 So, if Hideki is taking Mariko off to a back room and the wedding ceremony was stopped, I guess his only course of action is to rape her to consummate things and thus make her his wife.  However, that may be a bit too extreme for an anime but that's the thing that entered my mind when Hideki scurried off with Mariko.
Finally, there's Mariko.  She's been way to docile in all this.  I realize she's playing the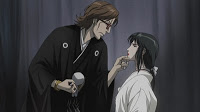 perfect Japanese woman in that she cannot disobey her father and she must marry a man she doesn't love and even bear his children.  However, I keep wanting her to speak up a little bit.  Instead, her only remarks are to give up to spare Logan.  Oh well.
After having become weary of late with the series, this episode somewhat improved the series with me.  I'm guessing that's because things are drawing to a close and the fights now have meaning.