うる星やつら episode 155 (TV anime)
Urusei Yatsura Ep. 155 review

SPOILER Summary/Synopsis: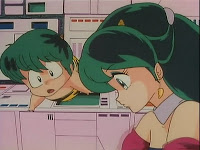 Lum is getting ready to go to Shuutaro's party for the octopus Josephine but can't find the matching earring for the set she wants to wear. She takes off without it and Ten-chan thinks he has found it and brings it to the party. Instead, he's found a locket and Lum wants him to return it to its box immediately.  Instead, Ten-chan decides to have some fun and Lum remembers when she was younger and in love with Rei that she gave him the other half of the locket, which if opened would attract her to him, but he ate it instead.  Ten-chan spots Ataru trying to pick up girls and makes caustic remarks which causes Ataru to find out about the locket. Seeing Rei inside, Ataru returns to flirting and when Lum confronts him, he brandishes the locket. However, when he makes Lum look at Rei's picture, this causes Rei to come crashing in through the roof in cow form.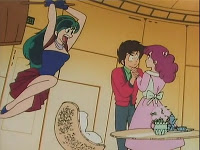 Lum distracts Rei with the buffet and explains to Ataru, Shuutaro, and the others about the locket, including the fact that should the two halves of the locket be joined, Lum would fall for Rei again. Rei immediately produces the other half of the locket and is thwarted by Ataru which makes Lum happy. Shuutaro gives Ataru half of the rocket but has his team strap a rocket pack on his back and sends Ataru off.  Lum tries to give chase but is caught by Rei. As such, Lum electrocutes the entire banquet all. Meanwhile, Ataru is taken to Ran's abode where she serves him tea. She finds the locket and sees Lum's picture inside and shows it to Ataru. That causes Lum to appear and she whacks Ataru for flirting with Ran. Shuutaro's arrival causes Ran to learn the truth about the locket . Ran is going to destroy it but is thwarted by Rei.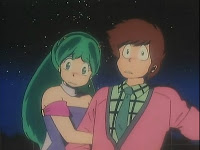 Ran sends the locket to Lum who manages to flee to destroy the locket herself.  Rei sees the piece Shuutaro is holding, forcing Shuutaro to pass it to Ataru.  Ran distracts Rei with onigiri to allow Ataru to escape but Rei is soon back on the hunt for the lockets. Lum finds she can't destroy her half of the locket when Rei shows up. Lum loses the locket, which falls in Cherry's campsite cooking pot with Rei destroying Cherry's tent. Meanwhile, Ran shows up with Ataru and Ran is determined to destroy the locket.  However, because Lum tossed the locket to Kotatsu-neko, who immediately opened it, the other half of the locket was summoned and joined. However, nothing happened because apparently, Ataru had torn out Rei's photo from the one locket.
Thoughts/Review: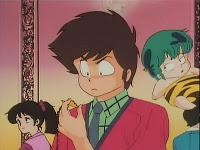 This was not only a fun episode, but a nice one in that apparently Ataru was forced to reveal how much he really cares about Lum.  For starters, there was his initial reaction to seeing Rei in the locket.  Yeah, he went to flirt but the pause as he absorbed this made one see that he didn't expect to see something like that.  Then, after Rei showed up, Ataru interfered to help Lum.  Though he tried to deny it as Lum happily clung to him, one could tell that he was jealous just like Lum suspected.  Then, Ataru goes through the trouble of playing keep-away with Shuutaro to help Lum.  Finally, despite his flirting with Ran, it appeared to me that Ataru had removed Rei's photo after he had the locket for a short time before Ran showed up with a gun to destroy it.  Indeed, Ataru's thoughts after everything was said and done indicate how worried he was that Lum would have gone for Rei thanks to the locket's power.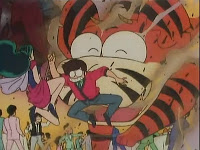 The traditional Urusei Yatsura antics were pretty fun this time out.  Ten-chan wasn't nearly as annoying, mainly because his presence is kept to a minimum.  Ran doesn't show up in the story until the second half, so that helps as does the fact that she's not nearly as annoying as she usually is.  Cherry only had a cameo along with Kotatsu-neko and that was a plus.  Rei's unexpected arrival was funny and the subsequent chases and distractions of Rei with food were amusing.  While this wasn't the funniest episode around, it was amusing and the annoying characters were kept to a minimum.
So, a fun, humorous, and somewhat romantic episode with Lum never looking lovelier than she did in her party dress.  ^_^