魔法先生 ネギま!Volume 35 Chapter 323 (manga)
Mahou Sensei Negima! Manga Chapter 323
SPOILER Summary/Synopsis: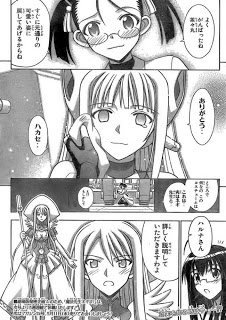 A giant mana vortex opens up and threatens to suck away Anya, Ku Fei, Chisame, Konoka, and the others with them. Ako nearly gets taken away but is caught by Akira.
Fate takes advantage of Negi's being distracted by this to attack him.  Fate concedes that he hadn't expected them to be connected to the other side's gate but tells Negi that their fight will determine the fate of both worlds.
On the Great Paru-sama, Paru and Chachamaru are the only ones on board as the ship is caught in the vortex.  Paru's attempts to stop the ship fail and even deploying three anchors fails.  Paru decides to go with the flow and she uses her artifact to help defend the ship from the giant boulders also caught up in the vortex.  Chachamaru uses the ships weapons to blow away boulders in their path as the Great Paru-sama passes through the border between worlds.
On the ground at Mahora, the mage teachers race to help defend the students against the massive boulders falling from the sky.  The Great Paru-sama comes crashing down and is seen by Fuuka and Sakurako, who notice Paru inside.  They call Ayaka to let her know, which causes Fumika, Misa, and Madoka to race to where the ship comes to a stop.  Paru emerges from the inside of the ship and seeing the trio, she descends to greet them, only to be kick-greeted by Fuuka.  Ayaka and Sakurako join them as Paru tears up and embraces Madoka, happy to be back among normal people.
Hakase shows up, having received an emergency signal from Chachamaru.  Paru points her to the cockpit where Hakase goes to find Chachamaru's upper torso in a chair. Giving Chachamaru a quick exam, she sees that Chachamaru would have been terminated if her chest had been pierced 3cm off.  Chachamaru isn't worried since if her memories are saved, she will still be alive.  Hakase tells her that that this might not be the case as her soul might be lost with a memory transfer.  Hakase is proud of Chachamaru's work and promises to make her body as beautiful as it was before.  She then notices Chachamaru's outfit and Chachamaru begins to tell her about her pactio with Negi.
Meanwhile, Ayaka wants Paru to tell her what is going on.
Thoughts/Review:
I realize that this chapter may not cut it for everyone, but personally, I liked it.
For starters, there's the return to Mahora of the first of Ala Alba — Paru and Chachamaru, with the Great Paru-sama ending up crossing the threshold and crashing.  I liked how Paru, who's normally seemingly so above heavy emotion other than those emotions attached to causing mischief, broke down upon seeing her classmates.  Now, how much does she tell Ayaka and thus the others about what really happened after they left Ayaka's group in Wales?
I loved Hakase's reaction to seeing the heavily damaged Chachamaru.  It was so motherly and not at all like her reactions to Chachamaru's developing emotions.  I guess the experiences of the Mahora Festival combined with spending more time with Chachamaru developing her new bodies really made Hakase more like Chachamaru's mother.  I fully expect that before this arc is over, Hakase will have done something to repair Chachamaru and that Chachamaru will return to the fight.  I'd like for Eva to find out about what happened with Chachamaru and react accordingly. ("No one messes with my Chachamaru but me!")
OK, it was disappointing that Eva's question didn't get answered this chapter, but considering that Akamatsu-sensei is putting the manga on a 3-week hiatus while he works on the Negima! movie, combined with the likelihood that this is the final chapter for volume 35, I didn't expect for Eva to get an answer.  Hopefully, we'll get one soon though.
Not much else to say on this chapter.  See you guys on May 11 (or so) for chapter 324. ^_^