Negima! Manga Omnibus Volume 01 Review (Double-Dip Purchase Recommended!)
魔法先生 ネギま!Omnibus Volume 01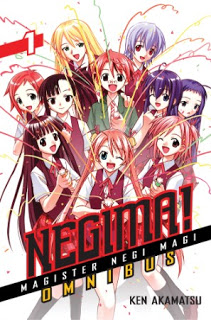 Before I start my actual review of the book in question, allow me a moment to give you guys a back history and why purchasing this omnibus release of the first three volumes of Negima! is WELL worth a double-dip purchase if you bought the original manga from Del Rey.
When Del Rey first entered the manga market and announced they'd licensed Negima!, I admit that I had no confidence they would make a release that as "AstroNerdBoy approved." After all, what did Del Rey know about manga?  My fears seemed confirmed when Del Rey stated that they would probably be editing the art because of Akamatsu-sensei's love of ecchi, Barbie Doll-style nudity.  I was outraged and vowed not to buy this. I wasn't alone.  The part of the Internet dedicated to manga fans, especially fans of Akamatsu-sensei and Love Hina, echoed my sentiments.  Maybe Del Rey was trying to be a teenager-friendly company and improve sales? (I'll blog on this "teenager" thing later.)
Fortunately, Del Rey listened to the outcry of the adult fans with actual disposable incomes and backed down from the notion of self-censoring their Negima! releases, opting instead to release the manga in shrink-wrap like pornography would be. I decided that would be a small price to pay for unedited artwork. However, would Del Rey's translations be ANB-approved?  When I bought volume 1, I admit that my answer then was "yes."  That's because Del Rey came right out in the first pages of the manga, stating their policy was to retain all of the main Japanese honorifics. Indeed, the adaptation used honorifics and I was happy, assuming that the translations were accurate and keeping it real.
Still, I couldn't help but notice a few very vocal people on the Internet screaming about how Peter David was rewriting things. They were citing a few passages in volume 1 that  were not apparently there in the Japanese text.  The number of transgressions didn't seem to be so great and so I let it slide, especially since at that time, I'd not purchased the Japanese tankoubon nor had I seen a scanlation of volume 1.
In April 2007, I decided to look into the extent of the rewrites. By that time, it was clear to me that things stated in the first volumes of Negima! were being contradicted by later volumes. So, I consulted the original Japanese texts from the tankoubons as well as a scanlation that I trusted. The results were quite shocking and lead to my writing this piece about Peter David's adaptation. From that point forward, I refused to read volume 1 and 2 of Negima! from Del Rey and only reluctantly read volume 3 through 5.  Volume 6 saw MASSIVE improvements in the adaptation (with some stupidity like the use of "WTF!") with Peter David's departure and from then on, the adaptations were OK with me until volume 20, but that's another story.  It was my dream that one day, Del Rey would retranslate those early volumes.
It wasn't until Kodansha Comics booted Del Rey off the stage and took most of their manga licenses, Negima! included, that my wish came true — the first three volumes were to be given to the Nibley Twins to fix and they graciously retranslated all three volumes from scratch even though that's not the job they were paid for.  So, how'd they do?  Well, you can compare a sample page yourself with an accurate, scanlated version, Del Rey's version, and Kodansha Comic's version from the Twins.
You'll notice from the Kodansha Comic's page, it is very close to the scanlation page, which as I had noted in my 2007 article, was a pretty accurate translation.  The differences between the two simply amount to style choices.
So, what's the big picture here?
To put it simply, English speaking fans will FINALLY have an ACCURATE translation of the first three volumes of the manga.  Trust me, if your only source of reading Negima! in English has been those Del Rey releases, you are going to be in for quite a surprise, more so when it comes to volume 3.  The reason volume 3 gets the highlight over the first two volumes is that Akamatsu-sensei was simply laying the groundwork in the first two volumes by introducing characters and foreshadowing things such as Asuna's not being an ordinary girl and the area under Mahora being unusual, apparently holding some magic power as well as protecting it (Al mostly).  However, the removal of all the rewrites and added jokes are a welcome relief in the first two volumes, as are the putdowns on Negi's abilities.
Volume 3 introduced us to Evangeline and gave us more information about the Thousand Master and his relationship to Eva.  Granted, it wasn't a great deal of information, but the original Del Rey release basically played down Eva's power, made Negi jump from conclusion to conclusion about Eva, and played down Nagi's awesome powers despite his title as "Thousand Master."  The original Del Rey release also pretty much removed everything regarding Eva's feelings for Nagi.  Indeed, when Nagi is shown to cast his curse on Eva in her memory-dream, the Del Rey release had Eva saying she was in hell.  In the Kodansha Comic's version, she says what she says in the Japanese version — she loves Nagi.
After years and years of re-reading these old and horribly inaccurate Del Rey volumes, I feel polluted.  With the Nibley Twins retranslation, reading the first three volumes again has become quite a pleasure. I feel the corruption lifting as the rewrite crap is being purged from me.  Indeed, the corrected Eva material shown in volume 3 match perfectly with stuff just revealed in current chapters of the manga regarding Eva's being turned into a vampire.  Now, before you say that the Twins read this stuff and that influenced their translation, remember that this omnibus volume was translated WELL before that revelation on Eva's becoming a vampire was revealed. (Plus, they don't keep current with the chapter releases in Japan and only read the story as they receive tankoubons.)  As such, Negi's comments on Eva being a shinso (pure blood vampire as the Twins translate it) in volume 3 are revealed to be foreshadowing. The Twins translator notes regarding shinso vampires adds to that understanding.  Amazing.
Now you know how the story was, how was the rest?  Well, I only have a couple of small complaints. First, Kodansha Comics did not include the cover materials from the original Japanese tankoubons.  For those not aware, Japanese Negima! manga releases have a color dust cover and underneath, the front cover has Akamatsu-sensei's ink sketch art of the cover artwork as well as some notes.  The back cover contains an ink image of the character featured on the back dustcover side and some brief thoughts by Akamatsu-sensei about said character. Now, to be fair, Del Rey did not include this material until volume 6, when they made it an extra.  So, I'll wait for Kodansha Comic's release of the 2nd omnibus to see if those extras are included there.
This leads me to my second, minor complaint. The back cover of the omnibus release does show cropped images of the cover art from the first three volumes.  What I would have preferred was for Kodansha Comics to have included all three color cover art pages to either mark the start of their specific volume within the omnibus or as an extra.  Having the color artwork without text interfering would have so rocked.  How about it, Kodansha Comics?
It would have been nice for Kodansha Comics to have followed Dark Horse and reprinted the color manga pages too. I know that even the tankoubon release of volume 1 has the first four pages in color.
For those wondering, all of the various volume extras from the original Del Rey release are included at the end of this volume and as I mentioned, the Twins has their translator notes.
One more thing — the cover artwork used for this volume I believe was originally used in a NegiPa volume and was created to celebrate the 100th Negima! chapter being published (as I recall it…kinda in a rush so don't have time to verify).
I cannot thank Alethea and Athena Nibley enough for their hard work on this first omnibus release from Kodansha Comics. If you are a fan of Negima! and had previously purchased the first three volumes from Del Rey, spending the money on this omnibus version is well worth it.  Not only do you get the accurate translation, but it is kinda nice seeing the characters in their days of innocence before the dark times on the Magic World.
If you've never bought Negima! but have heard about it, now's your time to get in on the ground floor and see what the rest of us fans rave about. ^_^