魔法先生 ネギま!Volume 36 Chapter 327 (manga)
Mahou Sensei Negima! Manga Chapter 327
SPOILER Summary/Synopsis: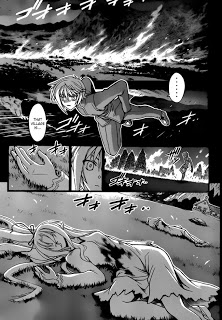 While still in the flashback, Fate wakes up in a small home where a teen-looking girl and her little sister Luna (aka: Shiori) reside on the outskirts of the Empire. Since they'd seen Fate fall from the sky, they took him in. While he insists that he can carry on, his body says something different and he collapses. The older girl kisses his hand and wonders just who Fate is before offering him a beverage. She gives him coffee, which he finds delicious, pleasing the young lady.
Over the next three days, Fate recovers and enjoys the coffee given to him.  He is about to leave and says goodbye, promising to return the favor to them when he comes again. The young lady promises to have good coffee waiting for him.  Fate flies off without the aid of a staff, which causes Luna to marvel and ask who Fate is. Her older sister doesn't have an answer but is cheerful, remarking on how much he liked coffee.
Fate consults with Zecht regarding their mission and the fate of the souls they hunt. Zecht assures him the souls are reborn in Kosmo Entelecchia (CE).  Fate wonders about them, the tools of their master, and inquires what will become of them.  Zecht doesn't have an answer for that but says that should Fate desire it, he too can be sent to CE.
Fate then asks about malfunctions on his part. Zecht says that Fate was not programmed to be loyal to Zecht and he wasn't given a purpose either, unlike his predecessors Primum and Secundum.  This surprises Fate, though Zecht assures him this is fine and that a tool without purpose can expect to have malfunctions. When Fate leaves, he attempts to make coffee on his own but finds it not to his tastes.
Sometime later, Fate returns to the village where Luna and her sister lived. He finds their bodies far removed from their home.  Despite her injuries and whatever else happened to her, Luna's sister manages a smile and apologizes for not having coffee ready.  Fate isn't concerned about that but before anything else can be said, Secundum murders the young lady by blowing her head off, her body dissolving into petals. Secundum assures Fate that he wasn't responsible for wounding her and that the attackers were humans, who probably raped her before moving on.
Secundum explains that the race that lives in this village are mind readers, who's ability is activated via touch. Fate understands why the young lady and kissed his hand in their earlier encounter as Secundum continues by saying that such people have been shunned or used but should they become inconvenient, then they have to be killed.  A very frightened Luna, witnessing the murder of her sister, starts to flee.  Secundum laughs hysterically, promising to send her to her sister's side. Before he can do so, Fate beheads Secundum.  Secundum is angry and in his final moments, demands to know if Fate is broken. He further states that what Fate has done is treason and that Secundum's actions in sending people like Luna's sister to CE is their fate. Further, Secundum has been doing this not just for them, but for the sake of all the souls in the world and that there is no other way but the way set out in their project.  Fate says he understands and as Secundum disappears in smoke, Fate promises to do his duty and Secundum's but laments that he won't be drinking Luna's sister's coffee any more.
Thoughts/Review:
Man, two brutal murders in two weeks.  Akamatsu-sensei can get away with such things because the murdered beings are merely illusions but the impact to me is still pretty much the same, even if there are no blood and guts to go along with it.  At the same time, Akamatsu-sensei made Secundum so awful so that his own brutal, execution-murder is seen as pure justice.
One thing is very clear — the reason Fate chose the word "fate" to become his name in lieu of "Tertium" is becoming clear. So, Fate goes about to carry out the plans of their master but without the vicious, brutality that Secundum had.  That explains why Fate went around collecting orphans and sending them to school (save for the five who became his battle harem).  Thus, Akamatsu-sensei makes Fate a more rounded villain.
I like what is being done here because everything is fitting with what has previously been established with Fate's character. He's been calm, methodical, and even compassionate, stoning people so that they won't be hurt or die.  If he has to do more, he will but he doesn't take pleasure in the suffering of others.  He has learned the pleasures of battling people like Negi or Jack but that's different.
A question I have is why Nodoka is able to read Fate's mind when Luna's sister could not?
I hope that this flashback sequence continues with the revelation of how Tamaki was rescued.  Also, I'd love for the flashbacks to show how Fate got involved with Chigusa.
The reason Luna/Shiori scored her Signum Bioregen artifact becomes clear too. After all, if her race are mind readers who can probe the depths of the brain with a simple kiss (even if said kiss is on the hand), then this would explain Shiori's remarks on how Fate perfected the artifact, which a previous version had used and been discovered by Nagi.  Shiori would be that perfection, so when she kissed Asuna, she read Asuna's mind perfectly and thus was able to become Asuna mentally while the artifact gave her the appearance of Asuna.  That would be the perfection of the artifact in my opinion.
So, a really interesting chapter to flesh out Fate even further.  Looks like no Negima 328 next week as Akamatsu-sensei catches up again. The joys of being in one's forties. ^_~