Ah! My Goddess Manga/Oh My Goddess! Manga
ああっ女神さまっ Chapter 271
SPOILER Summary/Synopsis: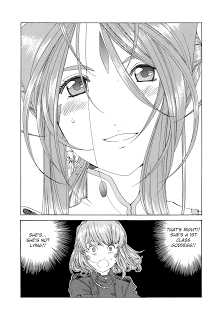 Belldandy is getting weaker as her powers are being drained but Belldandy refuses to allow Keiichi to open the door to escape, which would kill the little mazoku girl.  Since Belldandy doesn't want Keiichi to become her killer, Belldandy will be the one to open the door as she'll do anything for Keiichi but first, she wants to undo the curse on the mazoku girl. The mazoku girl doesn't believe Belldandy at first , especially since it took so long to incant, but then remembers she's a first class goddess and thus does not lie.
The girl mazoku watches in amazement as Belldandy quickly sets up a counter-curse spell, having observed and figured out the curse, and establishes a 16-minute window in which the curse will be lifted. Despite her weakened state, Belldandy's counter-spell stuns the girl mazoku, who's amazed that Belldandy is not only casting a counter-curse, but also keeping a defensive spell up as well. However, the girl mazoku knows Belldandy is at her limit and decides that in order for her machine to gain more power, she needs to encourage Skuld and Urd to use more of theirs.
Skuld and Urd are weary from trying to escape but then Urd sees the shadow-creature about to attack Skuld. The two get up and flee but with limited room to run, the two turn and attack, the energy of which is absorbed out and used to power the machine to drain Belldandy.  The mazoku girl looks triumphant, feeling that before Belldandy can finish her spell, she will have had all of her powers drained.
Thoughts/Review:
It would be rather interesting if Belldandy were to kill the girl mazoku, and thus the girl's doublet, just to get Keiichi out. However, I rather doubt Fujishima-sensei takes us down that road.
Instead, we have Belldandy using her powers to remove the mazoku girl's curse.  Now, forgive me if my memory is playing tricks on me, but when Peorth had a curse placed on her by Welsper, none of the goddesses could remove it, including Belldandy.  Nope, in fact the curse was so hideous, the Daimakaichō  herself, Hild, had to come to Earth and cast a counter-curse along with Belldandy and the others.  Yet now, Belldandy can easily undo the girl mazoku's curse because she's Belldandy — Hild's help nor any other mazoku's help not required.  *_*
Well, that's Fujishima-sensei's writing style for you.  While he makes note of the doublet system in this sub-arc, which he'd previously established, he appears to forget the idea that mazoku curses had to be removed with the help of mazoku. Maybe I misunderstood, but Fujishima-sensei is well known for writing what he wants and continuity may have to take a back seat to his current story.
Anyway, I can't see a solution out of the problem at the moment, but then I can't see the big picture of the mazoku plan either.  I can't see what Belldandy's power has that Urd's and Skuld's don't, since they are willingly giving theirs up in trying to escape.  Not going to try at this point but maybe the next chapter will be more revealing.
One more thing — I did get a chuckle out of Belldandy securing the key in her bosom, knowing Keiichi would never lay a finger on her there. ^_^;;;