Mobile Suit Gundam – Final Thoughts (Review)
機動戦士ガンダム /Kido Senshi Gundam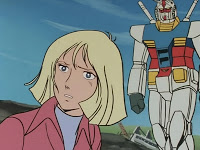 Mobile Suit Gundam is a series that I've been aware of since 1989, but didn't have any real interest in watching.  That all changed within the last few years, when I began watching more and more anime or reading more and more manga with Gundam references in it.  However, my own (and surprising) distaste for the mecha genre meant I kept putting it off and putting it off as a series to watch, though I scored the TV series in 2009 and I was curious to understand Gundam's impact on anime and manga.  Eventually, I decided enough was enough and took some time to watch this father of the modern day "real robot" mecha genre.  There are problems with this series to be sure, but the good outweighs the bad as far as I'm concerned.
*SPOILERS!!!*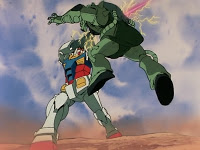 At its heart, Gundam is a tale of a boy and a crew of amateurs and generally inexperienced people suddenly thrust into the fires of combat as the fight for their lives and then for Earth. Gundam's start, while interesting, contains a fair amount of things that are tough to swallow. For example, Amuro is shown as a gifted student who gets lost in research and studies when the series starts. A Zeon infiltration team, complete with three Zaku mobile suits, end up attacking the residence within the Side 7 colony space station and Amuro ends up getting into the cockpit of the Federations top secret, prototype mobile suit, known as a Gundam. Using the oh so convenient users manual and and decent AI computing technology, Amuro is able to protect people and ends up being Gundam's pilot from that moment on.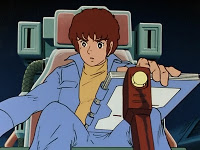 Sorry, but that is just a stretch IMO.  I can buy that Amuro is a quick learner. I can buy that Gundam's on-board computers can learn from each battle to become more intuitive (a concept that is eventually dropped when Amuro has sufficient experience combined with supernatural "Newtype" abilities). I can even buy a bit of luck as Amuro goes into combat for the first time. However, even if Amuro's father is the head of the Gundam project, I can't buy Amuro having such easy access to be able to get to a Gundam unit (even though the Federation were attempting to evacuate the units), nor can I buy the fact that the Gundam's operator manual is just lying around to be found. Imagine coming onto a base, finding a tank, and then there being an operator's manual to show you exactly what everything does, including firing the turret.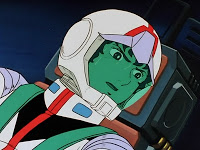 Further to that, Amuro appears to become proficient at Gundam's usage rather quickly.  Indeed, he's able to hold his own against the infamous "Red Comet," the Zeon ship's captain named Char, who's very skilled at using mobile suits and killing Federation types. Tomino-sensei does address this later by having Amuro say that his early successes were due to luck and Gundam's on-board computer, but then seems to change things up by making Amuro a Newtype, a next step human evolution. I don't have a problem with the Newtype stuff, but maybe some other hint that this was going on with Amuro early on, combined with some sort of knowledge about Newtypes (or their possibility) from the beginning might have been better.  Until Amuro gains experience and then has his Newtype abilities, it was hard to believe he could win so many fights early on.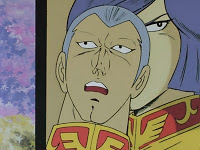 That takes me out of characters for the moment to address story presentation.  Viewers are thrown into the mix without any background information.  We know there's some sort of war and people are living on giant space station colonies called "Sides."  Unfortunately, the "Zeons" aren't really explained other than they were a colony that broke off from Earth but why is not revealed. Some of the ruling Zabi family, like Garma and Gihren, don't look fully human (mainly due to skin and hair color) and the way the story is initially presented, I actually thought the Zeons were an alien race who'd allied with the humans on Side 3.  It wasn't until several episodes in that I realized this wasn't the case and it wasn't until near the end that the whole political elements of why Zeon broke off are revealed. I really didn't like that delay of information.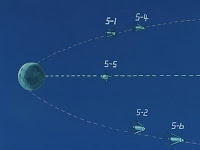 Also, the concept of the Sides are not really explained, nor the asteroid stations, until later in the series.  When we finally get the explanation, things make so much more sense.  One can see the location of the various sides at the Lagrange points, the asteroid bases, and then the travels through Earth's local space becomes clear. At the beginning of the series, it wasn't clear at all were the different Sides were, nor just how far ships were traveling from point to point. That was something that frustrated me a fair amount, but I suppose that initially, Tomino-sensei didn't feel this level of explanation was important. I'm betting that it was a point that viewers back when this series was first released wanted and thus we eventually get the explanations. I just feel this should have been done from the start.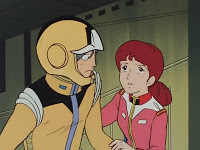 Returning to the characters, with Amuro being the star, it is only natural that he get the most character development. Sayla gets the second most character development due to her importance to the story and her ties to Char. Kai gets some nice development as he starts off as a civilian who will fight but really doesn't give a care until he falls in love with a Zeon spy, who's death causes him to shape up.  Mirai gets some development but it isn't all that great.  Characters like Frau Bow and Hayato really don't get much in the way of development and other characters such as Ryu and Sleggar aren't around long enough to get any sort of real character development. Also in the mix are the three orphan kids, used primarily as filler but occasionally given moments to shine.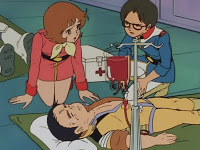 Romance is something the series handles rather poorly. Granted, this is a shounen series, but even still, the romance stuff could have been handled better. Oddly enough, Frau Bow may have the best defined romantic stuff in the anime.  It is clear from the start that Frau Bow has feelings for Amuro and that he just sees her as his childhood friend. Eventually, she comes to accept that they'll never be together as his Newtype abilities grow but then what? There's this moment where Amuro sees that Hayato pays her a visit before going into combat and she had helped care for Hayato after he'd been injured in combat. So, does this mean that they are an item?  While I shouldn't have, I did a quick look-see and discovered that apparently, the answer is "yes."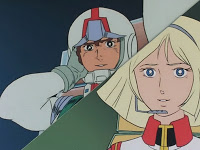 I'd seen the rather sweet image of Amuro and Sayla sharing a zero-G kiss in the Gundam docking bay and thought I'd witnessed a spoiler of their romance. However, the TV series never gave me the impression that they have any romantic feelings for each other.  Any expressions of concern Sayla had for Amuro were ones I could see her having for any of her comrades in arms. The same could be said for Amuro toward Sayla. The only person Amuro clearly had romantic feelings for was Matilda. One could say that Amuro developed some sort of romantic feelings for Lalah after their Newtype communion. I think Amuro had a sexual attraction to Hamon but that's it.  So, I guess I was rather disappointed to learn that Amuro and Sayla didn't become a couple, though I understand they are one in the novels.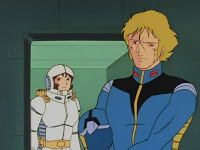 Mirai may have the most head-scratching romance of the series.  With her basically being second in command of White Base, she and Bright always worked well together and after Bright's mental collapse, it really seemed like they'd be a couple, even if not publicly.  However, just before Sleggar's final mission, suddenly, she's madly in love with him, I guess because he slapped her hard in an earlier episode.  In fact, she's so much in love with him that Bright realizes this and lets her go have words with him before he goes into combat. I remember thinking, "What the heck is this?!" It was completely out of left field and just didn't work for me at all.  I have no idea what Tomino-sensei was thinking other than having someone to mourn for Sleggar when he died.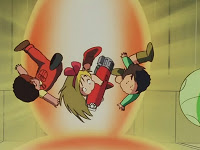 So while there are things like the credibility stretch of getting Amuro and company become a successful fighting force and the horrible romance elements, as I mentioned, the heart of the story is Amuro and company's dealing with the situation they find themselves thrown into and overcoming the odds despite the hells of war.  Therein lies Gundam's main interest.  While Amuro may have been frustrating for a while and Kai very annoying, I liked seeing them grow beyond this. I liked how the crew pulled together to warrant becoming official members of the military because of their service. I even liked how the three orphan kids would risk their lives fighting small fires during combat operations.  These kinds of stories are what made Gundam so enjoyable for me.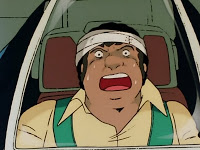 Another element that made things very interesting for me was that Tomino-sensei was not afraid to kill characters.  While characters like Char fell into the cliched realm of "super powerful yet always defeated, but able to get away to fight another day," other villain characters did not fall here.  Many were around for several episodes before being eliminated and one never knew when or even if a character would be killed. Even on the "good guy" side, Tomino-sensei was not afraid to take some characters out, though most were just supporting roles. However, that made a strong enough impression that until the last episode, I wasn't sure if certain characters might not die.  That's a mark of some nice writing, in my opinion.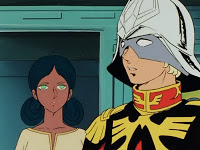 Despite some of the cliched nature of the Char character, to include his uncanny ability to figure out what his opponents are really up to no matter how crafty their plan is, Tomino-sensei made an effort to try to make Char a more three-dimensional character.  This started by having him be the brother of the likable Sayla.  He's shown to not be ruthless, such as when he didn't have the two Rick Dom pilots executed for putting Lalah's life in danger after they were completely honest about the situation.  Indeed, with Lalah, he's shown he can be quite compassionate to others besides Sayla. His personal vendetta against the Zebi family, though not clear for the longest time, also helps round him out as a character. That's another sign of decent writing.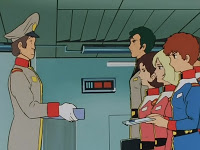 In the end, I found Gundam to be a very good series despite some flaws in execution and introduction to the series.  Its also very nice to watch some other anime (such as when I recently watched Keroro Gunsou episode 95) and immediately get the Gundam jokes.
The novelization is out of print, but I'm thinking of trying to score it just to see how Tomino-sensei wrote things for a more adult audience.
I'm also looking into scoring Mobile Suit Zeta Gundam, as I hear it is actually a better written tale than Mobile Suit Gundam. I won't get to start watching it immediately, but I'll certainly look into starting it sometime in the near future.